Each month, we post a series of blogs around a common topic. This month, MaryAnn McKibben Dana is curating reflections from our 2016 National Gathering. Watch this space for thoughts from a wide variety of folks, especially around the question, What "stuck"? What ideas, speakers, workshops or worship services are continuing to work on your heart as you envision "the church that is becoming?" We'll be hearing from ruling elders, teaching elders, seminarians, and more. We invite you to join the conversation on Facebook and Twitter!
by Sarah Are
Sometimes new life lands in your lap like a summer thunderstorm- strong, sudden, and powerful.
Other times, new life shows up like a melody, or a sleepy cat- waking up, stretching its bones, and assuming its position back in the sun, back in your memory.
For me, the NEXT Church National Gathering this past February felt like that. All of that.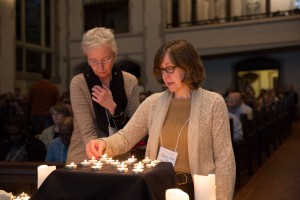 NEXT was an IV drip of coffee, energizing me in ways that I forgot I knew. However, it also was a reminder that the Holy Spirit moves, adding strength and memories to weary muscles.
I think we all have those moments- moments when the Spirit moves, and all of the sudden you know you are exactly where you are supposed to be. Those moments slide past us like water, taking with them the frustrations of previous aches and pains.
For me, some of those ministry moments have involved warm cups of coffee on church steps with the homeless folks that slept there the night prior. Some of those moments have involved youth group, where the "cool" kid stood up for the kid with autism, and it was holy ground. Others have involved 1,000 youth at Montreat, or three other young adults at bible study.
I crave the certainty of those moments.
I know that currently, seminary is where I am called to be, and I feel invigorated by that. However, my view of ministry has changed since being in seminary. I have struggled to discern where I would fit into a church that is both saturated in tradition, yet simultaneously growing and evolving, and at times have missed the calm certainty that comes only with sensing the Spirit.
In the seminary world, there is an acute sense of change in the air. The church is stretching. We cannot all find jobs, and when we do, they often look different than what we had imagined. We are being forced to tap into our creative side and our risk-tasking side, as we dream up bi-vocational ministries, new church developments, and fundraising tricks to cover the cost of a full time salary.  Pension plans are not a sure thing, and residencies provide sweet relief as Christian education and associate positions dwindle.
Taking risks and leaning into creativity is an exciting prospect, but it is also vulnerable, a little scary, and very exhausting.
This year's NEXT conference was the first time that I have truly felt that this risk-taking creative solution making reality might actually be a blessing, and not strictly a challenge. For over the course of three days, I watched story after story of real ministry, that is faithful to the gospel and loving to the core, unfold before my eyes. I watched countless doors open, with new ministry models, and imaginative ways for old churches to continue faithful work.
For a long time, I have felt as if engaging in creative ministry models would be my uphill battle, but at NEXT, I was overwhelmed with how much is already being done, with how smooth those roads were being made.
As I walked through the big wooden doors at the end of the three days, I told myself- "this has to be the most exciting time to be in ministry, because there are no closed doors."
I don't know if it's factually true – that this could be deemed the most exciting season.  
However, what I do know, is that it was one of those moments I crave. It was one of those moments where the Spirit moved, and all of the sudden, I knew that I was exactly where I was supposed to be- dreaming, hopefully, about the future of the church.
Those three days gave me new life, and it sounded like a melody, and felt like a sweet summer rainstorm. I walked away humming to myself, "What have I to dread? What have I to fear, leaning on the everlasting arms?" For I am convinced, this has to be one of the most exciting times to be in ministry.  After three days at NEXT, how could I dream otherwise?
---

Sarah Are is a second year student at Columbia Theological Seminary pursuing a Master of Divinity. She is a book-worm, a food blogger, and a busy-body. Sarah was raised on sweet tea and in church pews, and re-microwaves her coffee every morning because she knows the world is cold. Kansas City and Richmond, Virginia are the two places she calls home; however discovering somewhere new makes for a wonderful day in her book.
https://media.myworshiptimes31.com/wp-content/uploads/sites/55/2016/03/29175416/featured-candle-lighting.jpg
200
398
Linda Kurtz
/wp-content/uploads/sites/55/2016/01/NEXT-Logo-FINAL-Horizontal_lato-1030x229.png
Linda Kurtz
2016-03-28 07:13:00
2016-06-13 19:09:59
Moments When the Spirit Moves