Editor's note: We have Danny and all of the people who have been and will be impacted by Hurricane Irma in our prayers. We encourage all interested in supporting hurricane relief to contribute to Presbyterian Disaster Assistance, which continues to support relief efforts in the aftermath of Hurricanes Harvey and Matthew.
Each month, we post a series of blogs around a common topic. This month, Jessica Tate is curating a series that will reflect experiences of living in diverse community. Over the course of the month, we'll notice practices that enable diverse communities to thrive and we'll reflect on the promise of Christ in whom there is no Jew nor Greek, no male nor female, no slave nor free and what that promise means for our lives today. We invite you to share your own thoughts on Facebook and Twitter! 
by Daniel Morales
I'm somewhat of a rarity here in Miami – I'm a native! My parents fled Cuba June 25th, 1971, and took up residence in Miami mainly because like so many other Cubans at the time, they felt their migration would be a short-lived one. In those days, Miami was not the glitz and glamour it is known for today. In those days, it wasn't even referred to as the banana republic, a term some white folks sarcastically use today. As a matter of fact, Miami was actually pretty white back then. My father shared stories of the few occasions in the early days when renting a home for the family was a challenge, either because they were Cubans, or because he had too many kids; four to be exact. I sealed the deal a few years later.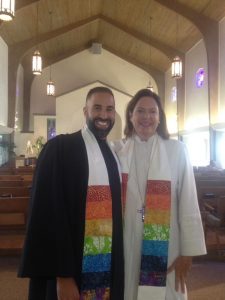 All throughout my childhood and adolescence I never really thought much about what it meant to be multi-cultural. Quite frankly, I never really gave much thought to diversity either, perhaps because I was so accustomed to being in the mixture of both a homogenous and diverse culture (stay with me for a bit, that will make sense shortly). The little Free Will Baptist church in which I grew up was its own homogenous community of Cuban immigrants in the middle of this growing pot of ajiaco or sancocho that Miami was slowly becoming. (Ajiaco and/or sancocho is a traditional soup/stew from Cuba, Puerto Rico, Dominican Republic, and various other Latin American countries.)
Beginning with the 70s and most especially in the 80s and 90s, Miami was notorious for being Cuban town. As a matter of fact, my early elementary school years were at a private school right in the middle of Calle 8 in Little Havana. And while it is true that for a while my people made up a large percentage of the Hispanic immigrants of Miami, I have to tell you, I was always surrounded by diversity and it was the most perfectly normal thing in the world to me. My classmates were Cuban, Puerto Rican, Dominican, Nicaraguan, and Colombian. They were Black, they were White, and truth be told, we made nothing of it; rather we lived and we did what kids do.
Diversity was not something I was completely in tune with – that is, until I became more immersed in my theological studies. Truthfully, I didn't learn to embrace my own cultural diversity in light of the broader composite of the United States until I left my bubble of Miami and found my way up to Chicago, where I was no longer a part of the dominant culture.
McCormick Theological Seminary was crucial to my understanding of both the complexities and richness of my diversity. That understanding meant that I saw God not through the lens of the scholarship that has dominated theological studies for centuries; instead I came to understand God through the lens and experience of the people of the largest island of the Caribbean. And with that understanding also came greater appreciation for the sazón (seasoning) with which my culture and the various cultures of the Caribbean bring depth to the redeeming grace of Christ.  
El sabor y sazón de mi gente (the flavor and seasoning of my people) adds a certain flare and spice to the body of Christ, and to the broader body of the Presbyterian Church USA. Some would argue our rhythms accentuate the rich and bold ways in which Christ moves in our midst. And that is precisely where the beauty of diversity lies, because though we are all one in Christ, each one of us – each culture, race, and ethnicity – bring to life the unforced rhythms of grace.
For us Caribbean folks, Paul's exhortation in Galatians 3:28 would read something like, "In God's family we are all one; there is no Cuban or Puerto Rican or Dominican. We are all equal." In the Caribbean we all dance to the same sweet rhythms of salsa — be it from Marc Anthony, Celia Cruz, or Jonny Ventura. (Well sadly, except me, I can't dance!)
---

Daniel Morales is the director of university ministries at Riviera Presbyterian Church in Miami, FL. He also serves on the NEXT Church strategy team.
https://media.myworshiptimes31.com/wp-content/uploads/sites/55/2017/09/29174214/featured-danny-pastor.jpg
200
398
Linda Kurtz
/wp-content/uploads/sites/55/2016/01/NEXT-Logo-FINAL-Horizontal_lato-1030x229.png
Linda Kurtz
2017-09-07 08:41:22
2017-09-07 09:47:42
Sabor y Sazón