By Theresa Cho
NEXT Worship Overall Thematic Flow & Ritual:
Colors of fabric and ribbon were purple, red, blue, white, and yellow. The colors of a Korean fabric called Saekdong. Saekdong is usually used for children's clothing and "protects the evoking of dreams of children."
Advent Worship:
Sheets of fabric were torn into strips during the confession. Each participant was given a 5 ft. ribbon before worship. As a way to prepare for new birth, conferees were invited to place the ribbon in the manger, letting go of what prevents them from being open to whatever will birth in them during the conference.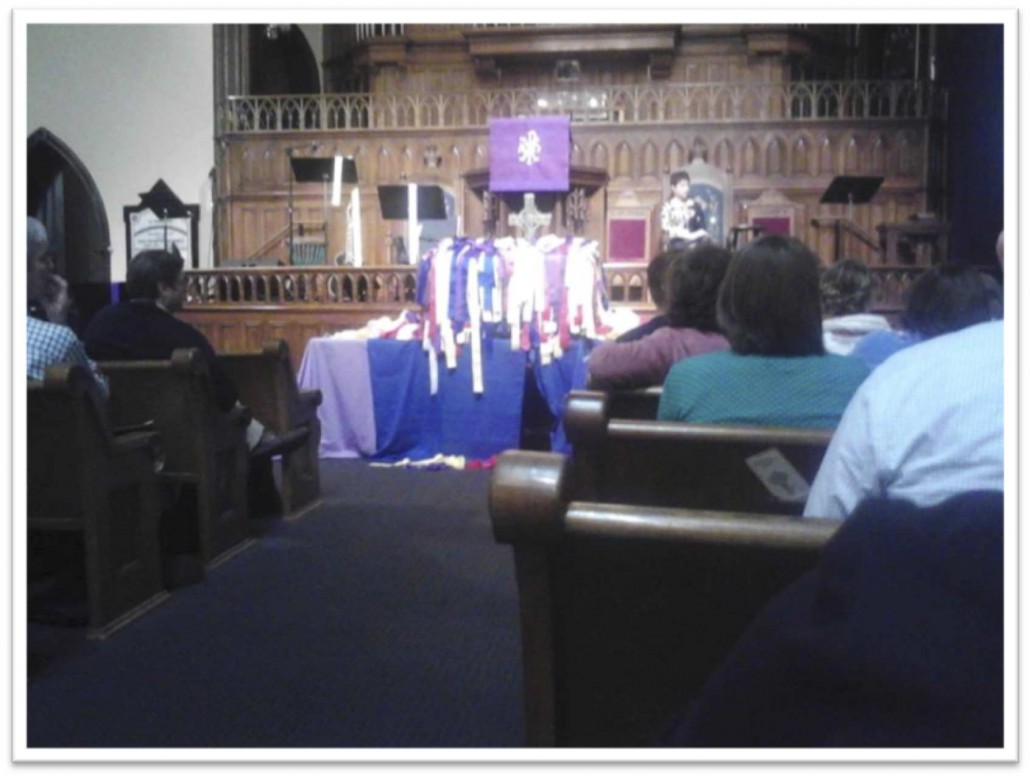 ~
Baptism Worship:
The ripped fabric was woven together, connecting the baptismal font and the manger together. The ribbon in the manger was returned to the conferees as a way of remembering our baptismal identity as a child of God. In preparation for the next worship, participants were asked to follow instructions on the bulletin insert and bring the ribbon to the next worship.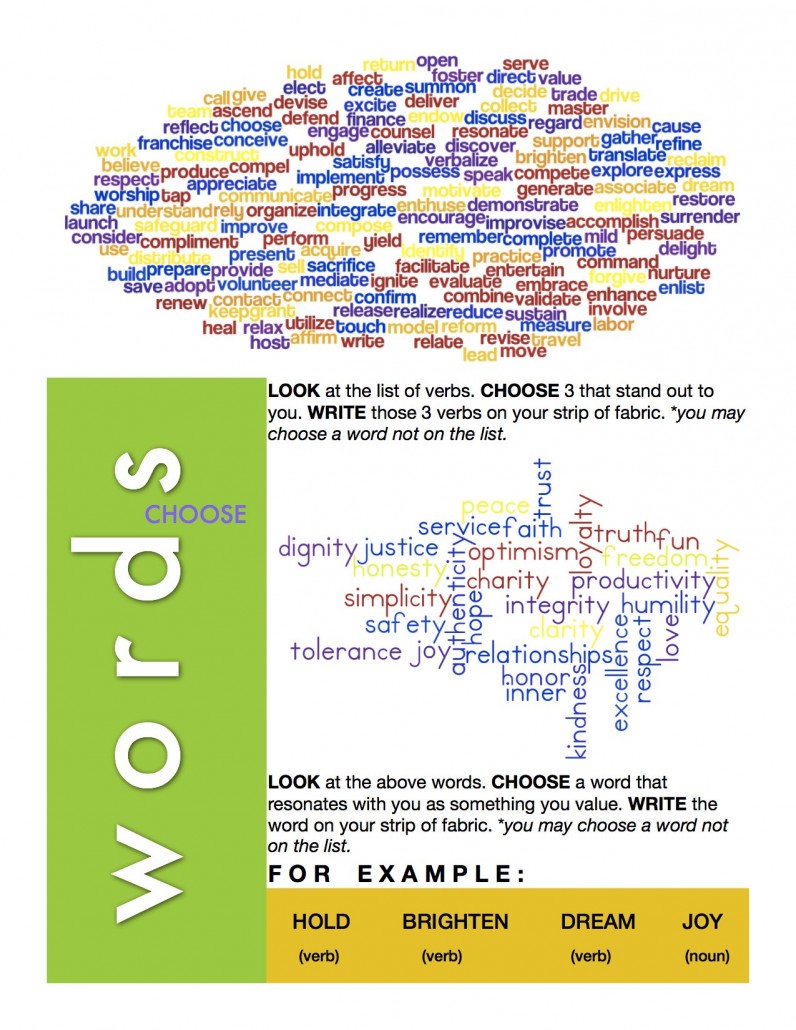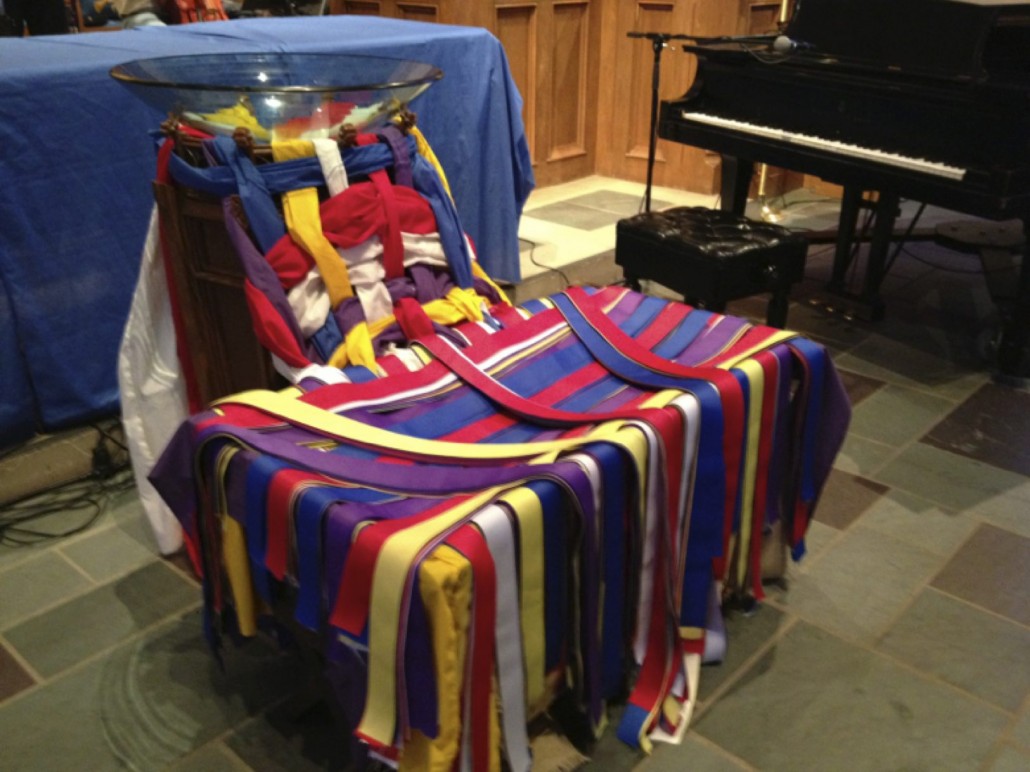 ~
Lent Worship:
The ripped fabric was displayed on the chancel and communion table in the pattern of Saekdong. After reflection on Luke 4.14-21, conferees were asked to pair up and share their call saying "My call is to (verb) (verb) (verb) (noun)" Share a quick reaction to their call. Then, their partner will say "Your call is to . . . " and then "stole" their partner. Afterwards, each conferee placed their ribbon in the offering basket as their offering of their call.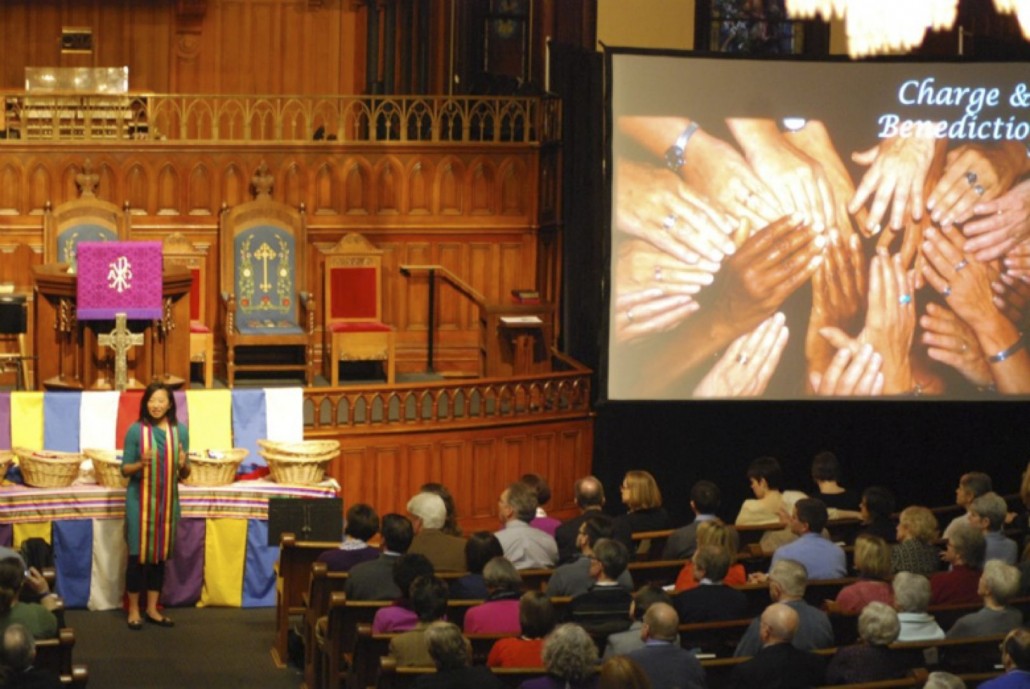 ~
Pentecost Worship:
The ribbons were woven on the communion table, representing how our calls are woven together. As conferees came up for communion, they were asked to take a stole of someone else, take it home and pray for them.
https://media.mywtenfold1.com/wp-content/uploads/sites/10/2013/03/29180723/table.jpg
916
1625
Jessica Tate
/wp-content/uploads/sites/10/2016/01/NEXT-Logo-FINAL-Horizontal_lato-1030x229.png
Jessica Tate
2013-03-20 16:11:15
2016-04-30 17:28:48
The "Ritual of the Ribbons" at 2013 National Gathering