Plans are already underway for our 2016 National Gathering! We are thrilled and honored that First Presbyterian Church of Atlanta GA will be our host congregation March 7-9. (In fact, stop what you're doing right now and do two quick things:
Put the gathering on your calendar.
 Put on your to-do list to invite one friend, colleague or ruling elder from your congregation to join you.)
Tony Sundermeier is pastor of First Presbyterian and a member of our advisory team. As part of our series of posts reflecting on our time in Chicago, we asked Tony to share his experiences, and what's on his mind as his congregation prepares to host next year.
What Tony offers is more than a reflection or article; it's much deeper than a recap. It is a meditation. It is best read slowly, letting the questions address you. Consider it an exercise in lectio divina. Which phrases resonate with you? How would you respond to them? Which remain unanswered?
Lingering Questions
By Tony Sundermeier (with Introduction by MaryAnn Mckibben Dana)
What do we observe when we observe what is trending in the church? In other words, what is being presented by us or to us as the avant-garde? What is the core-content that defines the kind of innovation, imagination, emerging leadership (and so on) that we assume to be correctly identified as that which is next?
Were not our hearts burning within us when we heard about social entrepreneurship; positive deviance; new monasticism; non-traditional worshipping communities; global mission partnerships; networks and cohorts; technique-driven innovation; living missionally; edgy liturgies; theology in a bar; etc. etc.? Were not our hearts burning with rage when we were told this thing or that thing is next, when we plainly see it as a recapitulation of exclusive and marginalizing, tired and irrelevant ideas/practices/systems of the yesterday church?
Who decides what is next? Do you? Do I? Does a strategic planning team? Does an advisory board? Might your next church be my never church? Might my never church be the church you have been praying for your whole life? Who decides?
Is this the great challenge the NEXT Church movement now faces? Or is this no challenge at all but a "coming of age" for the movement? Are we surprised by the multifaceted and complex responses to NEXT; what it has done and what it has left undone? Have we been caught off guard by some of the dissonance and dissatisfaction birthed in Chicago, and expressed via social media, or might this be a healthy byproduct of a network of leaders that prefers dissent to silence or resignation? Is this not simply a healthy consequence of a network of leaders that prefers to hear both "Yes" and "No" because it prefers plurality to particularity?
Is it not true that one of the great strengths of the NEXT Church movement is its commitment to both the dissenting voice as well as the obliging voice? Is this NEXT Church's unique contribution and challenge to cultures that often want to wear jerseys and choose sides instead of choosing each other?
Will NEXT Church compromise because dissent is hard to hear? Will NEXT compromise because particularity is so much easier to manage? Or will the only prevailing particularity, next to our commitment to a Christo-centric existence, be a nuanced desire to foster plurality and diversity of all kinds? Will NEXT widen the circle to include more voices even if those voices present a contest to our prevailing perceptions about what next truly means?
Who decides what's next? Might it be those that are willing to let their yes be yes and their no be no? Might it be those that dissent or affirm and still leave chairs open for one another at the table? Might it be you and me and the other and those that have yet to make their voices heard? Might it be us…all of us?
---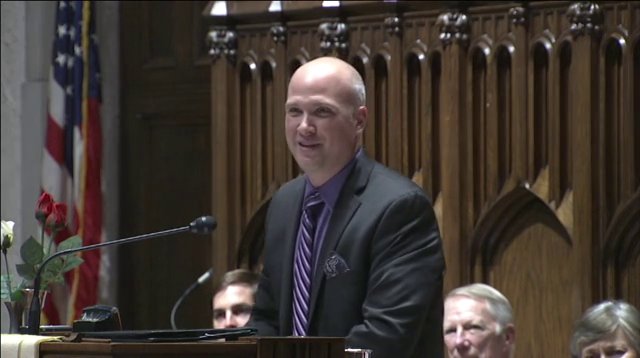 Tony Sundermeier is on the NEXT Church Advisory Team and serves as senior pastor at First Presbyterian Church of Atlanta, host of the 2016 NEXT Church National Gathering. 
https://media.myworshiptimes31.com/wp-content/uploads/sites/55/2015/05/29180014/TonySundermeier.jpg
358
640
marrandamajor
/wp-content/uploads/sites/55/2016/01/NEXT-Logo-FINAL-Horizontal_lato-1030x229.png
marrandamajor
2015-05-06 10:17:38
2016-02-18 13:47:10
Lingering Questions from Chicago