Each month, we post a series of blogs around a common topic. This month, Jessica Tate is curating a series that will reflect experiences of living in diverse community. Over the course of the month, we'll notice practices that enable diverse communities to thrive and we'll reflect on the promise of Christ in whom there is no Jew nor Greek, no male nor female, no slave nor free and what that promise means for our lives today. We invite you to share your own thoughts on Facebook and Twitter! 
by John Wilkinson
Do you promise to further the peace, unity, and purity of the church?
— W-4.4003 g. Book of Order, Presbyterian Church (U.S.A.)
The year 2001 seems like a very long time ago in so many ways. George W. Bush was president. The top five TV shows were Friends, CSI, ER, Everybody Loves Raymond, and Law and Order. The Baltimore Ravens won the Super Bowl and the Arizona Diamondbacks won the World Series. And there were, of course, the horrific events of September 11, with continuing implications and trajectories.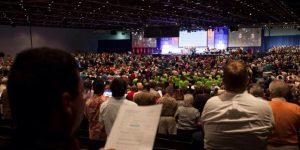 The Presbyterian Church (U.S.A.) was a different enterprise then as well. Larger, for one thing. More members and more congregations. (That's an observation, not a commentary!) It's much too soon for a historical analysis of that moment, but we can certainly remember it as a time of conflict and contention. We sparred in church courts and on the floors of presbyteries and General Assemblies about theological matters and their polity implications. The issues were twofold: 1. our Christology – our thinking about Jesus Christ; and 2. our understanding of human sexuality as it related to our ordination practices. In each issue were embedded biblical arguments, theological arguments, polity arguments, and views of culture and power.
In the midst of a particularly fractious moment, the 213th General Assembly called for the establishment of a theological task force. Its charge:
"The Theological Task Force on Peace, Unity, and Purity of the Church is directed to lead the Presbyterian Church (U.S.A.) in spiritual discernment of our Christian identity in and for the 21st century, using a process which includes conferring with synods, presbyteries, and congregations seeking the peace, unity, and purity of the church. This discernment shall include but not be limited to issues of Christology, biblical authority and interpretation, ordination standards, and power.
"The task force is to develop a process and an instrument by which congregations and governing bodies throughout our church may reflect on and discern the matters that unite and divide us, praying that the Holy Spirit will promote the purity of the Presbyterian Church (U.S.A.)."
I was privileged to serve on that task force, serving then as one of its younger members, a local church pastor with an interest in church history, and one who had been active in the ordination debate while seeking to build bridges with those who disagreed. Serving on the task force remains a highlight of my ministry, both for the relationships forged and the work we did.
Both our process and our product offered, I hope, something for the church at that point and as it moved forward. People still comment to me very positively about our work. I am grateful for that. We took relationship building seriously. We prayed and worshiped together continually. We engaged in extensive Bible study. We discerned – holy cow did we discern! All of that mattered greatly. (In fact, when people point to our experience, I remind them that any group can do that – pray, worship, study, and, in fact, it's easier to do in geographic proximity over a period of time than flying to Dallas every so often!)
We produced a report – adopted unanimously – that recommended several ways for congregations and presbyteries to renew their covenantal partnerships. All of those were widely embraced. We also recommended a new authoritative interpretation of the Book of Order. In shorthand that was called "local option," but it really sought to reaffirm the duties of sessions and presbyteries to apply ordination stands in particular settings. I like to remember that there were members of the theological task force supportive of and opposed to new ordination practices, yet all of us supported that recommendation. It passed as well at the 2006 G.A., but with a divided house following rigorous debate. (Here's our report.)
It is now sixteen years after our work began and eleven years since we issued our final report. Much has changed. Ordination and now marriage seem to be settled matters. The most recent General Assembly offered very little debate on the issues around which the task force gathered. Many congregations have departed our denominational family with perhaps more in the pipeline. The culture is at a different place as well, though what had felt like a consensus also feels like it is perched on an uneven surface.
Part of our work as task force members was to itinerate across the denomination, visiting presbyteries, synods and congregations, and sharing our report. It was a great privilege and a wonderful learning opportunity. People of all stripes showed up, and regardless of what they felt about the report, and in particular recommendation #5. I could tell how much passion and energy and love they had for their church. That hasn't changed, even though the forms and faces have.
I remember one visit in a particular, which pivots to the point of this blog entry. It was in a neighboring presbytery from where I live, so I could make the drive and back in one day. After my presentation and an extensive Q and A period, a minister approached me, in his 40's or so. He expressed appreciation for my presence and for the work of the task force. Then he said this to me: "You know, I am a conservative pastor serving in a conservative congregation in a largely progressive presbytery. I know I will be on the losing side of most votes we take. I can live with that. What I really want to know is whether there is a place for me in this presbytery, and is there a place for my congregation?"
Is there a place for me? Is there a place for us?
I told him that I certainly hope so, that our report sought to make space for those who disagree. But I also acknowledged that no report, no Book of Order provision, could guarantee that deeper response. Only the quality of relationships and the spirit with which our polity is engaged in any one context can establish that place, can make that space.
Is there a place for me? Is there a place for us? Those questions abide.
We are in a very different place as a church and as a culture, very different in so many ways. I pray, in our congregations and in our presbyteries, that we can find a place for those who disagree with us on important theological matters. "Agreeing to disagree" is the shorthand way of affirming a core Presbyterian principle, engrossed even in our ordination vows. How we do that in congregations and how we do that in presbyteries, in all of our relationships as Presbyterian followers of Jesus – in 2017 and beyond – will go a very long way to ensuring our health and vitality and position us for renewal and service.
Eleven years ago, the Theological Task Force concluded its report with these words: "To be one is not to say that we will be the same, that we will all agree, that there will be no conflict, but as the church listens to Jesus pray, all its members are reminded that the quality of our life together – our ability to make visible the unique relationship that is ours in Jesus Christ – is compelling testimony to the truth and power of the gospel we proclaim."
That affirmation makes theological diversity as a manifestation of unity not just a good idea, but a confessional mandate. How we make it visible and real in 2017 is a challenge whose daunting nature is only surpassed by the graceful possibility of the opportunity.
---

John Wilkinson is pastor of Third Presbyterian Church in Rochester, NY. He has been active on the presbytery and national levels, including on the Strategy Team for NEXT Church, and loves our connectional culture and confessional legacy.
https://media.myworshiptimes31.com/wp-content/uploads/sites/55/2017/10/29174133/featured-ga-221-crowd.jpg
200
398
Linda Kurtz
/wp-content/uploads/sites/55/2016/01/NEXT-Logo-FINAL-Horizontal_lato-1030x229.png
Linda Kurtz
2017-10-10 10:12:11
2017-10-10 10:16:12
Peace, Unity, and Purity Redux: What Theological Diversity Might Look Like Now