Each month, we post a series of blogs around a common topic. This month, Andrew Kukla is curating reflections on being evangelical in the church. Have we connected our congregations to resurrection life? Have we taught them how to talk about it?  How to live it? How to connect others to that life-giving, life-abundant power? We invite you to join the conversation on Facebook and Twitter!
by John Vest
Whenever I give a talk or lead a workshop on evangelism I begin with the same exercise. I give people a minute or less to write down a 2-3 sentence answer to this question: What is the gospel? This usually catches them off guard, but I don't stop there. I go on to ask them to find a partner and read to each other what they wrote. After they squirm around in their seats and chat uncomfortably for a bit—and there are usually a handful of people who refuse to do this exercise altogether—I make a blunt statement: if this is hard for you, especially if you are a church leader, we have a problem.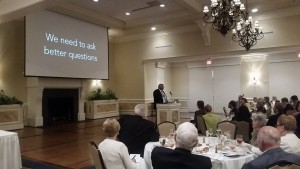 Sophisticated, well-educated Presbyterians tend to think that the gospel is too complex to reduce to a mere two or three sentences. We'll spend thirty minutes on caveats and qualifications before we dare say something simple and straightforward about what God is doing in the world through Jesus Christ. We'll tweak our language and nitpick details. We'll offer substitute motions to substitute motions before calling the question, before answering the question: what is the good news?
And when Presbyterians finally get around to answering this question, it often comes in the form of theological statements, sets of core beliefs, doctrines, dogmas, or confessions. This is the language we speak. But it might not be the language the world needs most right now.
Implicitly or explicitly, the faith question Presbyterians most ask each other is this: What do you believe? It's the basic question behind our Sunday School learning outcomes, our lists of things we want children to know before confirmation. It's the question we ask confirmands as they present statements of faith and publically profess that Jesus Christ is their Lord and Savior. It's the question in worship that prompts our recitation of the Apostles Creed or some other affirmation of faith. It's what we ask candidates for ordination. It's the reason that half of our constitution is a book of confessions.
But a better question is this: How do you know God is real?
In response, many people will say that we can't really know God is real. There's no way to prove it. We just have to believe. It's why we call it faith.
I don't think this is a satisfactory answer. Faith isn't about believing an unbelievable story. It isn't about believing something that can't be proven. If that's all it is, why choose one unbelievable story over any other unbelievable story? After all, every religion—and most non-religions—tell unbelievable stories.
Mature faith and transformative spirituality is rooted in experience. Evangelism is the art articulating that experience in compelling ways that just might resonate with other people.
To encourage this kind of faith-talk, we need to ask each other better questions than we are used to. Instead of "What do you believe?" or even "What is the gospel?" we need questions like these:
How have you experienced God's presence in your life?

Where do you see God in the world?

What difference does following Jesus make in your life?
In the Unbinding the Gospel series, Martha Grace Reece notes that people who do evangelism well—regardless of theological orientation—have more complete, integrated, and faster answers to questions like these. Yet for many of us, these are difficult questions to answer. This is probably not the way were raised or trained to talk about faith.
Before we can ever say what evangelism is and how we ought to do it, before we develop strategic plans and programs, before we have any chance of successfully reaching out to new people, we need to learn—or relearn—how to talk about faith in meaningful ways with each other. We need to be evangelized by each other. We need to understand what's at stake in the world and in our lives and how the gospel addresses these needs. We need to be able to articulate why Jesus matters.
This isn't just head work. This isn't simply a matter of getting our theology or our polity right. The gospel isn't a doctrine to believe or an ethic to follow. It has to be more than that. It has to be a spiritual transformation grounded in experiences of the living God. Within our churches, this will require a significant culture change. Perhaps we might even be bold enough to call it an awakening—or a revival.
---
John W. Vest is the Visiting Assistant Professor of Evangelism at Union Presbyterian Seminary in Richmond, Virginia. You can learn about his various ministry activities at johnvest.com and connect with him on Facebook and Twitter. An enthusiastic pitmaster, John dreams of one day achieving the mystical union of church and BBQ.
https://media.mywtenfold1.com/wp-content/uploads/sites/10/2016/04/29175334/featured-john-vest.jpg
200
398
Linda Kurtz
/wp-content/uploads/sites/10/2016/01/NEXT-Logo-FINAL-Horizontal_lato-1030x229.png
Linda Kurtz
2016-04-18 10:14:09
2016-06-13 19:09:21
Asking Better Questions