Each month, we post a series of blogs around a common topic. This month, Linda Kurtz is curating a series we're affectionately referring to as our NEXT Church book club, which aims to share insights on a variety of texts – and how they have impacted our bloggers' ministries. Understanding that reading in and beyond one's field is important to offering good leadership, we offer this series to get your juices flowing on what books you might read next. What are you reading that's impacting how you think about and/or do ministry? We invite you to join the conversation on Facebook and Twitter!
by Ken Evers-Hood
It's Christmas Eve and what looked to be a mild winter front turned into a snow storm shutting down most of the neighborhood around the church you serve. What are you supposed to do now? Or, some other Sunday you're leading worship and after reading the text, you scan the pulpit for the fantabulous sermon you wrote that now appears to be gonzo. Later, you would find out some "helpful" person removed it trying to tidy up the place, but what are you going to do in this moment? Or, you're on vacation when death strikes. The family calls, wanting you to come back for the memorial. It's possible, but you aren't sure you should go. There are good reasons on both sides, and the way forward isn't obvious.
These are all situations that I found myself in with little to no warning. Nobody told me how to cope with these situations in seminary… because no one could. Because you can't plan for every possibility. No, in ministry as in life, the moment we're done crafting our perfect plan is the moment the Holy Spirit seems to hit the holy chaos button and we find ourselves in the land of improvisation. Thankfully, there's help! MaryAnn McKibben Dana won't tell you exactly what to do when you're surprised. She does something better. She steeps us in the wisdom of improv, teaching us how to carry ourselves more nimbly and how relate to others more gracefully when the bottom has fallen out.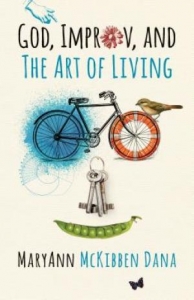 There are SO many things I love about God, Improv, and the Art of Living. For starters, MaryAnn dispels the notion that improv is some kind of rare preserve for the wild and wacky. Rather than being a gift for the few, improv is a skill able to learned and practiced by all. It's easy to think about shows like "Whose Line Is It Anyway" and think improvisation is only for clever wits who can think on their feet. But improv, MaryAnn points out again and again, isn't about thinking fast but learning how to be more present in whatever situation we're given. And good improv isn't finally blurting out that hilarious line you've been holding onto for just the right moment – it's being in deep relationship with your partners, listening to what they are saying, and responding vulnerably and authentically to what it is they are offering. Improv is much harder than just going wild; improvising means learning to trust that we and our partners are enough if only we allow ourselves to really show up and enter fully into the moment.
Another thing I love is how MaryAnn thinks theologically in relation to improvisation. Improv isn't just a way of thinking about ourselves and our own way of being in the world but a lens through which we learn more about Jesus in his full humanity and God. Take Jesus' first miracle in John: turning water into wine. Unplanned. Jesus apparently had a schedule and didn't think his time had come. But God and Mary thought otherwise. (Isn't it nice to know that this happens even to Jesus?)
The Syrophoenician woman? A master class in improvisation on the part of both the woman and Jesus. Instead of a practically perfect Mary Poppins savior, give me a fully human Jesus who messes up, acknowledges his mistake, and course corrects every time. And while I can understand the desire for a God who has everything figured out, I'm much more at home with MaryAnn's depiction of an improvising, co-creator who is working with us as much as through us.
And selfishly, MaryAnn is SUCH a good collector of stories and quotes. The book is filled with fascinating stories that, ahem, might have already wound up in a couple sermons inspired by her book. And it feels like that's just the beginning, but I don't really know. I'll just have to see what the future sends my way. And, thanks to MaryAnn, this unknowing feels more exciting than frightening.
---

Ken Evers-Hood pastors Tualatin Presbyterian Church and is the author of The Irrational Jesus: Leading the Fully Human Church and The Irrational David: The Power of Poetic Leadership. Ken also serves as an adjunct faculty member teaching leadership at Duke Divinity School. When he's not pastoring, writing, or teaching, he's probably hanging out with his kids on a soccer field or the beautiful Pacific coast.
https://media.mywtenfold1.com/wp-content/uploads/sites/10/2017/01/29174806/featured-improv.jpg
200
398
Linda Kurtz
/wp-content/uploads/sites/10/2016/01/NEXT-Logo-FINAL-Horizontal_lato-1030x229.png
Linda Kurtz
2019-02-25 06:48:52
2019-02-24 13:57:39
The Surprise of Holy Chaos