Each month, we post a series of blogs around a common topic. This month, Jessica Tate is curating a series written by participants in the second Community Organizing and Congregational Leadership cohort offered by NEXT Church, Johnson C. Smith Theological Seminary, and Metro Industrial Areas Foundation. You'll hear from various church and community leaders as they explore the key organizing concept of power. How can these reflections on power shape your own work and ministry? What is your reaction to their reflections? We invite you to join the conversation on Facebook and Twitter!
by Eyde Mabanglo
The Purpose of Power is Restoration
Luke 1:17
"With the spirit and power of Elijah he will go before him, to turn the hearts of parents to their children, and the disobedient to the wisdom of the righteous, to make ready a people prepared for the Lord."
I am tempted to recoil from power because I see power abused everyday. It is offensive to me and grieves my heart. As a result, I often reject (or shrink from) any power I might have in order to avoid any temptation to wield the same abuses of power that I abhor.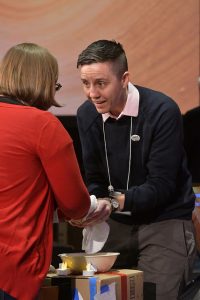 Reflecting on a theology of power has challenged me to re-evaluate and re-calibrate my ultimate distrust and rejection of power. My calling to follow after Christ and proclaim healing to the nations is woven together with a God-given power and sacred agency to participate in that restoration. I am reminded that the world desperately needs Christian leaders that have a healthy view of power to enter into this glorious, restorative work of God's Spirit.
Power Comes from God's Authority
Luke 4:36
They were all amazed and kept saying to one another, "What kind of utterance is this? For with authority and power he commands the unclean spirits, and out they come!"
The truest power is God's. I love how the word authority includes the word author. God is author of all that was, is, and will be, so naturally the only power that exists to bring renewal and restoration belongs to God alone. God is sovereign. Scripture reminds us that power and authority go together. When power serves self only (basically the definition of abuse of power), then it should be obvious to all that it does not reflect God. Power that diminishes or destroys is demonic. Power that restores is sacred and ordained.
We Have the Power to Help and Heal
Luke 9:1
Then Jesus called the twelve together and gave them power and authority over all demons and to cure diseases…
I believe that the abuse of power prevalent throughout the lifespan of humanity is indeed a demonic force. I may hesitate to believe that I have ultimate power over demons, but I now believe I have the power (and obligation) to speak to power, to redirect power, to leverage power, and to influence other agencies of power to bring about healing in our bodies, relationships, and institutions. I am a sacred agent of restorative power.
Power Restores Right Relationships
Luke 22:69
"But from now on the Son of Man will be seated at the right hand of the power of God."
The picture of Jesus sitting at the right hand of "power" is more than a family photo. Through a theological lens, the incarnate power of God simply (yet profoundly) abides with God's Self. Power is about restoring each of us to a wholeness that finds itself in God's self. This is the purpose of power—to turn hearts (Luke 1:17) to others which in turn is to turn one's heart to God. This is the new commandment (self-giving love is the essence of God's Word). In other words, "They will know we are 'Sacred Agents' by our love."
God Sends Power and Sends Us
Luke 24:49
"And see, I am sending upon you what my Father promised; so stay here in the city until you have been clothed with power from on high."
God's power is God's essence which means that this divine power is not just sacred agency but perhaps is profoundly equal to God's love, grace, mercy, life, faith, resurrection, and self. God's self can't not love. God must create (make things new) always, so God's Power is always regenerative, renewing, restoring. This may be the best way to understand the Word — the Logos, the imago dei, our Triune God. Dwelling in that Word is how we understand the purpose of God's sacred power and our sacred agency.
Then, we must humbly embrace the responsibility of receiving this power to bring about right relationships under the authority of Christ Jesus. We must not abuse it, but neither should we reject it or recoil from it.
For yours is the kingdom, the power, and the glory. Now and forever. Amen.
---

Eyde Mabanglo is an ordained PC(USA) pastor and ICF trained leadership coach. She is an experienced transitional pastor and is currently serving in a 260-member congregation in Tacoma, Washington. Eyde is driven by a profound hope in Christ Jesus and is devoted to helping church leaders fully participate in God's mission of sacred restoration.
https://media.mywtenfold1.com/wp-content/uploads/sites/10/2018/03/29173728/featured-community-welcome.jpg
200
398
Linda Kurtz
/wp-content/uploads/sites/10/2016/01/NEXT-Logo-FINAL-Horizontal_lato-1030x229.png
Linda Kurtz
2019-03-26 18:36:17
2019-03-26 18:38:15
Sacred Agents