Each month, we post a series of blogs around a common topic. This month, Jeff Bryan is curating a series reflecting on the 2018 National Gathering in late February. You'll hear from clergy, lay people, community leaders, and others reflect on their experiences of the National Gathering and what's stuck with them since. How does the "Desert in Bloom" look on the resurrection side of Easter? What are your own thoughts of your National Gathering experience, or on what these reflections spark for you? We invite you to join the conversation on Facebook and Twitter! 
by Angela Ryo
The first time I attended a NEXT Church National Gathering was three years ago. I was in my first call as a resident minister — a two-year position for recent seminary grads to explore every aspect of ministry in a large congregational setting. Going to the National Gathering was a natural progression of what I wanted out of ministry: to imagine a different church, a different set of tools for ministry, and life-transformative outcome and not just soul-draining output.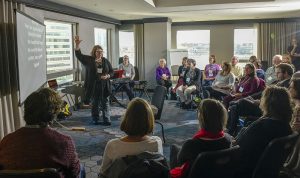 So I went for the first time, looking for others who were doing ministry differently and wanting to learn and connect with them. That particular year, there was a workshop titled, "Do Something Else." Perfect. Just what I was looking for. It was led by three very energetic (I mean, "exactly-how-many-cups-of-coffee-did-you-have-this-morning?" energetic!) pastors who were doing ministry differently. They sure LOOKED crazy! But as crazy as they were, by the end of the workshop, I remember looking at one of them in particular — Nate — and thinking, "how cool would it be to work with someone like him, who can imagine a different way to BE the church!" But he was all the way from Delaware and I was in Michigan — fat chance that would ever happen!
The next time I saw Nate was the following year at the National Gathering. He had accepted a call at a church in Michigan and he was looking to put together a team. I had my first informal interview with him between workshops. And yup, you guessed it — he's now my head of staff. That's just a prime example of what NEXT Church is all about: bringing total strangers together in surprising and awesome ways!
This year, I came to the National Gathering with my boss — the one I met at a National Gathering two years ago. We dreamed together as we watched Ignite presentations about Pres House and Serve GR and asked each other, "Why aren't we doing this at our church?" During David Leong's keynote, we thought about how we can help our church be at the forefront of change by lifting up artists as prophets and adding fuel to their imagination. Having enjoyed my time with old and new friends, I left the National Gathering feeling rejuvenated and refreshed with a renewed hope for the Church.
I am no longer a resident minister whose job description is to be curious and to dream and experiment. In the busyness of everyday ministry, curiosity and imagination often take the back seat because they feel like luxuries I can't afford. However, reflecting on my experience from the National Gathering, I am reminded of the importance of practicing the following in my ministry:
Interaction with ALL KINDS of people (even those you think had too many cups of coffee!).
Integration of what I learn from them into my daily life as well as my ministry (workshops are great at that).
Imagination of what the church OUGHT to be and CAN be (Ignite conversations will do that for ya!).
Inspiration of the Holy Spirit to be transformational rather than transactional in all of our relationships both in our church and community (David's keynote hit the spot).
Invitation to others to join and dream with me in my ministry and vice versa (that's NEXT Church, y'all!).
I hope you will keep dreaming with me until the next National Gathering! And who knows? You might end up meeting your head of staff there just like I did!
---

Angela Ryo is an assistant pastor for Christian Formation at Kirk in the Hills in Bloomfield Hills, MI. In her previous life, she was a high school English teacher in Chicago, where she grew up. She loves to watch food documentaries and horror movies, but sometimes, it's hard to tell which is which.
https://media.mywtenfold1.com/wp-content/uploads/sites/10/2018/04/29173620/featured-ng-workshop-presentation.jpg
200
398
Linda Kurtz
/wp-content/uploads/sites/10/2016/01/NEXT-Logo-FINAL-Horizontal_lato-1030x229.png
Linda Kurtz
2018-05-24 05:34:09
2018-05-24 10:33:39
This Connectional Church