Each month, we post a series of blogs around a common topic. This month, Rev. Ken D. Fuquay is curating a series featuring an eclectic group of voices responding to the question, "Does church matter? And if it matters, how, and if it does not, why?" Some of the voices speak from the center of the PC(USA); others stand on the periphery. One or two of the voices come from other denominations while some speak to us from the wilderness and barren places. "To every age, Christ dies anew and is resurrected within the imagination of humans." These voices are stirring up that imagination in their own way. May your imagination be stirred as you consider their insight. We invite you to join the conversation on Facebook and Twitter!
by Karen Jones
The day I found my brother was the last day I formally went to church.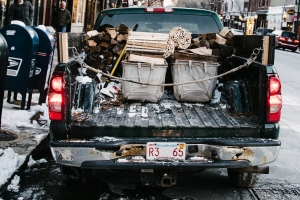 He was living in a discarded truck behind a car repair shop, isolated from the hearing world because of his deafness and from the seeing world because of his plight. He read the paper daily, front to back, and could tell you anything you'd want to know about current events. When I went to see him, just after 9/11, there was a small American flag perched in the side window of the dilapidated truck. Why was I surprised?
I came every week, bringing food and reserving a night for him in a nearby hotel. The time we spent together became church in the truest sense.
I cried.
I hallelujahed.
I shouted supplications and obscenities.
I did what I could.
And then, after our Sunday visits, I drove home, passing the manicured medians on a different side of town, passing the church I had attended for years but couldn't return to. There was just no way to clean my brother up enough to go there.
Sometimes living is messy. And churches don't do messy.
We want people to fold their lives, just so, and tuck them neatly in the top dresser drawer. We want order, cleanliness, 30 minute sermons, and lunch by noon.
Homelessness isn't just about shelter or location, or finances or bad decisions. It isn't just about addiction or mental health. It is the disheveled heap of humanity that crumples at the door.
Our door.
And what do we do?
We cry.
We hallelujah.
We shout out supplications and obscenities, because we are human, too. And then we do what we can.
---

Karen Jones has worked in Charlotte's Early Childhood Community for over 30 years, promoting creativity and cooperative collaboration through literacy and the arts. She is formally the Executive Director for a non-profit agency, serving children and families of multi-ethnic communities in Charlotte NC. Currently she enjoys being a regular participant of M2MCHARLOTTE!
https://media.mywtenfold1.com/wp-content/uploads/sites/10/2019/06/29172749/featured-truck-bed.jpg
200
398
Linda Kurtz
/wp-content/uploads/sites/10/2016/01/NEXT-Logo-FINAL-Horizontal_lato-1030x229.png
Linda Kurtz
2019-06-10 12:02:16
2019-06-10 13:45:52
Lost and Found