Each month, we post a series of blogs around a common topic. This month, Don Meeks and Jeff Krehbiel are curating "Can We Talk?", a modest attempt at an uncommonly gracious conversation among colleagues who differ on matters of conscience. Can we bridge the theological differences that divide us? Can we even talk about them? Can we affirm the best in each other's theological tradition while honestly confessing the weaknesses of our own? We invite you to join the conversation on Facebook and Twitter!
by Jodi Craiglow
"Whatever house you enter, first say, 'Peace to this house!' And if anyone is there who shares in peace, your peace will rest on that person; but if not, it will return to you. Remain in the same house, eating and drinking whatever they provide, for the laborer deserves to be paid. Do not move about from house to house." – Luke 10:5-7 (NRSV)
At the end of October, Don Meeks approached me about contributing a piece for the NEXT Church blog about a lesson I've learned in my time as a bridge-builder. And as I thought about what I'd write, these verses from Luke's gospel came to mind.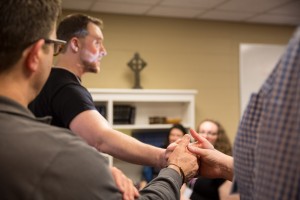 Now, I know we wouldn't naturally associate this particular passage with peacemaking within the bounds of our own church. Luke 10 is all about Jesus sending out his 70-or-so protégés for their maiden voyage of cold-call evangelism, isn't it? Well, yes… but I'm willing to argue that it has broader implications, as well. Follow me on this one.
Recently I've been reading Christine Pohl's book, Making Room: Recovering Hospitality as a Christian Tradition, and she makes (at least to me) a startling point:
Personal hospitality, in home and in church, tends to be reserved for people with whom we already have some connections. It is hard for us to think of offering personal hospitality to strangers. Strangers that we do invite into our homes are rarely complete strangers to us. Complex educational, socioeconomic, familial, and religious networks reduce the strangeness, the "unknownness" of such people.
In other words, we like hanging out with people that we have at least some familiarity with, some sort of common ground upon which we can build a relationship. So, when Jesus was telling his followers to find and stay with a "person of peace," he wasn't just kickstarting a first-century Airbnb. He was telling them to keep their eyes open for that person God had already been working on (and through), who could serve as their cultural liaison. Jesus told them to hunker down with this person, so that their relationship could deepen – which then, if they played their cards right, would create common ground with that person's entire cultural group. These visitors wouldn't be "complete strangers" anymore; their "unknownness" would be reduced by the fact that they all now had a mutual friend.
So, why bring this up here? Well, my own experience has taught me that in a lot of ways, the factions we current-day churchgoers have forged ourselves into have made us "strangers" of one another. Because we choose not to interact with "those people" who don't agree with us theologically, politically, socially… you name it… we have little to no idea who "they" really are. (This year's election cycle, anyone?) That's where a person of peace comes in. If God is calling you to a ministry of bridge-building, I'd wager my eye teeth that God's already working on somebody within that group you're being called to connect with. It's your job to keep your eyes open for this person.
What should you look for? In my experience, these "people of peace" are relatively well-connected within their representative groups. They're well-versed in the culture of their own group, but often have at least a little working knowledge of where you're coming from. They tend to be good listeners, and like to get as full a picture of a given situation as they can before drawing conclusions. They're usually the type of people who love people, and they're willing to lend you a little of their social capital so that you can navigate your way through your new environment. (In other words, they'll risk some of their reputation to boost yours.)
If you just read the previous paragraph and thought to yourself, "Hey – that sounds like me!" maybe God could be calling you to be a person of peace. I'd encourage you to keep your eyes open for somebody outside your "tribe" who might be interested in getting to know you. Build a relationship with this person, and then broaden that relationship out to others within your group. (And, if you're feeling really feisty, let that "sojourning" person be a person of peace for you as you get to know the group they come from.) And, before you know it, the bridge is building itself.
That's what happened for me… come find me, and I'll tell you my story. And if at any point you'd like me to be your "person of peace," all you have to do is ask.
---

Jodi Craiglow is a Ruling Elder at First Presbyterian Church in Libertyville, IL. She is a PhD student in Educational Studies at Trinity Evangelical Divinity School, and serves as an adjunct professor at Trinity International University and Trinity Graduate School.
https://media.myworshiptimes31.com/wp-content/uploads/sites/55/2016/04/29175329/featured-hands-ken.jpg
200
398
Linda Kurtz
/wp-content/uploads/sites/55/2016/01/NEXT-Logo-FINAL-Horizontal_lato-1030x229.png
Linda Kurtz
2016-11-28 07:39:32
2016-11-27 17:45:33
Finding – and Being – a Person of Peace