Each month, we post a series of blogs around a common topic. This month, Layton Williams is curating a series we're calling "Ministry Out of the Box," which features stories of ministers serving God in unexpected, diverse ways. What can ordained ministry look like outside of the parish? How might we understand God calling us outside of the traditional ministry 'box?' We invite you to join the conversation on Facebook and Twitter!
by Remington Johnson
Folks like to ask me about my call. What did it feel like? How did I know?
I struggle to answer and blush a bit to give as honest and succinct an answer as I know how: I went to seminary because I thought I was called to be a really fantastic preaching pastor helping to motivate, shape and encourage large swaths of people. I got to seminary and had a mostly unpleasant time. Everything felt too slow, too pedantic and too flat.
It mostly wasn't the professors' faults. Rather, it was that my calling wasn't to be found in parish ministry. The education was focused on the good and worthy work of preparing me to serve a church and despite these meaningful aims, I struggled. I was bored.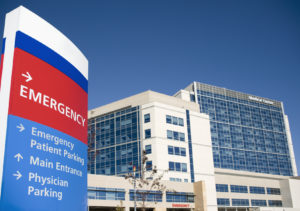 During a January class session, I found myself interning as a chaplain in a local hospital and had that deep feeling — where you know you are supposed to be right where you are and nowhere else — more often than I had ever felt before.
So, I changed my focus and chased down a chaplain residency. After seminary I had the luck and blessing of landing a job starting a top tier cardiac hospital's very first chaplain program.
At that phenomenal hospital, my place in ministry is to show up at some of the very worst and most poignant events of a person's life. It is in these moments of crisis and suffering that my call finds its roots. There in those heavy places, I help to create a safe space for folks to feel loved, for them to be reminded of hopes, of lives well lived, of dreams yet met, and perhaps most importantly, a space for them to wrestle and wander with the pain of the experience as they seek to make sense and find the right path forward.
Hospital stays are some of the very hardest places to process health events and seismic life changes. The processing and meaning making that takes place begins at the bedside in the hospital and it extends far beyond the discharge. Walking with people while they process a major life event offers the church a place to ground itself in the life of its peoples and to find fertile ground for shared sacred experiences.
There is an iteration of the Post Traumatic Model of Growth that highlights the vital role of the church body in the recovery and healing process. In this model, the church is where space is created for folks to question the deep existential concerns that a trauma can stir up and it is in this safe place of pot lucks, Gospel readings, and parking lot conversations that folks are given the opportunity to begin to heal from their experience.
The intersection of my work with parish ministry sits right in the midst of that painful and confusing time after a seismic event. I cannot follow my patients and their families' home. I have faith that their churches and their people will continue the good and heavy work of holding them, listening to them, and cautiously awaiting the long slow work of healing. Just as I stand as the one of the church's emissaries of love in the midst of very heavy times, the church body continues that work long after a family has left the hospital.
My service as a hospital chaplain has been and continues to be a remarkable source of joy and meaning. I get to share this joy with those I care for and with. When I guest preach, I can bring this joy and meaning back to the congregations.
In a way, those I care for helped save my soul: they showed me who I was and where I needed to be. Their stories of God's hand in their lives reminded me of God's love for me and all peoples.
This work is wondrously mutual.
---

Remington Johnson is the manager of Chaplain Services at a leading cardiac hospital. Along with her service as a medical chaplain, she serves as the chair of the ethics committee and assists families in navigating difficult decisions. She also tends to the growing palliative care program. Outside of the hospital, Remington raises a young son, imagines a delightful future with her girlfriend and builds beautiful things out of wood. Most every day at 5pm you can find her sweating out her feelings at one of those gyms where they lift heavy things and run around to feel alive.
https://media.myworshiptimes31.com/wp-content/uploads/sites/55/2017/02/29174646/featured-hospital.jpg
200
398
Linda Kurtz
/wp-content/uploads/sites/55/2016/01/NEXT-Logo-FINAL-Horizontal_lato-1030x229.png
Linda Kurtz
2017-02-22 10:04:14
2017-02-22 10:04:14
Ministry at the Meeting of Trauma and God