Each month, we post a series of blogs around a common topic. During August, John Wilkinson is curating a month of blog posts exploring where we are as a church through the lens of the new Presbyterian hymnal, Glory to God — what are we thinking about? how are we worshiping? what matters to us? where are we headed? Join the conversation here, on Facebook, or Twitter!
By Bonny Claxton
I serve as the Chief Financial Officer for the Rochester Presbyterian Home. In that role, I spend a great deal of time with our residents, whom we call "elders." "Elders," for us, is a term of respect and dignity. All of our residents are facing memory loss issues of one kind or another, including some with significant levels of dementia or Alzheimer's.
We know from research and our experience that music is an invaluable resource for people living with dementia and those caring for them. "We tend to remain contactable as musical beings on some level right up to the very end of life," says Professor Paul Robertson, a concert violinist and academic who has made a study of music in dementia care.
Robertson says: "We know that the auditory system of the brain is the first to fully function at 16 weeks, which means that you are musically receptive long before anything else. So it's a case of first in, last out when it comes to a dementia-type breakdown of memory."
We know that's true for our elders. We recently had a music therapist come in and do an in-service for our staff, helping us to learn how to sing to and with our elders. We regularly have musicians come in and lead sing-alongs with our residents, whether family songs, patriotic numbers, hymns or Christmas carols.
Even when speech and other cognitive functions are diminishing, I have learned that music is a deep-seated form of communication and expression, reaching the deepest places of an elder when nothing else can.
Here's one example…
As you might guess, we have regular holiday gatherings, and the Christmas season is especially meaningful at the Rochester Presbyterian Home. Many groups of youth and adults come to visit. The youth of our own congregation, Third Presbyterian Church, come in near Christmas every year to visit with our elders and sing carols.
I remember one such gathering. I have always loved the carol "In the Bleak Midwinter." (Glory to God, 144) I suggested to our song leader that we sing that carol. I was sitting next to Millie, who had lost much of her ability to use words. We began to sing, and the most amazing thing happened… Millie was quietly singing along!
She sang:
In the bleak mid-winter
Frosty wind made moan,
Earth stood hard as iron,
Water like a stone;
Snow had fallen, snow on snow,
Snow on snow,
In the bleak mid-winter
Long ago.
Her spirit changed immediately as those words, and that tune – so embedded in her spirit –came pouring forth.
What can I give Him,
Poor as I am?
If I were a shepherd
I would bring a lamb;
If I were a wise man
I would do my part;
Yet what I can, I give Him –
Give my heart.
It was a special and sacred moment. Memory loss was suspended, as a lifetime of faithfulness returned abundantly.
Whether it's singing with our children, singing with our elders, or the songs – secular or sacred – that define our own lives, music allows us to tap the deepest parts of our memory, and, in this case, draws us closer to God.
---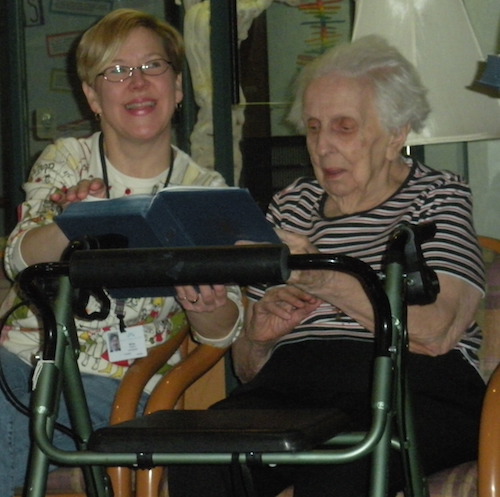 Bonny Claxton
Chief Financial Officer
Rochester Presbyterian Home
Member, Third Presbyterian Church, Rochester
/wp-content/uploads/sites/10/2016/01/NEXT-Logo-FINAL-Horizontal_lato-1030x229.png
0
0
Jessica Tate
/wp-content/uploads/sites/10/2016/01/NEXT-Logo-FINAL-Horizontal_lato-1030x229.png
Jessica Tate
2015-09-02 05:20:31
2016-02-18 12:47:56
Music and Memory: In the Bleak Midwinter