Each month, we post a series of blogs around a common topic. This month, Jessica Tate is curating a series that will reflect experiences of living in diverse community. Over the course of the month, we'll notice practices that enable diverse communities to thrive and we'll reflect on the promise of Christ in whom there is no Jew nor Greek, no male nor female, no slave nor free and what that promise means for our lives today. We invite you to share your own thoughts on Facebook and Twitter! 
by Glen Bell
(D) > fP
Embracing our diversity is greater than the force of our privilege.
Genuine openness blows apart our assumptions.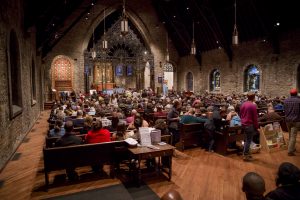 As a straight, white, male, upper middle-class Presbyterian, I am privileged beyond measure. I am grateful for the patience of others. So many have taught me about their lives, the world and the power of the gospel, far beyond my predictable domain.
On a pilgrimage to Israel and Palestine with two dozen other pastors, I was surprised by a wretched realization. I listened to the female participants. One painful story after another testified of the discrimination and abuse of women in ministry.

On staff of an urban ministries center, I was encountered by the bedrock truth of homelessness. Street life demands and challenges and twists. It is expensive, body and soul. The disrespect and sense of invisibility burn deep.

Candor leads in unexpected directions. After the General Assembly voted to divest from three American firms engaged with the Israeli military, I welcomed the opportunity to sit with several local Jewish leaders. One was angry, and shared his perspective with clarity, calm and grace. Another completely agreed with the decision.  
What have I learned from these few instances and so many more? There is always more to discover from our diverse neighbors. Every part of the journey promises the opportunity for new learning. Listening from the heart (and offering an open space and safe place) is critically important – and requires continuing recommitment on my part.
This ongoing commitment is a challenge given to each Presbyterian seminary graduate who is seeking a call from a congregation. As leaders in the PCUSA, we learn one of the important values in our denomination is cultural proficiency. Such proficiency involves understanding "the norms and common behaviors of various peoples, including direct experience working in multiple cultural and cross-cultural settings."
Some of my friends do not enjoy the privilege I often take for granted. Shiraz Hassan, the president of the local mosque in Sarasota, was born in South Africa and came to United States over twenty-five years ago. Today he urges other participants in the mosque to reach out into the community. "We all live here," he says. "Whatever you get, you need to give back." When asked about the all-too-common association of Muslims with terrorists, he responds, "The major thing is that every [Muslim] person living in Sarasota is American. Everything else is secondary. We are not the other."
Perhaps we cannot discover the gospel today unless we live and love across cultures, renouncing the ease with which we call our neighbors "others," entreating the wind of the Spirit to fill our sails toward new horizons, building relationships with people and communities beyond our comfortable sameness.  
In response to this growing need, almost a decade ago Louisville Seminary created Doors to Dialogue as a central part of its curriculum. Students are introduced to distinctly different faith communities. They – and we – learn through the crucible of diversity, because we all are immersed in communities with a variety of cultures and beliefs.
Such diversity invites us to grow and develop as disciples of Christ. It calls us to express our faith in ways that demonstrate genuine acceptance and care, even through our own uncertainty and questions.
In his book How Your Congregation Learns, Tim Shapiro points out the church "is often in a situation where it is expected to think and behave in ways it has not yet learned with knowledge it does not yet hold." This learning cannot happen when we assume that all Presbyterians look, act and see the world like us. They do not.
If our churches are to mature, we must engage different perspectives. Shapiro concludes that in addition to creativity, "the central and most important behavior for congregational development is the congregation's ability to learn from an outside resource."
Are we open to the outside to shape us and teach us?
Shiraz Hassan is such a resource for me and First Presbyterian Church. Wally Johnson is becoming that kind of resource as well. He is the new pastor at Northminster Presbyterian Church, five miles north of downtown Sarasota. Northminster and Wally are distinct from me and the congregation I serve; he and I think significantly differently on issues important to each of us.
But along with our diversity is one bedrock theological truth that drives us into rich conversation.  We are brothers in Christ. We are Presbyterians together.  
With kindness and conviction, Wally invited me a few weeks ago to preach at his installation service as pastor at Northminster. Through his welcome and hospitality, Wally is graciously teaching me.  
Embracing diversity is a blessing.  
Crossing boundaries transforms us.
---

Glen Bell is head pastor of First Presbyterian Church of Sarasota, Florida, and serves on the NEXT Church strategy team.
https://media.mywtenfold1.com/wp-content/uploads/sites/10/2017/09/29174150/featured-church-community-chapel.jpg
200
398
Linda Kurtz
/wp-content/uploads/sites/10/2016/01/NEXT-Logo-FINAL-Horizontal_lato-1030x229.png
Linda Kurtz
2017-09-21 07:58:12
2017-09-21 09:27:15
Beyond Our Comfortable Sameness