By Andy Greenhow and Casey Thompson
We're always surprised by who God calls to the table.
Maybe we shouldn't be. We're both pastors, after all. Andy, especially. He is one of the pastors at Broad Street Ministry (BSM), a ministry founded in Philadelphia in 2005 based on the gospel value the church could be a place where everyone belongs. Emphasis on everyone. So the BSM founding mothers and fathers like Rev. Bill Golderer, BSM's Convening Minister, stood on street corners and handed out printed invitations to worship and to the weekly No Barriers Dinner, Philadelphia's Most Dangerous Dinner Party.
And wouldn't you know it? People showed up. But in addition to young, artsy, and employed pledging units, outwardly suffering people came in droves—people experiencing hunger, homelessness, poverty, addiction, and mental illness. They came to the table—the liturgical one at the center of our worship and the round ones in the cathedral dining room, a scene straight out of Luke 14. They came to eat at our community meals, but they also needed a change of clothes, they were looking for some deodorant or a change of underwear, and they needed a mailing address.
The question shifted from, "How do you get people to come?" to "How do you care for our city's most vulnerable?" BSM had a strong staff and a relatively coherent theology rooted in the table, but in order for us to accommodate all the people who had accepted the invitation, we needed help from the pros. So we invited a few more to the table: a diverse group of hoteliers and restaurateurs to come together and advise us on how we could be the newest members of Philadelphia's robust hospitality industry.
Fast forward a few years and some of those restaurateurs came to BSM with an idea. CookNSolo (that's Steven Cook and Mike Solomonov) is a family of restaurants, among them a local favorite, Federal Donuts, specializing in fried chicken and donuts. (Fried Chicken and Donuts, y'all!) Federal Donuts was discarding about 1,000 pounds of perfectly good chicken backs and bones a week and wanted to make it into soup. God had invited them to the table and they had something to bring. Of course, the soup would taste good. But could it do good, too?
After some fried-chicken-fueled brainstorming between Mike, Steven, and Bill, Broad Street Ministry and Federal Donuts decided to invite even more people to the table and open the Rooster Soup Company, a restaurant that uses discarded chicken from FedNuts to make delicious soup to be sold at a profit to support Broad Street Ministry's hospitality work. A restaurant that donates all its profits can't exactly get traditional investors or a bank loan, so we widened the invitation to the table a little more and took to Kickstarter to crowdfund the idea. (It's going really well, thanks for asking! There's about a week left and you can watch the video if you think you're interested in joining us at the table.)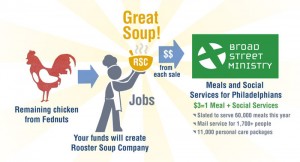 What Casey thinks is brilliant about this idea (which he's comfortable saying since he had nothing to do with it) is that it's harnessing a gospel value — hospitality — that people who never walk in a church value as well. Like Steven and Mike. You won't find them at church but you could probably catch them at the synagogue for the high holidays. And if you look at the backers on Kickstarter, you'll find Buddhists and Muslims, atheists and agnostics, a little bit of everyone around the table. As we said earlier, we're always surprised by who God calls to the table.
We also think there's some deep thinking the church needs to do about how the church develops social businesses—because tithing is dying and we need to start these conversations now. If it emerges from our defining values, like the value of hospitality, then it has a chance of being an authentic invitation to the gospel as well as a revenue stream.
But that's a blog post for another day.
The big idea here is this: Some people who had nothing to do with the Presbyterian church or even the broader Christian church came to us with a concept that they wanted to try, oriented around shared gospel values that they believed we would want to get on board with, that would enliven a whole city around new possibilities, and that would provide sustainable funding to an important ministry.
The next church doesn't only try established possibilities and it doesn't shout into the echo chamber to find solutions. It reaches out, finds best practices, asks for help, and finds a diverse body of shared-value stakeholders. Something like this could happen anywhere. So let's get Rooster Soup off the ground and then we'll gather at the table again and do something like it somewhere else.
_______________________________________
Andy is Minister of Stewardship, Congregational Partnership & Belonging at BSM and is coordinating the Rooster Soup Co. effort for Broad Street.
Casey's not on staff at BSM but he likes to pretend he is and might as well be. He is the Pastor of the Wayne Presbyterian Church, one of the five founding churches of BSM.
https://media.mywtenfold1.com/wp-content/uploads/sites/10/2014/07/29180321/Rooster-Soup-main.jpg
480
640
Jessica Tate
/wp-content/uploads/sites/10/2016/01/NEXT-Logo-FINAL-Horizontal_lato-1030x229.png
Jessica Tate
2014-07-18 08:10:54
2016-02-18 12:28:19
Rooster Soup, Gospel Values, and Creative Fundraising