Each month, we post a series of blogs around a common topic. This fall we've asked a number of leaders to respond to the question, "What is saving your ministry right now?" We invite you to join the conversation here, on Facebook, or Twitter!
By Chris Tuttle
It was another busy Thursday night, shuffling between meetings.  I was getting (another) cup of coffee, grabbing a stack of papers off the copier I was going to need.  I was moving too quickly, not doing anything as well as I would like.  It's that time in the fall when ministry disappears in between kickoff of the programmatic year, stewardship, then, before you know it, Advent.  A lot has been changing around here that is exciting, but change produces anxiety.  Stewardship season produces anxiety.  And when people are anxious, they are not likely to be at their best.  In these seasons when the pace becomes overwhelming it's easy for me to lose perspective, to forget why ministry matters, and what a privilege it is to do this work.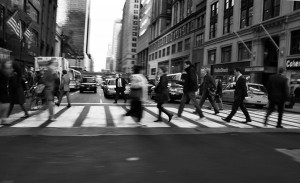 I noticed an older gentlemen coming towards me down the hall.  I didn't really have time for him, but he stepped in the way.  I began my normal, "Hi, good to see you," and blow right by move.  He's a newer member and has come with great enthusiasm.  "So much is happening around here," he said. "It's wonderful.  Thank you for your work."  I feigned gratitude, smiled, and, in retrospect, he could tell.  But he stepped in front of me again, and put his hands on my shoulders.  "I go walking every morning.  And when I walk in the morning, I pray for you.  I want you to know that.  When I walk in the mornings I pray for you."
As the pace picks up I remember those prayers, and give thanks to God for the kind people around us who persist in their care for us, whether or not we are in a position to receive it.
---

Chris Tuttle pastors at Westminster Presbyterian Church in Durham, NC and serves on the NEXT Church Advisory Team.
https://media.myworshiptimes31.com/wp-content/uploads/sites/55/2015/11/29175808/3024124501_5fec86aee8_o.jpg
2252
3686
Linda Kurtz
/wp-content/uploads/sites/55/2016/01/NEXT-Logo-FINAL-Horizontal_lato-1030x229.png
Linda Kurtz
2015-11-16 10:58:40
2016-09-02 08:47:33
Finding Care in Fast Times