Each month, we post a series of blogs around a common topic. This month, Andrew Kukla is curating reflections on being evangelical in the church. Have we connected our congregations to resurrection life? Have we taught them how to talk about it?  How to live it? How to connect others to that life-giving, life-abundant power? We invite you to join the conversation on Facebook and Twitter!
by Laura Cheifetz
When evangelical is used as an adjective not pertaining to religion or politics, I can identify with it. I can be very evangelical about certain things: eating, sticking to one airline as a frequent flyer, reading books of all sorts, the superiority of the Pacific Northwest, the business model of Costco, the existence of progressive southerners, adopting/rescuing dogs instead of buying from pet stores or unlicensed breeders, giving kids a lot of chances to figure life out, not wearing shoes inside the house… you get the idea.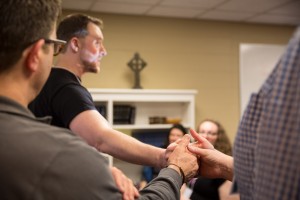 When evangelical is used in terms of religion in the U.S., I often want to walk in the other direction.
I get that we are called to be evangelical. We are graced with the gift of having such good news to share. We love a God who loves us and all creation. We follow a Christ who challenges us daily in our lives and faith. We are sustained by a pesky Holy Spirit who will not let us off the hook. We are gifted with imperfectly beloved faith communities. Faith is not what makes life easy. It is what makes life (mostly) bearable. The delight and beauty I find in my faith, and the determination it gives me to face hard days (or weeks, or years) with gritted teeth and fierce love for my fellow travelers on the journey, is very good news.
But throughout my childhood, the evangelicals surrounding me were not sharing good news. They were narrow-minded, judgmental, anti-science, anti-woman, and supremely self-righteous. For a mainline Protestant double pastors' kid who was pro-science, feminist, and eager to experience as much as possible, this was an incompatible worldview.
I will be eternally grateful for my first call: a position working with Asian American young adults and pastors, which necessitated I work with evangelicals. It was my first sustained exposure to evangelicals who are people of color, and I was able to see how many evangelicals did not align with the stereotypes I carried based on the experience I had growing up.
We are all evangelists, whether or not we like it. Whatever we are committed to, with words or actions, will be the news we share. Some people are evangelicals for a political cause. Some people are evangelicals for a brand (loyalists to a company named for a fruit, or adherents to a form of exercise that takes place in a "box," I'm looking at you).
What is our evangelism?
We Christians are called to evangelize, but too many of us have been implicated in creation-destroying materialistic consumption borne of prosperity and dominion theology, war, conquest, colonialism, genocide, homophobia, transphobia, misogyny and sexism, and racism. We aren't equipped to share good news without grappling honestly with the death-dealing legacies of Christians.
What is our evangelism if we are not always repenting for and seeking repair of the damage due to all the terrible things Christians have espoused throughout the years? I'm sure it's possible to ask this question of people of other religions, but sin is not relative. It is ours to reckon with.
Not every Christian shares equally in this legacy, of course. Many Christian churches and traditions, even in the U.S., exist in defiance of racism, colonialism, homophobia, or misogyny, with a bias toward liberation. But most of us have, at some point, participated in a faith tradition that has been translated into not-so-good-news.
Evangelism requires us to live in dissonance: proclaiming good news while being humble enough to work to repair the damage done by violent, triumphalist, intolerant twistings of the gospel.
The news is so very beautiful, and the damage is great. This is our space for proclamation. Will you sit in it with me?
---

Laura Mariko Cheifetz serves as Vice President of Church & Public Relations and editor of These Days at the Presbyterian Publishing Corporation. She has served with the Forum for Theological Exploration and at McCormick Theological Seminary. She grew up a double pastors' kid in the Pacific Northwest and holds an MBA from North Park University and an MDiv from McCormick Theological Seminary. For fun, she watches television, reads fiction, delves into post-colonial feminism and critical race theory, and rages against the system of which, she is clear, she is a part. Laura blogs very occasionally at http://churchrelations.blogspot.com and tweets at @lmcheifetz . 
https://media.mywtenfold1.com/wp-content/uploads/sites/10/2016/04/29175329/featured-hands-ken.jpg
200
398
Linda Kurtz
/wp-content/uploads/sites/10/2016/01/NEXT-Logo-FINAL-Horizontal_lato-1030x229.png
Linda Kurtz
2016-04-20 07:23:41
2016-06-13 19:09:21
Evangelism as Repair