Each month, we post a series of blogs around a common topic. This month, Rev. Ken D. Fuquay is curating a series featuring an eclectic group of voices responding to the question, "Does church matter? And if it matters, how, and if it does not, why?" Some of the voices speak from the center of the PC(USA); others stand on the periphery. One or two of the voices come from other denominations while some speak to us from the wilderness and barren places. "To every age, Christ dies anew and is resurrected within the imagination of humans." These voices are stirring up that imagination in their own way. May your imagination be stirred as you consider their insight. We invite you to join the conversation on Facebook and Twitter!
by abby mohaupt
When I was 5, I spent most of my summer days outside with my sisters. We were mostly barefoot and wild, wandering and playing in the gated confines of our family's backyard. We had a pool, a swing set, and a sandbox.
A wooded grove, however, grew as the centerpiece of our childhood. The trees, gnarled and spiky, grew together, forming a canopy of leaves. We rooted around in the shade, imagining home and creating stories together.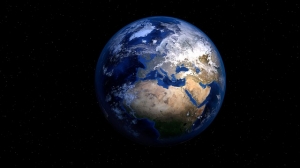 I fell in love with the earth during the summer days, that love deepening as the leaves changed colors and drifted to the ground.
That love for the earth grew with me as I aged. I learned to respect the power of fire and the strength of waves. I felt awe at the tops of mountains and the rims of canyons.
It grew deeper still when I encountered theologies of ecology. Out of the first creation story in Genesis 1 (and throughout the Bible), we learn that God loves creation desperately and deeply. Throughout Genesis 1, God calls creation good, and in Genesis 2, humanity is made from the topsoil from which all the plants and animals come from and rely upon. Understanding that God's love extends to all creation helped me see that everything that is alive is part of my family.
And because I love this earth, my heart broke as I learned more about environmental degradation, environmental racism, and climate change.
We humans have created incredible damage, changing the natural greenhouse. In the last century, "the burning of fossil fuels like coal and oil has increased the concentration of atmospheric carbon dioxide (CO2). This happens because the coal or oil burning process combines carbon with oxygen in the air to make CO2. The effects of this burning emerges in many ways, and strikingly in raised global temperatures."1 What's more, climate "exacerbates nearly all existing inequality" as a crisis that "dangerously intersects race and class."2
This socio-scientific data tells us that we people of faith need to respond to the earth with radical love. We do so with the understanding that our collective "we" power is more powerful than our individual actions. Collectively we respond to climate and environmental injustice, knowing that women, people of color, and people who are poor are disproportionately affected by environmental degradation.
We must respond if we believe in the God who created all things out of love and called it good.
But we must also respond quickly. The National Climate Change Assessment Report released in 2018 noted that we have just 12 years to slow and stop climate change. Our ecosystems, agriculture, atmosphere and more are all degrading quickly with the ongoing complicity of fossil fuel companies and our individual and ecclesial use of and investment in fossil fuels.
Twelve years is not many years at all.
I am no longer that 5 year old girl enamored with the trees of my childhood. Now I am a woman entranced by the whole world.
Still: we must again love the earth in the ways we did when we were children. We must harness our imaginations and create a new story together. This story must be one that loves the leaves and the tree — and also other people. This story must be one that's willing to take risks and bravely abandon business as usual.
If God loves the world, we need love to it extravagantly if we are going to be faithful to the Gospel of Jesus Christ. To be church, whether now or next, we must boldly act with all our hearts, minds, souls, and strength…and with our wallets too. What we love, study, advocate for, worship, and invest in are marks of what and in whom we believe.
Nothing less than our whole selves will do.
1 "A Blanket Around the Earth," Global Climate Change: Vital Signs of the Planet, last modified December 11, 2018, https://climate.nasa.gov/causes
2 James B. Martin-Shramm. Climate Justice: Ethics, Energy, and Public Policy. (Minneapolis, MN: Fortress Press, 2010), 12. A synthesis of that ground-breaking report is available here: Larry Bernstiein et al., "Climate Change 2007: Synthesis Report, Intergovernmental Panel on Climate Change Plenary XXVII, November 12-17, 2007, https://www.ipcc.ch/pdf/assessment-report/ar4/syr/ar4_syr.pdf, 128.
---
abby mohaupt is Senior Advisor for Education and Training at GreenFaith, Director at the Green Seminary Initiative, Adjunct Professor at McCormick Theological Seminary and Moderator at Fossil Free PCUSA.
https://media.mywtenfold1.com/wp-content/uploads/sites/10/2019/06/29172727/featured-earth-planet.jpg
200
398
Linda Kurtz
/wp-content/uploads/sites/10/2016/01/NEXT-Logo-FINAL-Horizontal_lato-1030x229.png
Linda Kurtz
2019-06-20 06:16:06
2019-06-21 23:04:15
Loving the Earth Boldly as People of Faith