By Frank Spencer
As I have continued to engage in the NEXT Church movement, I continue to find the extended community of the PC (USA) upholding me in my faith journey.  What follows is an excerpt from my book, The Benefit of the Doubt.  These passages are taken from the Chapter, "It's not about you!"  Let's keep this in mind as we all discern together how we will be Church together.
*****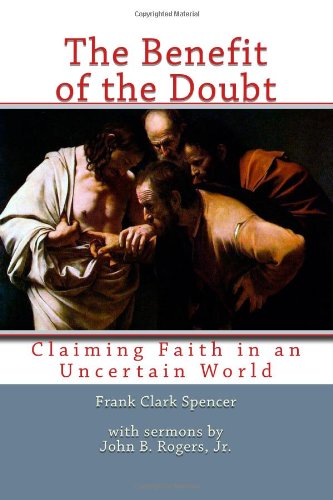 It's not about you!  That phrase may not be the most fashionable in today's world of customized products, online shopping, mommy make-overs and human bodies as walking billboards.  We live in a fundamentally self-centered culture.  Even old commercial slogans evoke melody and message in the TV generation.  I bet you can sing right along with these words:
"You deserve a break today!"
or
"Have it your way!"
From the TV generation to the Facebook generation the self-focus has intensified.  We have our own web pages.  We tweet about what we are having for lunch, as if anyone really cared.  We hire personal college admissions coaches, personal trainers, personal shoppers, financial planners, lawyers, and accountants, all to improve the life of ME Incorporated.
But it's not all about ME, at least not when we talk about faith.  There are two dimensions of this external dynamic to which we should pay particular attention.  The first is that God is sovereign.  God has set forth the plan for the world.  We know God through God's revelation to us………..
When we acknowledge that God is sovereign, the affirmation of God incarnate that has occurred in the birth, life, death and resurrection of Jesus Christ has implications for the whole universe.  However, to acknowledge the truth of that claim requires the ceding of control by the individual because our finite minds cannot fully grasp the concept of an infinite God engaging humankind in this way.  Ceding control is something most of us fear on many levels…………….
The answer lies in the faith of the community.  This is the second external element of faith.  Faith exists within a community rather than as the province of one soul, one mind or one heart.  The faith of a community takes on dimensions that eclipse the capacity of any individual.  The first time I heard this concept, I wasn't sure what exactly to make of it.  How can a community have a faith?  Surely faith is something we must each wrestle with for ourselves.  Like Jacob, I will grapple all night and will not let go of God until I am victorious or vanquished.  But it is my individual struggle.  Ironically, that attitude captures both the intellectual and the egotist in all of us.
But it's not about me.  It's about God and God's faith in God's people, us.  It is the community that preserves and passes the faith down to the next generation.  The community is there for me when I need support and sometimes I am there when others need help.  Even sinners and doubters can bear witness to the sovereignty of God and to God's faithfulness to us.  In this sense the faith of the church relieves me of having to have it all sorted out myself.  I become part of the community that has wrestled with these same issues for centuries, and is still wrestling because we are not finished and will never be finished……………………..
Our Reformed theology specifically rejects the idea that each individual controls his or her fate relative to personal salvation.  In fact, it is not only OK to die with doubt; it is inevitable that each of us will.  God has acted in the birth, life, death and resurrection of Jesus Christ and through that grace has redeemed the world.  Our human response is not determinative of the mind of God.
Thus, the community of faith that proclaims the truth of God's revelation in Christ Jesus and welcomes those who doubt, wherever they are in their journey, is the place where faith can build and develop in safety.
"Wherever you are, there we will meet you."
That should be our communal promise.  This is not to say that whatever an individual believes is right and true and that's OK.  Such an attitude breeds a consumption notion of the church, a desire to extract whatever good I can for myself and move on.  Faith builds over time as one lives, studies and worships in a community.  That is how we live Anselm's credo of faith seeking understanding…………………
---
Frank Clark Spencer is the President of Habitat for Humanity Charlotte and a student in the Masters of Divinity program at Union Presbyterian Seminary. Before turning to full-time ministry, Frank had an outstanding business career which included creating one of North Carolina's 50 largest public companies, leading the company to its initial public offering on the New York Stock Exchange, and being recognized by Ernst and Young as 2009 Entrepreneur of the Year for the Carolinas. Frank has been an Elder in the Presbyterian Church (USA) since 1994, is the past Chairman of Montreat Conference Center and currently serves on the Presbyterian Board of Pensions. He was a Morehead Scholar at the University of North Carolina Chapel Hill and was named a Baker Scholar at Harvard Business School. You may find additional information at www.FSpencer.com.  
https://media.myworshiptimes31.com/wp-content/uploads/sites/55/2013/05/29180650/Spencer-Book.jpg
500
333
Jessica Tate
/wp-content/uploads/sites/55/2016/01/NEXT-Logo-FINAL-Horizontal_lato-1030x229.png
Jessica Tate
2013-05-22 16:10:41
2016-05-10 17:46:21
NEXT Church is Not About You!