Each month, we post a series of blogs around a common topic. This month, Katy Stenta is curating a series called "Worship Outside the Box" that looks at the elements of worship in new ways and contexts. Each post will focus on one particular part of worship, providing new insights about how we can gather to worship God. Today's post serves as the passing of the peace. What are the ways you worship God in your own community? We invite you to join the conversation on Facebook and Twitter!
by Heidi Thompson
What does it mean to pass the peace?
What I know is that during Sunday worship, when it is time to pass the peace, I stand and greet those around me with a handshake, a smile, and a phrase that includes "peace." When my heart is full, this is easy and a real joy to reach out to others with the peace and the love of God. On a day when I am not so full, or I am in a church I have never attended or surrounded by people I do not know, I may hesitate and hope others reach out to me, and feel disappointed if they don't. I try to remember this when I see others hesitate.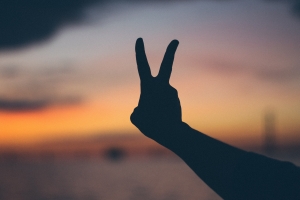 When we pass the peace in worship, we don't reach out only to those we know or feel comfortable with. We pass the peace to anyone seated near us. Many of us look for those we don't know, and pass the peace that we may get to know them, and allow them to feel welcomed and connected to our congregation. What if, rather than seeing this as a part of worship on Sunday, we could see passing the peace as how we are in the world?
For me there are two levels for looking at this "simple" worship practice. One level is what actually happens when we reach out to another with a handshake and a smile and the word "peace." We are making a connection with another; we are weaving the cloth of the church community. There is no greater human need than that of connection and belonging. When we make that effort, when we connect with another, we are doing our sacred work.
The deeper level is what is in our hearts that we communicate in our handshake, our smile, and our words. Are we really passing the peace of Christ?
I am saddened by the divide that is growing in our communities and nation, when I see fear and anger being used to keep us separate and to cast aside so many as having no value. It takes the threads of all of us to address the needs of today's world. It takes differing viewpoints and an understanding of those we may not agree with. The 2019 NEXT Church National Gathering theme description reminds us that, "Our call is to recognize the value of each thread in all its complexity, each thread's necessity to God's design." And yet, when divisions are deep how do we weave together with those we can barely tolerate?
For me, peace is the key. Jesus taught, "Peace is what I leave with you; it is my own peace I give you. I do not give it as the world does. Do not be worried and upset; do not be afraid." (John 14:27)
I believe that peace is the opposite of fear. And I see fear as the basis of all that is being used to divide and limit us in today's world. It is the fear we are different and separate and not good enough; and it is the fear that nothing is certain and we will not be okay. I contrast this with what I know of God's love: that we are more than good enough, for we are the fully loved children of God, and that our needs are, and always will be, met by One who is capable of more than we can imagine. We are not separate; we are one with God, and vitally connected to one another. We know God's divine peace.
What if everywhere we went, we went with an attitude of passing the peace. If everyone we found ourselves with, whether we knew them or not, whether we felt comfortable with them or not, we would pass the peace in whatever way seemed appropriate – with an extended hand or a hug or a smile, with either spoken or unspoken words, passing on the divine Spirit of peace and love. What if every time we took an extended hand, we in our hearts passed the peace, with love and non-judgment, allowing someone to feel welcome, if only for a moment, in a world that is angry, afraid and divided? Emotions are contagious. Just as fear can spread, so can love and peace.
Is it possible to make passing the peace our way of being in the world? It will take being grounded in our belief in God's love for us and caring for us, so that we do not fear. And in that place, we will be peace, and our daily practice will be passing the peace and the love of God to all we meet. And this is how we will weave together differing viewpoints and build bridges across the divides.
---

Heidi Thompson is an elder who worships at Brown Memorial Park Avenue Presbyterian and Second Presbyterian in Baltimore, MD. For over 30 years Heidi has been a computer software consultant and adjunct faculty at Johns Hopkins University teaching financial modeling. She writes and teaches about the gifts of fear and the dark emotions, and other things that make us uncomfortable.
https://media.mywtenfold1.com/wp-content/uploads/sites/10/2019/01/29173123/featured-peace-sign.jpg
200
398
Linda Kurtz
/wp-content/uploads/sites/10/2016/01/NEXT-Logo-FINAL-Horizontal_lato-1030x229.png
Linda Kurtz
2019-01-14 06:57:06
2019-01-19 16:06:26
Passing the Peace: A Daily Practice