Each month, we post a series of blogs around a common topic. This month, Don Meeks and Jeff Krehbiel are curating "Can We Talk?", a modest attempt at an uncommonly gracious conversation among colleagues who differ on matters of conscience. Can we bridge the theological differences that divide us? Can we even talk about them? Can we affirm the best in each other's theological tradition while honestly confessing the weaknesses of our own? We invite you to join the conversation on Facebook and Twitter!
by LeAnn Hodges
"We want to have our child baptized," a visitor said to me after worship one Sunday. He held his son in his arms, and his wife stood back, looking a bit uncertain. "Well," I responded, "how about we find a time to meet and see if this is the church you would like to join, and then we can go from there?" At that point, the wife chimed in that she would meet with me, but that she wasn't sure she would join this church… or any church, for that matter.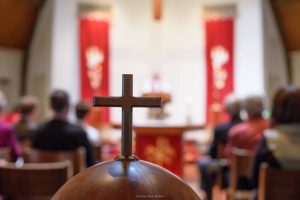 In the coming days I met with the young couple and listened to their story. They were both from the same African country, but the wife was brought here at a young age through what her family thought was a chance for a western education. But it turned out to be a ticket into slavery in the metro-DC area. She was held captive until her late teens, when she was liberated by the help of a lesbian couple.
Given what she had experienced, it was no wonder that she hesitated when she stepped over the threshold into the church. The miracle is that she was able to set foot in a church at all!
In her upbringing the church was expected to be a safe space, and yet the church had provided a source of legitimacy for those who had forced her into slavery. In her upbringing, same-gender love was considered an unspeakable evil, and yet a same-gender couple became the agent of her liberation.
Over time, she watched as the congregation embraced her son with love and affection. She began to share her story with other members from the same region of Africa who had no idea of the scale of human trafficking that originated in their home region. And she shared her story with those who grew up in the metro-DC area who had no idea of the scale of human trafficking that enslaved people from all over the world here, in our own back yard.
In many ways, this incredible child of God has become a "repairer of the breach" in our congregation. She has opened our eyes to our own complicity in an unjust system that capitalizes on the abuse of human lives. This is no longer someone else's problem. And through her powerful and gracious way of being, she has invited us into deeper conversation about what it means to be a congregation of uncommon diversity where African and gay sit at Christ's table together.
We are a congregation that is all over the place in how we view the world, and how we understand the meaning of discipleship. Our individual moral absolutes are often at odds with the person in the next row on a Sunday morning. And yet, through the witness of this unlikely saint, some of those invisible walls that divide us have begun to crumble. The creation of safe space where we are able to testify to God's work in our lives has confronted our easy assumptions of "the other" and required us to do the much more difficult and life-giving work of holy community.
---

LeAnn Hodges is the pastor of Oaklands Presbyterian Church in Laurel, MD. As a pastor, her favorite part of her job is hanging out with people, learning their stories, and if possible getting in a good belly laugh at least once a day. And from those stories, she learns more and more about the depth of God's love made known in Jesus Christ. In her free time… oh, wait… LeAnn has three sons, ages 12, 6, and 4… but when she used to have free time, she enjoyed gardening, knitting, reading mysteries, and watching sci-fi shows with her husband of 22 years (who happens to be a high school physics teacher). 
https://media.mywtenfold1.com/wp-content/uploads/sites/10/2016/11/29174922/featured-leann-font.jpg
200
398
Linda Kurtz
/wp-content/uploads/sites/10/2016/01/NEXT-Logo-FINAL-Horizontal_lato-1030x229.png
Linda Kurtz
2016-11-03 12:52:54
2016-11-03 12:52:54
A Repairer of the Breach