Each month, we post a series of blogs around a common topic. This month, Jessica Tate is curating a series that will reflect experiences of living in diverse community. Over the course of the month, we'll notice practices that enable diverse communities to thrive and we'll reflect on the promise of Christ in whom there is no Jew nor Greek, no male nor female, no slave nor free and what that promise means for our lives today. We invite you to share your own thoughts on Facebook and Twitter! 
by Jason Brian Santos
For as long as I can remember, the topic of diversity within community has never been a serious point of conversation in my home. Coming from a bi-racial family, navigating the challenges of diversity was a fact of life. Growing up, our holiday dinners and birthday celebrations were always an interesting blend of Filipino culture and Pennsylvania Dutch-influenced Americana. While the food was amazing, our feasts were always accompanied by a myriad of obvious cultural differences and unspoken customs. Inevitably, at times tensions arose; sometimes we figured it out and sometimes we didn't. Consequently, for most of my life, I just assumed real diversity always came with challenges.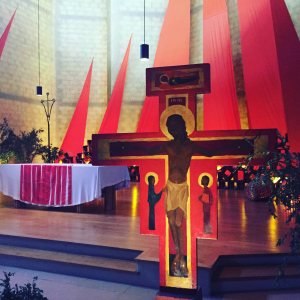 Though I would still maintain that viewpoint today, I had an experience in 2005 that changed my thinking about what happens when a bunch of diverse people come together in Christian community. I was working on an independent study course for my M.Div on the topic of young adult spirituality and the Taizé community. My project included a research trip to Taizé, the small village located in the Burgundy region of France, which is home to over 110 brothers – not to mention over 100,000 spiritual seekers who make pilgrimages to the community every year.
For this vastly diverse group of pilgrims, Taizé has become their "spiritual home." It doesn't matter where they are from, what language they speak, the color of their skin, their sexual orientation, how much money they make or what religious tradition they're from – in Taizé, everyone is welcomed and accepted for who they are. Each pilgrim is shown genuine hospitality, a 1,500 year-old hallmark of western monasticism.
In Taizé, all pilgrims pray together three times a day in the Church of Reconciliation using sung prayers written in dozens of languages. They study Scripture in diverse groups, which guarantees an assortment of different perspectives on the passage. They work alongside one another preparing food, distributing meals, and cleaning up. They clean bathrooms together and pick up trash alongside one another. Every pilgrim is expected to participate in the communal practices established by the community: the brothers understand that it is in their very participation that these young adults experience genuine acceptance, which in time opens a path towards reconciliation with one another.
These pilgrims aren't just tolerating diversity in Taizé for the sake of political correctness; they authentically celebrate it as part of what makes the community feel like a living example of God's Kingdom on earth. In fact, in my research on why young adults make pilgrimages to Taizé, one of the key themes that surfaced was the "feeling of acceptance." At the core of this feeling, pilgrims experience a tangible sense of reconciliation. This should come as no surprise, considering that reconciliation has been the doctrine undergirding the Taizé Community since its humble beginnings in 1940.
For the late Brother Roger, the founder and first prior of Taizé, reconciliation is at the heart of the Gospel. Whether it was offering Jewish refugees sanctuary or caring for German prisoners after the war, the brothers have always sought to be a sign of reconciliation. Even more, as more young Europeans began making pilgrimages to Taizé in the 50s and 60s, the brothers realized they needed to adapt their sacred French liturgies in order to truly welcome the pilgrims into their daily prayers. Latin soon became the primary language used in their sung chants, because it functioned as a universal language belonging to no particular country, nation, or people. Over the course of the next decade, chants in other languages were integrated into Taizé's prayer book, and the prayers as we now know them gradually emerged. Still today, the sung prayers of the community function as a sign of acceptance and reconciliation.
Come to think of it, it's rather ironic that these pilgrims find such acceptance in one of the most diverse environments they will likely experience in their lives. Maybe the central reason why is because they are never asked to put aside who they are, as if diversity is a hindrance to reconciliation; instead, through the rhythm of Taizé's communal practices, the pilgrims are invited to take their gaze off of their own particularities and focus it on what draws them together and unites them – their identity in Christ Jesus. It's through Christ that we bear witness to the magnitude of God's reconciliation with all of creation and in Christ, that we are accepted and claimed as children of God.
---

Jason Brian Santos is the Mission Coordinator for Christian Formation (Christian education, children, youth, college, young adult, camps and conference ministries) at the Presbyterian Mission Agency. He also serves as the National Director of UKirk Collegiate Ministries. He is an ordained teaching elder in the PCUSA and holds a Ph.D. in practical theology from Princeton Theological Seminary. He is the author of 

A Community Called Taizé

 (IVP, 2008) and 

Sustaining the Pilgrimage

 (IVP Academic, forthcoming). He currently resides in Louisville, KY with his wife, Shannon and his two sons, Judah and Silas (aka Tutu). In his spare time, he plays and designs board games.
https://media.mywtenfold1.com/wp-content/uploads/sites/10/2017/10/29174113/featured-taize.jpg
200
398
Linda Kurtz
/wp-content/uploads/sites/10/2016/01/NEXT-Logo-FINAL-Horizontal_lato-1030x229.png
Linda Kurtz
2017-10-27 09:50:46
2017-10-27 09:50:46
Diversity, Acceptance, and the Need for Reconciliation