Each month, we post a series of blogs around a common topic. This month, Rev. Michael McNamara is curating a series that will explore the theme of Christian contemplative practice, which has been central to the formation and development of Christianity. We will learn from writers exploring spirituality from both the secular and the religious, embracing the paradox within that — a paradox essential to contemplative practice itself. How can this Christian or secular tradition impact today's church? We invite you to join the conversation on Facebook and Twitter!
by Rev. Kevin Hershey
If I was to summarize the gift that I think contemplative practice has to offer to the Christian faith, it would be that contemplation is what allows my discipleship to truly be a way of life, rather than a series of activities or events that I engage in, or a set of beliefs that I articulate. Traditional Church offers opportunities to learn about our beliefs and chances to live out our faith in particular times and places (e.g. Adult ed., Sunday morning worship, mission events, fun community gatherings). Contemplation moves beyond expressions of faith that are bound by time and place. It is about practicing a constant awareness to what is around me, and where God is in it. It includes everything from my capacity to see everyone I encounter as both "guest and guide" (as those from the Northumbria Community say), to how my body feels at that moment, to an awareness of my thoughts, feelings, and reactions to anything and everything that I experience around me. It maintains an open curiosity about everything I am present to and what (if anything) God could be trying to show me through my awareness. Walking through life in this way of contemplation, then, becomes an expression of Paul's praying without ceasing.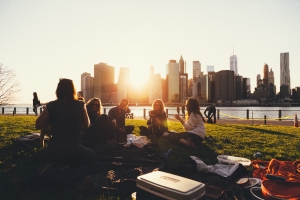 Mindfulness, as I understand it, carries this same sense of awareness to one's surroundings and self.
Where I think contemplation deepens this is that it moves us beyond awareness of what's happening around and within us, and into connecting with all that we are becoming present to. As I become more aware, contemplation then asks me to consider how I am connected to it all. Once I am aware of the sights and smells and beauty of nature around me, how am I connected as part of God's common Creation? Beyond awareness of the pains and pleasures in my body, how do I experience awe and gratitude for how God has formed me? As I am increasingly present to another's thoughts and feelings, and my reactions and responses to them, how can I express a sense of connection with that person as a fellow child of God? If mindfulness is a way of practicing a deeper sense of awareness about all things, then I think contemplation is the extension of this awareness into actively connecting with God, others, creation, and self. Contemplation is mindfulness-in-community.
When I do well with contemplation (which is a lifelong, up-and-down practice for me), I am aware of how I am constantly walking together with God, serving God by being present to others, receiving God's guidance and love through the world around me… it all becomes a way of life from the time I get up, until the time I go to bed. It is part of what I carry with me to my job, to interactions with friends, family members, and strangers, as well as those I'm annoyed by, angry at, or hurt by. It becomes part of the most spiritual things I do, like walking in the wood or meditating, and I find it in every-day things like watching TV and playing Barbie with my girls. Any sense of separation between "holy" times and "ordinary" times of life gets blurred and, at its best, disappears. All time becomes holy time when I become aware of and connected to the Holy in it.
This is, I think, the most significant lesson that contemplative Christianity has to teach the mainline church. There is nothing inherently more sacred about worshiping God in a sanctuary on Sunday morning than there is worshiping God by going to the beach with one's family. There is nothing more missional about taking a group on a trip to rebuild homes in another country, than there is in noticing someone who is painfully lonely and stopping to talk with them while you're out on your daily walk. These are all acts of God's love. Doing them one way engages our Christian living as a series of events, bound to particular times, spaces, and groups, that we hope carries something of the sacred into the rest of our lives. Christian contemplation is the practice of seeing the sacred in all of life, and connecting ourselves and others in the Christ's love. A contemplative life, then, becomes prayer without ceasing, mission without ceasing, worship without ceasing, love without ceasing. Through contemplation, we awaken to our discipleship.
---

Kevin Hershey is an ordained minister in the Presbyterian Church (U.S.A.), and a former therapist, specializing in Contextual Therapy with couples and families. He is a New Monastic, a Contemplative, a Friend of the Northumbria Community, and is always at work becoming what Brother Wayne Teasdale and Dr. Christine Paintner call a "monk in the world." In 2015, he founded Companions on the Way, a new monastic community which focuses on looking at how Jesus teaches us to be in relationship with one another, and practices this way of relating in the world. It draws its identity as a "School of Love" from the language of Brian McLaren, and is part of the 1001 New Worshipping Communities Initiative of the PC(USA).
https://media.mywtenfold1.com/wp-content/uploads/sites/10/2019/08/29172512/featured-city-picnic.jpg
200
398
Linda Kurtz
/wp-content/uploads/sites/10/2016/01/NEXT-Logo-FINAL-Horizontal_lato-1030x229.png
Linda Kurtz
2019-08-14 05:53:26
2019-08-11 21:22:18
The Gift of Contemplative Practice