Angela Williams, our Young Adult Volunteer, just wrapped up her year of service with us. Here we post one of her final blogs about the day-to-day work to organize and create positive social change in her community. We invite you to join the conversation on Facebook and Twitter!
by Angela Williams
It takes a whole village to make a movement. Sure, we have a few key leaders who facilitate groups to make progress on different projects, whether those are in churches, the little league team, girl scout troop, or office, but the core of a movement is multiple participants. Leaders often work with different types of people: those who are willing to do whatever is needed, those who eagerly commit to specific tasks, and those who are passive but will respond when asked directly and personally. All are needed for a successful action.
In meetings that go really well, the energy in the room is bubbling over. Folks cannot wait to be a part of the project! Those are the days facilitators live for, when all the slots on the sign-up sheet fill up in minutes!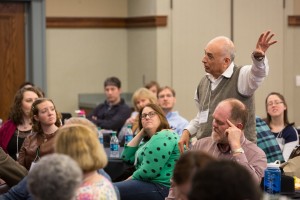 Other times, the room feels dead.
Who wants to bring lemonade to the picnic?
Bueller?
Bueller?
In Worldchanging 101, David LaMotte differentiates between the hero myth and the movement narrative. The hero myth says that when a crisis arises, we need a hero, someone fundamentally different from us to come save the day. Normal folks like us should just sit around and wait for that hero to show up because it could never be us. Sometimes in a meeting, when you ask your team members to commit to future action, it can feel like everyone is waiting for that hero to show up.
The movement narrative shows the truth of how social change and progress have happened. It takes more than one hero's split-second reaction to a crisis to create real change. Our school textbooks tell us stories of key leaders like Martin Luther King, Jr. or Rosa Parks who made the change happen. As LaMotte points out, Rosa Parks was a part of the Montgomery NAACP chapter and Women's Political Council for twelve years before she was arrested. Once she refused to move to the back of the bus, hundreds of women mobilized to print and distribute flyers calling for the Montgomery Bus Boycott. Folks showed up to organize ride-sharing services so that people could still get to and from work. The movement was organized!
Still, how does that happen? When everyone has multiple pulls on their time and attention at every moment, how do we come together as a movement today? In my own leadership and facilitation this year, I have struggled with these questions. How do we keep moving forward when everyone feels stuck? As leaders, we cannot take all of the burden onto our own shoulders while our team is spinning its wheels.
In an ideal world, sending out a blanket email asking for commitments to the church potluck would receive many committed responses from volunteers ready to act. But we do not live in an ideal world. The general ask is always important. It allows folks to step up if they have not had a role in the past or to self-identify their own interests and take ownership of a project. The general ask is always essential, but it is rarely sufficient. Sending one email asking your team to sign up to be at a booth will not fill every single slot. In those cases, leaders must specifically ask certain individuals to commit to certain tasks. "Tim, can you be in the booth 10:00-12:00 on Saturday morning?" That puts more of the burden on the leader, but it achieves the end goal of maintaining a presence in the booth throughout the event. At the same time, it is important for leaders to balance adjusting their work in response to others. It is not sustainable to continuously hunt people down to follow through if they never respond.
If we are truly building movements and not heroes, then leaders must find that delicate balance of delegation and micro-managing. When that happens, we can make successful and functional progress. We're building something together.
---

Angela Williams just wrapped up her year with NEXT Church and New York Avenue Presbyterian Church as a Young Adult Volunteer in Washington, D.C., after serving a first YAV year in the Philippines. She finds life in experiencing music, community organizing, cooking any recipe she can find, making friends on the street, and theological discussions that go off the beaten path.
https://media.myworshiptimes31.com/wp-content/uploads/sites/55/2016/04/29175350/featured-come-and-see.jpg
200
398
Linda Kurtz
/wp-content/uploads/sites/55/2016/01/NEXT-Logo-FINAL-Horizontal_lato-1030x229.png
Linda Kurtz
2016-08-02 12:20:48
2016-08-02 12:20:48
Balancing Leadership