by Andrew Kukla
As a pastor, there are certain questions you get very used to being asked. Not the fun questions I don't tire of answering, like "why does the Apostles' Creed say 'descended into hell?'" from which I usually embark on a conversation about radical grace. No, I'm talking about routine questions revisited because people don't like the answer you give, questions that get you jaded and…worn. One of those for me is "can we get more training?" It's a question that comes from a new member, a Sunday school teacher, a communion server, a deacon offering homebound communion, a new ruling elder; it's a question that comes regularly and from all corners of the church. And the question is genuine. I remind myself of that every time.
But I think the question is often the wrong question.
Don't get me wrong ― I'm not adverse to training. However, I can no longer abide training as downloading data to empty vessels. The problem with training people in very particular trivia that apply to something that they don't regularly do is that it just doesn't stick. Why would it? It's not that it isn't relevant at all, it's that its relevant to something so rare that when you finally need it you have long forgotten it. And much of the ins and outs of our polity has absolutely no correlation to the everyday life of our church leaders. So, what is worth taking time to train for?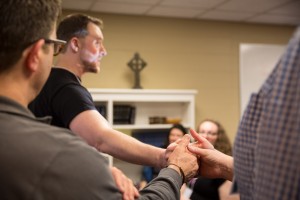 This gets us to one of the hard realities of life in any job formation/training question: you won't know what you don't know, and therefore need to learn, until you get in there and muck it up. You are going to have to make some mistakes. You are going to have to wrestle with applying information to life before you can sort what parts of the information are even helpful. There is an old line I love: failure is a diagnostic tool.
If I could train people in only one thing, it would be learning to fail well.
And this is the real rub. People don't want to make mistakes. For all our wonderful rich theology of grace, we still imagine ― more often than we admit (like all the time) ― that mistakes at church feel like they have eternal consequences. And so, we are terrified of doing things "wrong" and doing things "unsuccessfully" and we simply don't trust ourselves to lead.
This is the real question I think people are asking? Its not more training per se, but "how do I trust myself with this task I see as vitally important and consequential?" What absolutes can you tell me that will give me the confidence to believe I'm doing it right? What information can I jot down on a piece of paper so that that this paper will lead me when I don't trust myself to do the job? The answer to that is that I cannot… and I will not. The starting point to all of this needs to be, "You will be wrong, you will fail (as will everyone else). Get over it, and then we can get started."
When we engage in training, what I want to do is less about teaching information and rules and more about freeing our imagination… to remind people that our job is to listen and wrestle with our calling as this small part of the Body of Christ at this time and in this place… and imagine that we can see what God is seeing for us and with us. That constantly doing this task allows us to risk the church in daring to make that imagination come alive in what we say and do together here, at home, and everywhere in our community. That's what I want us to do…and to train for that? We need to unlearn as much as we need to learn; we need to make sure we are asking the right questions, rather than the easy or typical questions; and we need to be playful as much as studious.
Ideally… we might even manage both.
So, for the next month, for all that we are talking about officer training, let us remember that we are not trying to fill up church leaders full of things they need to know. We are hoping that together, through prayer, study, fellowship, and mission, we are falling in love with God more deeply ― day by day. Let us spark our collective imagination as a bunch of church leaders to think about what it means to embark upon a quest of fearless* failure as we endeavor to make God's calling on us come alive in flesh and bones.
In the next month we will focus on what I'm calling the three tasks of imagination:
Feeding our Imagination: Exegeting our World View
Enabling Fruitful Imagination: Cultivating a Space for Fearless* Failure
Focusing Our Imagination: Remembering Our Goal
I believe this is the role of church leaders: less officers of the rule of law than those who blaze trails the Spirit guides them to, encouraging others to follow. And yes… there are some ancient, old, and contemporary guides in how to travel those trails that will be helpful ― Books of Order and personnel manuals ― but let those be tools, and not masters, of our task. The world needs people alive with God's imagination far more than it needs a plethora of people steeped in by-laws. And while I do not believe that's an either/or scenario, I do know where I want to start and what needs to stay front and center.
Without further ado…let's find the second star to the right and go straight on till morning!
*by fearless I do not mean we won't have fears. I'm a pretty fearful person. What I mean by fearless is that fear will not be our master. We will overcome our fears, not the other way around.
---

Andrew Kukla has lived in Illinois, Virginia, the Philippines, Georgia, Florida, and now Idaho – which he calls home along with his wife, Caroline, and four children. He is Pastor / Head of Staff at First Presbyterian Church of Boise, Idaho.
https://media.mywtenfold1.com/wp-content/uploads/sites/10/2016/04/29175329/featured-hands-ken.jpg
200
398
Linda Kurtz
/wp-content/uploads/sites/10/2016/01/NEXT-Logo-FINAL-Horizontal_lato-1030x229.png
Linda Kurtz
2018-08-01 16:47:11
2018-08-01 16:47:11
A Quest of Fearless Failure