Each month, we post a series of blogs around a common topic. This month, MaryAnn McKibben Dana is curating a series on the Sarasota Statement, which we unveiled a year ago and continue to promote for use in our congregations and communities, along with the accompanying study guide. You will hear from a variety of voices and contexts throughout March, reacting to phrases in the statement, and sharing ways it is being used. How have you used the Sarasota Statement? What is your reaction to these phrases? We invite you to join the conversation on Facebook and Twitter! 
by Frances Wattman Rosenau
Passing the peace can be the most uncomfortable part of worship. You know, the time when some congregations invite everyone to stand and even get out of their pews in order to shake hands and greet other people who have gathered in worship. It's not just uncomfortable because there are those inevitable awkward church people who pass the peace with exuberant enthusiasm and purpose. It's awkward because of, well, the other people.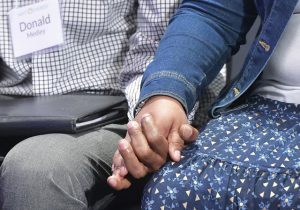 Greeting other people, indeed touching other people in worship, forces us out of our God-and-me bubble. If we came to worship to escape the world, we find ourselves right smack in the middle of it anyway, shaking hands with strangers. It's so much easier to slip in quietly during the first hymn, sit unassuming near the back semi-anonymously, and pretend we're there to be with God. We know what to do.
But other people just get in the way.
The Sarasota Statement offers us an encounter. Through the claims and stances in the statement, we may very well find ourselves "both comforted and challenged." Like passing the peace in worship, we get the opportunity with the Sarasota Statement to be changed both by radical affirmation as well as boldly facing the truth.
In this phrase "both comforted and challenged," I hear an echo of the oft-repeated call to "comfort the afflicted and afflict the comfortable." Religious leaders have latched on to this phrase as a battle cry — our purpose as Church. These words, from Finley Peter Dunne, were originally written about the role of newspapers in public life.[1] And yet, it seems such a great fit for the Church, when we are our truest selves.
Indeed the Sarasota Statement does comfort and challenge. We are all here in this statement: no matter our identity or what side of what spectrum we're on. We are heard and accompanied in experiences of being excluded. We are challenged in our own privilege or our histories of exclusion. We are called to something better.
The whole endeavor gets to the core of what church is for. Why don't people sit at home by themselves, sing songs to themselves and read the Bible by themselves? I mean, maybe some people do. My suspicion is that it isn't very fulfilling, and certainly not very transformational.
Those of us who engage in church, and who value a vibrant faith community do so to be a part of something bigger than what we could do on our own. We need other people, as awkward as they are, to comfort and challenge us. That's what the Sarasota Statement has done for our congregation when we have used it in worship: it amplifies the truest purpose of church. Through voices long-silenced and calls to action, the Sarasota Statement enriches worship to its greatest call – to comfort the afflicted and afflict the comfortable – in order to move boldly forward as the people of God.
[1] https://www.poynter.org/news/today-media-history-mr-dooley-job-newspaper-comfort-afflicted-and-afflict-comfortable
---

Frances Wattman Rosenau is the Pastor of Culver City Presbyterian Church in the Los Angeles area. Her DMin studies focused on multicultural and multiethnic worship. She has a passion for the global church and has lived in India, Scotland, Arizona, Upstate New York, Paris, Chicago, and Tulsa. When Frances is not at church you will find her training for a race, reading about bulldozers with her boys, or searching for her husband in a used bookstore.
https://media.mywtenfold1.com/wp-content/uploads/sites/10/2018/03/29173829/featured-holding-hands-close.jpg
200
398
Linda Kurtz
/wp-content/uploads/sites/10/2016/01/NEXT-Logo-FINAL-Horizontal_lato-1030x229.png
Linda Kurtz
2018-03-08 09:25:11
2018-03-08 09:25:11
Comforted and Challenged