by Rafael Vallejo, Ph.D.
Surely the Lord is in this place and I did not know it – Gen 28:16
In this blog we shall unpack the concept of liminality as it relates to mission and migration. Liminality is a concept first developed by Arnold Van Gennep in his book Les Rites de Passage in 1908. In 1969, Victor Turner expanded it and attached the idea of communitas to it. Turner believed that religion was key to understanding culture as ritual is key to understanding religion.
Liminal spaces according to these authors are generally marked by uncertainty and instability. In this series of blogs, I argue that liminality describes the experience of refugees living in camps, detention centers, and border-crossings. Here, they navigate between "what was" and "what is," and struggle between "what is" and "what will be." For refugees, migrants, and asylum-seekers, resistance is bound up with place as well as time.
I write this piece at a liminal time when the world continues to wrestle with the impacts of the Covid-19 Global Health Pandemic. I am guessing that Van Gennep, were he alive today, would have described this liminal time as a global "rite of passage."
Victor Turner associated liminality with communitas which he described as a feeling of kinship with others that comes from shared experiences. Refugees feel it in their common experience of loss, suffering, fragility, and violence (eg war, conflict) while in search of a better life. All of these liminal experiences happen within the context of displacement, diaspora, and for some, the constant threat of incarceration/deportation. I have therefore found liminality as a useful theoretical framework for describing the migrant/refugee experience.
I propose that in these liminal spaces marked by insecurity, uncertainty, and vulnerability refugees as "liminars" are performing what theologians refer to as Missio Dei or "The Mission of God." Our understanding of Mission will not be complete without listening to the experiences of refugees and the many challenges they face in their communities of origin, transit and destination. I believe that the God is involved, connected and present among them in these liminal spaces.
Living in Liminal Spaces
Some scholars today challenge stereotypical portrayals of refugees as passive bodies, lacking political voice and agency (Nyers, 2006) while dependent on humanitarian groups to sustain their bodies. Let me share some examples of how refugees resist this kind of representation and how mission is enacted in some of these liminal spaces. Jonathan from DR Congo started his own community radio station in Nyarugusu, the largest refugee camp in the world located in Tanzania. Starting from just a small transmitter, he goes around the camp and then has a daily broadcast of what he hears from residents. Today he works out of a radio station (Radio Umoja : which means "unity" in Swahili) and his broadcasts reach places from Norway to the Americas. "Radio Umoja is independent. It belongs to the refugees," says Jonathan.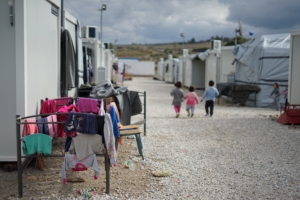 Another example. In the Zaatari refugee camp in Jordan, the biggest camp in the world for Syrian refugees, everyday Ali Jibrail and his staff serve up to 7,500 falafels on the main street that refugees have renamed Hamadiyah to remind them of their largest market back home in Damascus. Everyday, Muhamad works from early morning till 9:00 in the evening mashing chickpeas and carefully weighing and mixing spices to make these delicious falafels.
In these liminal spaces, everyday resistance is one of the ways refugees reclaim agency and engage oppression. These acts of resistance have been described as "world-making" (Tsianos and Papadopoulos). They need not necessarily take the form of mass protests and civil uprisings. James Scott (1984) calls them "the weapons of the weak." Etienne Balibar categorizes the migrants struggle as the new apartheid.
A cartography of migrant struggles worldwide includes movements for "the right to flee," "the right to stay," and "move freely." In Sept 2016, hundreds of thousands of migrants demanded the right to cross borders. According to one report they came with "unexpected numbers and unbelievable strength." Blocked in Budapest, many of them marched for days to reach Austria and then Germany by foot. Others went all the way to Sweden. They boarded trains and braved razor-wire fences and camped on city squares.
These collective, leaderless uprisings raised their voices and visibility around the world. They became a "multitude," collectives of social subjects who gesture us towards counter-empire, an alternative political organization of global flows and exchanges (Hardt and Negri, 2000: 15) In the future, as more people listen and act, maybe new perspectives and structures will begin to emerge.
Excluded from citizenship, they enact citizenship rights and prefigure post-national visions on their own on a daily basis. They offer new knowledge and practices that subvert our neo-liberal politics. They offer "common sense" (Gramsci) a form of everyday thinking that offers us frameworks of meaning with which to make sense of our world.
Borders along with high-tech surveillance systems have not stopped migrants from looking for a better life for themselves and their families. Along with the rest of us, they believe that another world is coming our way. For me their struggle continues to be a sign of the "already present" and "not yet here" realm of God.
---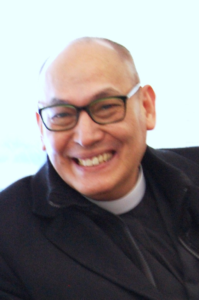 Rafael Vallejo started his theological career at the Graduate Theological Union in Berkeley and San Francisco Theological Seminary and from there continued on with a Master in Theological Studies from the University of Waterloo and a Master of Divinity at the University of Toronto. From 2011-2016, he travelled extensively and studied with indigenous communities in Peru, Brazil, Mexico and Argentina as part of his PhD dissertation (2018) on "Faith Perspectives of Mexican Migrant Farm Workers in Canada". He serves as affiliate faculty at the Ansari Institute for Global Engagement with Religion at the University of Notre Dame.
Rafael is also part of the NEXT Church blogging cohort and his pieces focus on the experience of refugees and mission. 
https://media.mywtenfold1.com/wp-content/uploads/sites/10/2020/11/17174603/julie-ricard-MX0erXb3Mms-unsplash-scaled-e1608490738760.jpg
533
799
Linda Kurtz
/wp-content/uploads/sites/10/2016/01/NEXT-Logo-FINAL-Horizontal_lato-1030x229.png
Linda Kurtz
2020-11-17 17:46:55
2020-11-17 17:48:53
Refugees in Liminal Spaces