Each month, we post a series of blogs around a common topic. This month, Jessica Tate and Linda Kurtz are curating a series written by participants in the first-ever Certificate in Community Organizing and Congregational Leadership offered by NEXT Church, Johnson C. Smith Theological Seminary, and Metro Industrial Areas Foundation. You'll hear from clergy, lay people, community leaders, and others reflect on the theology of power and how organizing has impacted the way they do ministry. How might you incorporate these principles of organizing into your own work? What is your reaction to their reflections? We invite you to join the conversation on Facebook and Twitter! 
by Shannon Kershner
A sermon preached at Fourth Presbyterian Church in Chicago on Reformation Sunday. Scripture: 2 Corinthians 5:14-20.
Today is the Sunday on which we focus on a major emphasis of our Reformed tradition – the promise that God is not done with us yet. The promise that we are always being called to ask the question – what is God doing here and now, with us, through us, in this world, in which we are called to be the church? Remember our Presbyterian motto – we are the church Reformed (big R, indicating the branch of our Protestant Reformation theological tree) always being reformed (little r, verb) by the Spirit of God. We are a part of the body of Christ who trusts that our work as God's people in the world is ongoing and dynamic; a part of the body of Christ who trusts that we will never "arrive" at perfection; a part of the body of Christ challenged to constantly be about the work of disorganizing old ways of being that are no longer effective, in order to reorganize for faithfulness and witness.
So together, then, we are to continually be in prayer, in study, and in conversation with Scripture, the newspaper, and each other about "what's next" for us. As we continue in this fourth programmatic year of our ministry together, who does God hope we will be here and now, for each other, for ourselves, for our neighborhood, for our city and world? And while it is undoubtedly a challenging way to live – always on the lookout for where God is calling us next – I cannot imagine any other more beautiful way to move through this gift of life with which God has graced us. Thus, on this 500th anniversary of the beginning of the Reformation, I ask you: where have you seen new creation lately? Where – in your life, in your family, amongst your friends, in the world – where have you seen new creation lately? Will you show me?
I began writing this sermon on the plane Friday afternoon while feeling quite bleary-eyed and mentally full. I spent last week in Baltimore where I joined 60 other folks for one week of clergy-focused community organizing training. The leadership training was put on by a consortium of leaders from the NEXT Church movement (in which I continue to serve in leadership), Johnson C Smith Seminary – one of our Presbyterian seminaries – and the Baltimore affiliate of the Industrial Areas Foundation called BUILD – Baltimoreans United in Leadership Development.
The group being trained was comprised primarily of Presbyterian clergy (with a smattering of Presbyterian lay persons, Methodists and Episcopalians), but we were quite diverse in terms of race, sexual orientation, church size, area of the country, etc. The week was jam packed, each day beginning with our first class at 8:30am and ending most days at 9pm, hence the bleary eyes. The week-long seminar was also, undoubtedly, the most powerful and challenging leadership development work I have ever done. I cannot recommend the training enough. We spoke a great deal about learning how to lead the church in the world as it is, while, at the same time, being fueled and inspired by what Scripture promises about the world as it should be and will be one day by God's power.
I came away from the week deeply convinced that while what we think, what we believe, what we say is important, our more privatized faith expressions will probably not be what changes our world into being more just, compassionate, and merciful. Rather, the ways we actually treat each other and those we call stranger, the ways we act on and engage with our world, the concrete ways we demonstrate our love for each other – our relationships – will be the most powerful testimonies to the Reign of Jesus Christ, to the way the world should be, to the way of new creation. So though words are necessary; words are important; words carry power and shape our imaginations, it will be the relationships we develop with each other and with our neighbors, relationships fueled and sustained by God's Spirit, that God will use to transform our church and our city.
We see this emphasis in today's Scripture from Paul's letter to the church in Corinth. Though Paul does use personal language, "if anyone is in Christ," he does not simply concentrate on the individual. Rather, he immediately takes it to its communal end – in Christ God was reconciling the world to God's self and entrusting us, as community, with that message, that purpose, of reconciliation. Preachers Boring and Craddock put it well, I think, when they say that in both Jewish and Christian apocalyptic hope God doesn't just save souls; God renews the world. In Jewish theology it is tikkun olam, the repairing of the world. Therefore, "the meaning [of Paul's words] is not that the individual becomes a person while the world remains unchanged. Nor is the meaning psychological, as though the world remains the same but for those who have come to faith, 'everything looks different.' No, Paul means the statement "If anyone is in Christ" objectively. In the Christ event something happened to the world (to everything), not just to individual souls."1
Building on that foundation, New Testament scholar Tom Wright claims that if God was doing all this [death, resurrection, forgiveness, reconciliation] in the Messiah, that work now needs to be put into effect, to be implemented [by us]. The great symphony of reconciliation [being made new] composed on Calvary needed to be copied out into orchestral parts for all the world to play.2 So while God initiates the work of reconciliation, [that work does] require a response on the part of those whom God reconciles to Godself.3 Or, more simply put, "When a new world is born, a new way of living goes with it."4 Remember our two words from the last two weeks – grace and responsibility.
So again I ask, on this day when we celebrate God's constant work of reforming the church in and for the world, where have you seen God's gift of new creation lately? While you are thinking about that, I want to do what one of my preaching professors once suggested strongly – in a sermon you have got to show people, don't just tell people. So let me show you where I saw new creation during my time in Baltimore, just to start stimulating your own imagination and memory.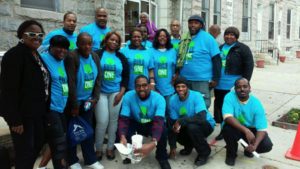 We took two field trips as a part of our training, so that we could see with our own eyes what a priority on building a relational culture and the power created by those relationships in the church and in the neighborhood looks like in real time. The first place we visited was a Baptist church in West Baltimore. As we drove through the neighborhood, I saw scenes that reminded me of neighborhoods in Chicago, several of which are not too far from here. Many homes had windows boarded up with no trespassing signs posted. Liquor stores dotted most of the corners while empty lots stood neglected, overgrown with weeds. But then, we walked into the church. And there in the fellowship hall were 70 folks from that neighborhood, many of them returning citizens (people who had recently been released from incarceration).
They were there because they desired to find meaningful employment, a new start. They were there to learn how to live as part of God's new creation. Every Tuesday, those residents gather with clergy and other leaders from that neighborhood to be a part of the Turnaround Tuesday movement – a movement of/by/for those who need jobs.
Each week, for four hours, they meet for a time described as "one part AA meeting, one part religious service, one part boot camp, one part job-preparedness training, and all parts remarkable."5 The movement has been gaining steam for the past two years and because of the leadership and commitment of those participating in the movement, as well as the deep commitment of Johns Hopkins University and the University of Maryland, over 300 residents returning from prison or jail have found full-time, living wage work, with many more in the pipeline.
We had a chance to hear the stories of the participants and to experience their hard-won hopefulness. Frankly, even though we were at a leadership development experience, that afternoon, we had church. For at root of all of it, the very foundation, was a profound sense that God had made all of them and all of us new creation. The participants talked about this transformation openly and they challenged each other to see it both in themselves and in each other. For while the road ahead is undoubtedly going to be full of steps forward and steps backwards, as long as they stay in honest and accountable relationships with each other and with the Turnaround Tuesday movement, new creation will continue to be discovered. It is who they are. It is who God has created them to be, both as people and as important leaders in their neighborhood.
The participants are committed to figuring out their own orchestral parts to play in God's transformation symphony. For not only does Turnaround Tuesday train people for work, but it also then stands alongside them so those newly trained leaders can help create more jobs for those following them. All of the people in the movement are helping each other discern the new way of life that goes along with the new world being created in their midst. They are being reformed, their neighborhood is being reformed, and the church is too.
On Thursday afternoon, we went on another field trip, this time to East Baltimore, where we gathered in another Baptist church sanctuary and listened as the pastor of that church, someone who had grown up there, told us about the work that congregation had been doing alongside other congregations and residents of that neighborhood, empowered by BUILD. In the 1970s and 1980s, the neighborhood had fallen into a state of disrepair and depression, a common story in many urban areas, including here in Chicago. When jobs and possibility moved out, the drug economy moved in and settled. People who dared to speak out against it were threatened. Some were killed. You could not safely leave your home no matter the time of day, not even to walk the block to church. No one, the pastor said, deserved to live like that.
66% of the homes of that neighborhood were vacant. The whole place felt forgotten by the rest of the city and its leaders. But then, encouraged by others, that pastor and other neighborhood leaders decided that God was calling them to both proclaim and embody new creation right there, in the community of that church. So after years of organizing work, last Thursday the pastor was thrilled to walk us around the neighborhood and show us the massive rebuilding that has been taking place for the past 7 years. Using a fund called The Reinvestment Fund, currently at $10 million, that neighborhood has redeveloped over 250 homes for residents currently living in the neighborhood, and built new ones. But it is not gentrification in the way we experience it here in our city, because people are not being priced out. And now, the home vacancy rate is 6% and more and more residents of the neighborhood are purchasing their own homes and learning how to be responsible homeowners and members of the neighborhood together. New creation. Right there, all around that church. And those are just two of the stories I heard. I have many more.
But I feel it is important to show you those two experiences because I know that we, too, are committed to being a church that tries to not settle for the way the world is, but who actively works with God for the way the world should be. That call to be a Light in the City has been a part of our DNA for decades. I also know, however, that we are still not sure exactly what that looks like for us in our immediate and long term future just yet, beyond doing what we are currently doing which continues to be vitally important. But do know I am committed to working alongside other leaders in this congregation and staff as we actively discern over the next year and following years our next steps into God's transformative work for this church and for our city. That commitment was why I went to Baltimore.
And here is what else we do know together, today, what we base our life on together – God is not through with us yet. God is not done with us as people or as a people called Fourth Church. For God does not desire for us to simply maintain the way things are, no matter how good or how healthy they are. God does not call us to get all settled in and comfortable. Remember, we worship a God who is, according to the biblical story, always on the move. We worship a God who, through Christ, has made and is constantly making us new creation. We are always being invited to dis-organize and re-organize so that we can be wide-awake and ready to play our orchestral parts in God's symphony of transformation and reconciliation.
For we are a church Reformed, for sure. But we are also a church, a people, trying our best to be open to God's reforming power – a power we will not just speak of, but a power we will learn how to build and embody in relationships with each other, in relationships with our neighbors, in relationships with others in our city who also long to be a part of God's making this world new. Thanks be to God for the gift of being a church Reformed who is always willing to be reformed by the wild, creative, powerful, free, active, on the move Spirit of God. Amen.
1 Boring and Craddock, p. 559. Quoted from a paper Jessica Tate presented at The Well, Montreat, 2012.
2 Wright, N.T. (2011-05-31). Paul for Everyone: 2 Corinthians. Westminster John Knox Press. Kindle Edition. p. 65.
3 Matera, p. 142.
4 Wright, p. 63.
5 http://www.baltimoresun.com/news/opinion/oped/bs-ed-turnaround-tuesday-20170313-story.html. Article written by Mike Gecan.
---

Shannon Johnson Kershner is the senior pastor of Fourth Presbyterian Church (P.C.U.S.A.). She grew up in Waco, Texas as the daughter of a Presbyterian minister and an elementary school teacher. Shannon stayed in Texas for college and graduated in 1994 from Trinity University in San Antonio. In 1996, she began her theological training at Columbia Theological Seminary and received her Masters of Divinity degree in 1999. Her sermons and articles have been published in a number of journals, including The Journal for Preachers and Lectionary Homiletics. She is involved in leadership for NEXT Church and serving on its strategy team. Shannon is married to Greg, whom she met in high school at a Presbyterian summer conference at Mo-Ranch. They have been married for 21 years and are the parents of 15-year-old Hannah and 12-year-old Ryan.  
https://media.mywtenfold1.com/wp-content/uploads/sites/10/2018/03/29173735/featured-turnaround-tues.jpg
200
398
Linda Kurtz
/wp-content/uploads/sites/10/2016/01/NEXT-Logo-FINAL-Horizontal_lato-1030x229.png
Linda Kurtz
2018-04-02 07:36:42
2018-04-08 17:50:37
Always Being Reformed