Each month, we post a series of blogs around a common topic. This month, Linda Kurtz is curating a series we're affectionately referring to as our NEXT Church book club, which aims to share insights on a variety of texts – and how they have impacted our bloggers' ministries. Understanding that reading in and beyond one's field is important to offering good leadership, we offer this series to get your juices flowing on what books you might read next. What are you reading that's impacting how you think about and/or do ministry? We invite you to join the conversation on Facebook and Twitter!
by Glenn McCray
I love to read, but if I'm honest, I rarely read books cover-to-cover. Radical Reconciliation: Beyond Political Pietism and Christian Quietism is not one of those books. I've read this book 3 times! What I appreciate about this book, among many things, is the amazing job co-authors Allan Aubrey Boesak (2016 NEXT Church National Gathering keynoter) and Curtiss Paul DeYoung do of engaging the topic of reconciliation from a theological, historical, political, social, and racial perspective. While they use South Africa's struggle against apartheid and the important work of the Truth and Reconciliation Commission (TRC) as a practical example, they esteem Jesus as being central not only to the work of the TRC but the real, radical, and revolutionary work of reconciliation as well.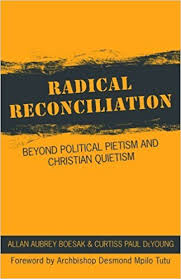 Boesak and DeYoung deconstruct the Jesus painted by dominant culture, referencing liberation theologian Miguel de la Torre: "Those wishing to ground their understanding of reconciliation within the Cristian tradition are forced to deal with the figure of Jesus Christ." The question they pose is, "Which Jesus?" Boesak suggests, "It cannot be the Jesus as we have seen, the one captured Africans first met when we saw his name carved in the sides of the slave ships that carried Africans from their homelands into slavery. Neither can it be the Christ of the church doctrines who evolved into the blond, blue-eyed Christ of Western culture so alien to the enslaved, oppressed, exploited peoples who were baptized in his name. Nor can it be the Jesus only known as the one who offered unconditional forgiveness to all. For us, as for the Gospel, this Jesus first and foremost has to be the Jesus who stood in the synagogue in Nazareth, according to the Gospel of Luke, and proclaimed himself the Spirit-anointed One of God." I resonate with this wrestle.
As a person of color, born to an immigrant mother from the Philippines and an African American father from Louisiana, raised in a marginalized community, I was raised to be suspicious of dominant culture. Understandably so. I eventually gave my life to Jesus and, naturally, I had my suspicions about him too. It wasn't until later in my faith when I realized that my issue wasn't with Jesus but rather the Jesus that was presented to me and communities of color for centuries. The Jesus that I've come to know is not a Jesus of comfort and convenience but rather a Jesus who inconveniently and nonsensically disrupts the status quo theologically, historically, politically, socially, racially, and personally. This Jesus is the Jesus we were always meant to follow.
The work of Boesak and DeYoung, along with so many others, greatly influence the way I understand and live into ministry. As someone who is passionate about reconciliation it is important to me to have an ongoing hunger to learn from those who have and continue to wrestle with what it means to be reconciled people (to God, self, and others); however, reconciled does not mean that we're simply diverse. As my mentor Tali Hairston (a 2019 NEXT Church National Gathering keynote speaker) reminds me, "If diversity is our objective, we still fall short. Unity is the objective."
As we continue engage this challenging work, and even as we gather at the National Gathering, it will be an aesthetically beautiful, yet challenging space considering we represent various theological, ethnic, cultural, socio-economic, gender, and political backgrounds and beliefs. It will be an exhilarating (or not) first-time experience for some and an exhausting (or not) "here we go again" experience for others. And while we might pause every now and again to appreciate the diversity of the gathering, be reminded that diversity is not the objective. Unity is. And I would suggest that reconciliation (to God, self, and others) is how we get there. Allan Boesak suggests, "The issue is not reconciliation. The problem is our understanding and interpretation of it…Are we ready to imagine reconciliation?"
---

Glenn McCray is married to Rev. Tasha Hicks McCray, lead Pastor at Mt. View Presbyterian Church in Seattle, where he also worships and serves. Vocationally, Glenn serves as the Director of Church-Based Community Development with Urban Impact, a para-church ministry in Seattle. Together, Tasha and Glenn also serve as high school girls basketball coaches at their neighborhood high school, Evergreen.
https://media.mywtenfold1.com/wp-content/uploads/sites/10/2018/03/29173829/featured-holding-hands-close.jpg
200
398
Linda Kurtz
/wp-content/uploads/sites/10/2016/01/NEXT-Logo-FINAL-Horizontal_lato-1030x229.png
Linda Kurtz
2019-02-06 07:03:23
2019-02-25 17:59:41
Radical Reconciliation Reimagined