Each month, we post a series of blogs around a common topic. This month, Deborah Rexrode is curating a blog series called "A New Perspective on Stewardship." We'll hear from some stewardship experts across the country on a wide range of what stewardship means for them. What are ways stewardship can be a spiritual practice? How might we come to a new understanding of the role of stewardship in ministry? We invite you to join the conversation on Facebook and Twitter!
by Olanda Carr
The term "planned giving" is not always easily understood. After all, shouldn't we always plan when making a gift to someone, especially the church or another charitable organization? How is a planned gift any different from a regular gift? These are just a sample of the questions I often hear when presenting the topic of planned giving to a congregation or gathering.
Whenever I am asked to clarify the concept of planned giving, I often use a tree analogy: think of planned giving as planting seeds for shade trees that you will never sit under.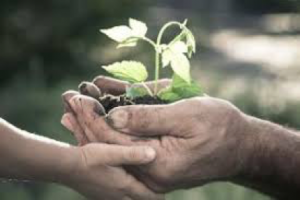 This analogy generally works well because it helps us to envision the true purpose of a planned gift: a financial gift (or seed) cultivated now that will be fully realized in the future. This analogy often works even better during periods of sweltering heat such as these, as I believe we all appreciate a cooling breeze or shade tree during the warm days of summer!
There are many definitions circulating the internet to define, clarify, and/or describe planned giving.  From a Christian perspective, planned giving is not just about the responsible utilization of our financial assets, it is also a critical component of living out the tenets of our faith. On the Presbyterian Foundation's website, planned giving is described this way: "[planned giving] is an opportunity for us all to return to God that which God entrusted us with during our lifetime. It is also an opportunity for us all to further strengthen Christ's church for the future by providing for ministry and mission for those who come after us. We all stand on the shoulders of those who came before us; let's be the shoulders for those who come after us" (1). In short, planned giving allows us to use blessings of today to bless those of tomorrow. For one to begin the planned giving process, however, it is imperative for one to take an inventory of assets prior to considering charitable giving opportunities. This estate planning process is a critical first step towards planned giving.
Estate planning is the process of managing accumulated assets for the present and the future. It is a written expression of your intentions for the protection and preservation of your assets during your lifetime and their management and distribution upon your death (2). Many financial advising institutions recommend creating a list of assets, both individual and shared, to assist one with developing a complete picture of one's financial state. This allows an individual or couple to then enter the discernment process of asset distribution. The Presbyterian Foundation offers an asset recording instrument, the Estate Planning Workbook (3), for individuals to review and complete to capture such information. Inside the workbook, information related to investments, living will directives, retirement accounts, insurance policies and other pieces of related information are addressed.
After an inventory of assets has been developed, it is now time to consider charitable planned giving opportunities. While most immediately think of a named bequest in a will, there are many other options that should be considered when planning to donate to a particular church or charitable organization. Endowment funds, appreciated securities, charitable remainder trusts, life insurance beneficiaries, and retirement accounts are just a few of the many ways one can use accumulated assets to provide for future ministry.
Participating in planned giving allows us to develop an enduring statement of faith. Thus, as one begins to engage in the planned giving process, it is often helpful to reflect on the areas of ministry that have brought us the most joy in life. For some, it may be music. For others, it may be mission and outreach. Regardless of the specific area of ministry, however, a planned gift is an excellent way to provide financial support for the given ministry for many years to come. Thanks be to God! 
References:
Planned Giving Toolbox http://www.presbyterianfoundation.org/Resources/Ministry-Resources/Church-Tool-Box/Planned-Giving-Tool-Box.aspx
"What is Estate Planning". Page 2.  Composing A Legacy. The Presbyterian Church (USA) Foundation
Estate Planning Workbook. The Presbyterian Church (USA) Foundation
---

Olanda Carr, Jr. is the Ministry Relations Officer (MRO) serving the East Region for the Presbyterian Foundation. He works with congregations to create a culture of generosity, offers seminars and workshops, develops gifts and fundraising plans for ministries, and provides coaching to finance, stewardship and endowment committees. Olanda shares his call to the Foundation — "God calls us each day to do new and exciting things. I believe my service with the Foundation is such a call, as it provides me with an opportunity to further God's kingdom and the mission of the PC (USA)."
https://media.mywtenfold1.com/wp-content/uploads/sites/10/2017/07/29174304/featured-planned-giving.jpg
200
398
Linda Kurtz
/wp-content/uploads/sites/10/2016/01/NEXT-Logo-FINAL-Horizontal_lato-1030x229.png
Linda Kurtz
2017-07-26 07:17:37
2017-07-26 08:45:01
Leaving a Legacy: What is Planned Giving?