Each month, we post a series of blogs around a common topic. This month, Kate Morrison is curating a series featuring reflections on Advent and Christmas from our 2018 National Gathering workshop and post-Gathering seminar leaders. Over the course of the month, we'll hear what this season means to them through stories, memories, and favorite traditions – and how they see the themes of Advent connecting with the work of NEXT Church. We invite you to share your own memories and stories on Facebook and Twitter!
Editor's note: Lisle is leading a workshop during the 2018 National Gathering called "The Art of the Desert Journey: What the Creative Process Might Teach Us About Blooming." It will take place during workshop block 3 on Tuesday. Learn more and register! 
by Lisle Gwynn Garrity
I don't remember the negotiations that took place, but I do remember knowing it was a blessing to have my mom home from the hospital for Christmas. I had just turned thirteen, and — to my now horror — I spent much of the holidays consumed with the frivolities of my social life to avoid thinking about the fact that my young mother was in hospice care. My memories of her last Christmas with us are blurred. Was she home for Christmas Eve? Did we have our annual Christmas Day meal? Was that the year Santa filled our stockings with Elmer's glue and over-sized Fruit of the Loom panties?
What remains clear, however, is the image of her shrunken frame sinking into the couch cushions — her body swaddled in gray over-sized sweats, her balding head tucked into the folds of a beanie, her face both swollen and sunken at the same time. What remains crisp in my memory is the picture of cancer's devouring disguise.
If you have become an unwanted friend to grief, you know well how holidays are often filled with both blurred and lucid apparitions of holidays past. We walk through seasons of abundant joy with grief tugging at our sleeves.
When preparing materials for Advent with A Sanctified Art, we decided as a team to create resources to help churches carve out sacred space for those grieving in the midst of the holidays. With more than enough devastation and turmoil in the world, we knew many would be entering the season feeling like they were walking with a wet blanket draped over their heads, as if smothering their every inhale with hot, sticky air.
We wanted to offer congregations a way of naming and releasing grief before God as a radical act of hope, one that forces us to sit still in the shadows to acknowledge the ways our lives have torn apart at the seams, one that forces us to wait for the new life that is strangely birthed through suffering. And so, my colleague, Sarah Are, crafted poetry for a Longest Night Service and passed the poem along to me to pair it with visual poetry.
With Sarah's words as my muse, I created a painting and short film to visually manifest the safe and sacred space Sarah paints with her words. To begin, I read Sarah's poem a number of times, letting her lyrics wash over me again and again. The beauty of her poetry is that it spans universal truths while also feeling particularly personal. Even if you are not drowning in grief, there is still room for you here. The poem lures each of us into a space of quiet inquiry to simply welcome the emotions that arise along the way instead of trying to fix or silence them.
I began the painting with charcoal to express the rawness of loss and the shattered ways we often cope with our own grief or attempt to soothe the losses others have endured. I wanted these initial marks to be messy and chaotic, a visceral outpouring of the immediate shock loss of all kinds triggers. Then I began to fill the canvas with dark and haphazard strokes, creating a wild storm of sky. I hope we might all feel permission to fully step into the heart of this storm, letting go of control or the need to find our way out—to simply surrender to the ways grief wreaks havoc beyond repair. Gradually, the stormy sky slowly curves into calm. I hope you see whatever you need to see in this imagery—clouds, sea, the Spirit of God, the exhale of grief, or something completely unnameable. I finished the painting with a stretch of gold and ivory near the bottom, symbolizing solid ground and stability—a place in which you can sink your feet—even in the midst of the storm.
After my mom died, I didn't know how to grieve. I thought that releasing my pain would break me and would expose all the ways my world had fallen apart. I've spent most of my adult life confronting and undamming the well of sorrow I didn't know how to let loose then.
When I watch this film, I experience a journey of return — to my grief, to my mother, and to the inexplicable sense that, no matter what, something bigger and greater than me surrounds me with care. That is the best way I can name what Advent hope feels like.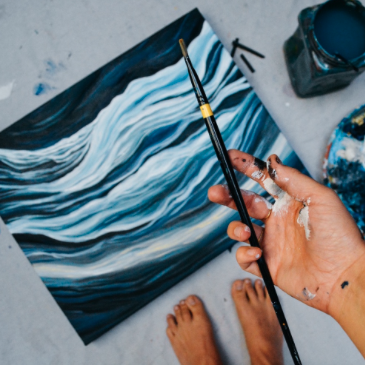 And they say to me, We are sorry for your loss.
And I say to myself, Me too.
Me. too.
Because what I know now is that
when love takes a hold of your heart,
it gives a piece of you away,
and when that disappears
that empty space aches.
You can't fill it.
You can't drown it.
You can't forget it.
You can't ignore it.
There's just space and you have to let it be.
—Sarah Are, excerpt from "Let There Be You"
---

Rev. Lisle Gwynn Garrity is an artist, retreat leader, and creative entrepreneur working within the Presbyterian Church (USA) and beyond. As founder of A Sanctified Art LLC, a collaborative arts collective creating multimedia resources for churches, Lisle believes in the prophetic and freeing power of art to connect us more deeply to God and one another. Learn more about her work by visiting lislegwynngarrity.com and sanctifiedart.org.
Twitter: @lgwynnarrity // @sanctifiedart
Instagram: @artbylisle // @sanctifiedart
https://media.mywtenfold1.com/wp-content/uploads/sites/10/2017/12/29174012/featured-lisle-grief.jpg
200
398
Linda Kurtz
/wp-content/uploads/sites/10/2016/01/NEXT-Logo-FINAL-Horizontal_lato-1030x229.png
Linda Kurtz
2017-12-27 07:39:30
2017-12-27 20:36:37
Sacred Space for Grief