Each month, we post a series of blogs around a common topic. This month, Deborah Rexrode is curating a blog series called "A New Perspective on Stewardship." We'll hear from some stewardship experts across the country on a wide range of what stewardship means for them. What are ways stewardship can be a spiritual practice? How might we come to a new understanding of the role of stewardship in ministry? We invite you to join the conversation on Facebook and Twitter!
by Grace Duddy Pomroy
While working on a stewardship research project a few years ago, I realized that congregation leaders were willing to talk with me about any topic except stewardship with young adults. In fact, they were very eager to vent their frustrations to my fellow researcher, who was in his sixties, while conveniently avoiding eye contact with the only young adult at the table: me. They were looking for a counselor, not a conversation partner.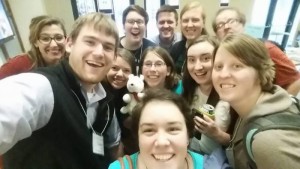 Out of this experience grew a second research project. I went on a quest to talk to young adults about stewardship with the goal of sharing my findings with congregation leaders. There are many stereotypes about young adults and stewardship floating around the church today. I wanted to challenge these stereotypes by bringing the voices of young adults – their stories and their struggles – to the table. I spoke with 65 young adults across the Minneapolis-St. Paul area. While my research lacked scale and diversity, I accomplished what I set out to do.
One of my greatest learnings from this project had nothing to do with the questions that I asked but rather with the conversation that unfolded. I came in expecting that participants might find it uncomfortable to talk openly about money, stewardship, and giving. In fact, it was quite the opposite. The young adults that I met were yearning for an authentic space to discuss these issues with their peers without fear of a hidden agenda. They were grateful for the opportunity to ask questions like, "How do you decide what to give? How much is enough?" At the end of the conversations, many of the participants thanked me. They had never had a conversation about giving where there weren't also asked for money.
For the most part, the word "stewardship" did not resonate with the participants. It was seen as a very "churchy" word that referred to "asking for money." The only positive association that they had involved environmental stewardship or "caring for people or places." The three words that they most associated with stewardship were community, faith, and mission.
More than half of the young adults I talked to said that their congregation had not helped them integrate their faith with the way they use their money. Those who said their congregation did pointed to the way it helped them consider their giving. They were eager to discuss how faith affects all of the ways we use money – not just how we give.
The participants gave their money because they believed in the mission of the church, trusted that the money would be spent well, and felt that their gift – no matter how small – would make a difference. Participants gave their time to their congregation because they were asked and because they wanted to form new relationships.
The major question that came up was "How much is appropriate to give?" They weren't sure what normal looked like. Our conversation gave participants the opportunity to ask this question and hear honest answers from their peers about how much they gave and why. Each participant was free to share openly – there wasn't an assumed right answer. The participants told me they were fearful of pledging. They were concerned about not meeting the commitment so they underestimated their giving.
Over the last few years, I've had the privilege to share these learnings (and more) with church leaders across the country. In this way, I feel that I'm beginning to make the voices of young adults more audible to the church at large. I've seen church leaders come into the room rooted in assumptions and anger towards young adults and leave equipped with empathy, new ideas, and a desire to ask better questions.
If I can encourage you to do anything to better connect with the young adults in your congregation, it would be to start conversations of your own. Ask young adults why they give and what stewardship looks like to them. Invite them to share their perspective, rather than just being the subject of the conversation. Together, we have a lot to learn from one another.
---

Grace Duddy Pomroy is a millennial stewardship ministry leader. She is the co-author of the recently published stewardship book, Embracing Stewardship: How to Put Stewardship at the Heart of Your Congregation's Life, as well as author of the stewardship resource, "Stewards of God's Love." She lives in Apple Valley with her husband, Tyler. She is currently the Financial Education Specialist at Portico Benefit Services. To learn more about Grace, visit her website at https://embracingstewardship.com/.
https://media.mywtenfold1.com/wp-content/uploads/sites/10/2016/03/29175513/featured_union-next.jpg
200
398
Linda Kurtz
/wp-content/uploads/sites/10/2016/01/NEXT-Logo-FINAL-Horizontal_lato-1030x229.png
Linda Kurtz
2017-07-18 07:11:23
2017-07-18 10:21:53
Stewardship and Young Adults: Finding Space for Conversation