Each month, we post a series of blogs around a common topic. This month, Susan Young Thornton is curating a series highlighting ministry on the Pacific coast — a diverse, rapidly changing, and dizzyingly complex part of the country, and home to our upcoming 2019 National Gathering. We'll hear from individuals serving in a variety of ministry settings about the struggles and blessings of living into God's call on the West Coast. What is it really like to serve in this region? We invite you to join the conversation on Facebook and Twitter!
by Minda Schweizer
Last week I accompanied my high school daughter to Tijuana. Abigail, a volunteer teacher with Little Brushstrokes, a program for refugee children, wanted to bring art to the migrant caravan children. And since she has been in Spanish immersion classes since elementary school, she could teach in Spanish.
Abigail talked with World Relief Southern California, a provider of immigrant legal services, and arranged for us to go to Tijuana with them. While World Relief provided asylum counsel to migrants, Abigail would do art with children waiting for their parents. I was Abigail's assistant and got to witness first person the border situation; invaluable to me as founder of a non-profit called Home for Refugees which helps faith and community groups partner with refugee families to welcome, help resettle, and create new homes here in the United States.
The week before, we saw that tear gas had been used at a border demonstration and that the San Ysidro Land Port of Entry had been closed temporarily. Abigail and I wondered what it was going to be like.
Would we see crowds of migrants when we entered Tijuana?
Would we find space to set up our art class?
Would it be chaotic?
Our day was different than we imagined. When we walked over the PedWest pedestrian crossing with the World Relief legal representatives, fewer people than we expected occupied the square. The plaza was calm and orderly. Looking around, I noticed border guards set up about 100 feet from the entrance to the U.S. and in another corner a group of migrants listening to numbers being called out one at a time.
Jose Serrano, the director of Little Brushstrokes and Senior Legal Services Specialist of World Relief Southern California, pointed out what was going on around us. He said, "See that door over there to go back to the U.S? Legally anyone is able to go up to that that door and say 'I'm afraid' and ask for asylum." Then he pointed out the border guards set up about 100 feet from that door and shared that the guards were checking IDs and allowing only people who are permitted to go into the U.S. past them. The guards directed the migrants to another part of the plaza where numbers were being called.
Jose explained that twice a day, morning and afternoon, 100 numbers are called out. Roughly 10 numbers represent a family group, which means about 20 families get called a day, allowing them to start the process of asking for asylum. Some days the number calling sessions are arbitrarily cancelled. That happened in the afternoon. Jose explained that the migrants themselves created this system. The migrants elect representatives from their group to organize the system and the number caller is a migrant. Seeing this, I wondered, "What is going on behind the scenes here?" "Is this arranged to get around the federal law that guarantees the right to seek asylum?"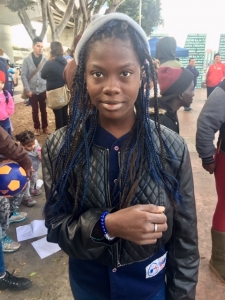 I couldn't dwell on speculating. Abigail and I had a job to do: making beaded bracelets with the migrant children. Jose told Abigail to set up next to the group of migrants listening for their numbers. As Abigail and I set up, Jose stood up on the curb to gather a crowd and to explain their rights as asylum-seekers and the procedure to follow to make a solid case for asylum. Sadly, most migrants don't have the benefit of legal counsel before applying for asylum, which often results in not having the right paperwork and disqualifying them from passing the initial stages of seeking asylum. The World Relief legal representatives worked their way through the group hearing individual stories and giving counsel.
The children were happy to string bead bracelets. The potential craziness that Abigail and I wondered about never happened. The children were polite, taking turns picking out beads. Parents came over to see what was happening and got big smiles. Some of the parents sat with their kids and helped them finish their bracelets. One of the children said he made it for his mother and asked me to tie the bracelet on her wrist.
I have sometimes observed God's tangible and loving presence in marginalized and vulnerable populations, those Christians are called to come alongside. I certainly felt that presence on this day. To be able to interact with the children and make bracelets with them was one meaningful and empowering way Abigail and I found to show our support to the migrants in Tijuana.
---

Minda Schweizer holds an M.Div. from Fuller Theological Seminary and is the founder and president of Home for Refugees U.S.A. You can learn more about their work at http://www.homeforrefugeesusa.org
https://media.mywtenfold1.com/wp-content/uploads/sites/10/2018/12/29173150/featured-border-ministry.jpg
200
398
Linda Kurtz
/wp-content/uploads/sites/10/2016/01/NEXT-Logo-FINAL-Horizontal_lato-1030x229.png
Linda Kurtz
2018-12-13 06:14:59
2018-12-11 15:20:00
Ministry at the Border