Each month, we post a series of blogs around a common topic. This month, Andrew Kukla is curating reflections on being evangelical in the church. Have we connected our congregations to resurrection life? Have we taught them how to talk about it?  How to live it? How to connect others to that life-giving, life-abundant power? We invite you to join the conversation on Facebook and Twitter!
by Katherine Kussmaul
The Jesus I encounter in Scripture is relational, personal and engages in one-on-one (or small group) interactions in which "Good News" is embodied, experienced and then shared with others. Evangelism, as I experience it in Scripture, begins as an internal experience and becomes an external experience as individuals narrate their own experience of "Good News."  We must experience "Good News" in a meaningful, intimate way. We must first understand "Good News" through personal experience. And then we can begin the relational process of evangelism: sharing the "Good News" with others.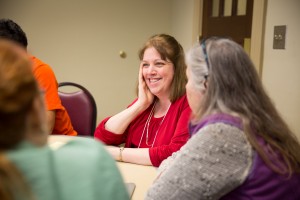 Who are we? We are private, hidden people. We are individualistic, cautionary and afraid. We juggle the balls of "Who knows what?" "Who is trustworthy?" "What can I say?" and "What would THEY do if they knew I…..?"  And in doing this, we fabricate an artificial assurance, a false pretense that proclaims invincible strength, fierce individualism, water-tight certainty and wide-open authenticity while also denying a fundamental truth: we are fragile, we need each other, we exist in ambiguity (life is ambiguous; not everything is decent and very little is in-order) and we live in fear that who we are is not okay, not acceptable, not enough. A fundamental truth that, when acknowledged and addressed, can lead to more genuine living and authentic evangelism (sharing "Good News") that really does make a difference.
We toss around the phrase "Good News." We charge each other to "spread the Good News" but I believe we do not know what this "Good News" actually is. We, as an institution, do everything in our power not to define "Good News" – to keep "Good News" impersonal and distant. We buy into a system that thrives on vague generalities when Jesus models particular encounters. We reinforce and extend a system that leans on ambiguity when Jesus teaches authentic living marked by genuine relationships.
So either we have not experienced "Good News" or we have, but are super-saturated in ecclesial privacy messages: "Don't talk about it", "Don't boast about it", or more likely "Don't push the church to endorse 'Good News' because the church is not ready to embrace what 'Good News' requires." We keep "Good News" EXTERNAL – vaguely defined and vitally important but detached from our actual lives. Using the words "Good News" keeps us comfortable but ultimately the words become empty "church words" that further distance the church from the people with whom we long to connect.
So what IS "Good News"? "Good News" is connected to God's love, commitment and promise: God's love which accepts and cherishes us exactly as we are, God's commitment to keep "breaking into our tombs" (think about what God does in John 20:19 – coming into a locked room to stand among the disciples), and God's promise to stick with us: no matter where, no matter when, no matter what. THIS is Good News. And THIS Good News must be something we "get" deep in our heart, at a gut level – it must be INTERNAL.
So what should/could we, as denominational leaders, as women and men seeking to share Good News actually do? We have to STOP being denominational and institutional leaders. We have to START reclaiming our core identity as children of God: women, men, youth, children created in the image of God. We have to be authentic, genuine and honest. We have to be vulnerable enough – with ourselves and a handful of carefully selected others – to acknowledge the masked and hidden areas of our own lives: addiction (to substances, behaviors, control/power, even work), abuse (physical, sexual, mental, emotional, financial), eating disorders, anxiety, depression (relational, situational, post-partum, as part of bi-polar), invisible medical conditions, infertility, pregnancy loss, PTSD, estrangement, relational malaise, sexual orientation, gender identity, difficult relationships, infidelity, betrayal, job insecurity, professional doubt, this list goes on and on…
Having acknowledged these areas, we need to open ourselves to a complete, genuine, integrated experience of Good News – a deep-down experience in which we come face-to-face with the reality that God loves US exactly as we are (un-masked, no-longer-hidden and fully-revealed), God "breaks in" to be with US in our sealed-off tombs and God sticks with US: no matter where, no matter when, no matter what.
We need to have that INTERNAL experience. We need to take risks, be authentic, look into our shadows and face into our fear, shame and embarrassment. This is how we come to understand Good News. With that internal, gut-level understanding, we can then identify appropriate ways to talk about that experience, acknowledge these aspects of our core selves and share the Good News that "God loves me – even the 'me' I hide."
And then we have to start creating spaces in which we, as communities, begin to cultivate and share these embodied Good News experiences, in which we talk less about abundant life and more about authentic life, in which we proclaim Good News that really matters, that changes lives, that focuses less on our institution and more on God's incarnation which ultimately reveals one thing: God's unconditional love for all creation, for all people – for you and me – exactly as (and who) we are.
Thanks be to God.
---

Katherine is the pastor of Saint Giles Presbyterian Church in Raleigh, North Carolina. Prior to this call, she has served congregations in Urbana, Illinois, Cary, North Carolina and Leeds, England. She enjoys preaching, teaching, pastoral care and opportunities to nurture spiritual development through conversation and reflection. She lives on the grounds of a plant nursery where she kills her own plants, cheers for her Pittsburgh Steelers and spends huge chunks of every day with her pup, Dibley.
https://media.mywtenfold1.com/wp-content/uploads/sites/10/2016/04/29175331/featured-good-news-women.jpg
200
398
Linda Kurtz
/wp-content/uploads/sites/10/2016/01/NEXT-Logo-FINAL-Horizontal_lato-1030x229.png
Linda Kurtz
2016-04-19 08:21:07
2016-06-13 19:09:21
Understanding the "Good News"