Each month, we post a series of blogs around a common topic. This month, Andrew Kukla has been curating reflections on being evangelical in the church. Have we connected our congregations to resurrection life? Have we taught them how to talk about it?  How to live it? How to connect others to that life-giving, life-abundant power? We invite you to join the conversation on Facebook and Twitter!
by Andrew Kukla
I am among the least likely people to be leading a conversation on evangelism. I am a pretty extreme introvert, particularly with regard to people I don't know, and I don't know many people. A good friend of mine likes to claim I'm the least networked Presbyterian pastor she knows. I have no sense of certainty about anything, so I love to conditionalize everything. You know, all those words we aren't supposed to use: I believe what I am saying is that maybe this could be a good idea, if it happens to work for you…
I am, from a certain point of view, a horrible evangelist.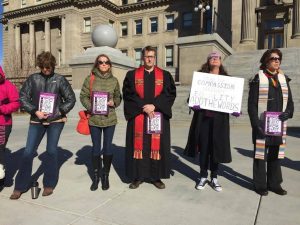 And trust me, I have told God. Like Moses before me (the line is a lot longer than that), I have showed God my resumé and demonstrated how poorly it qualifies me for the job. But dammit…God just stared at me. So I kept talking. I talked up a storm about why going to seminary only made sense if it was step towards the academy… I stammered about how I ended up doing a year of mission work in the Philippines, I'm a Polish boy from Chicago… at least let it be somewhere cold! I blathered about a nice comfortable community of people who all knew my name… all the way to the 1,000-bed hospital where I worked as a chaplain, visiting only people I had never met.
So… here is the thing. I became pretty good at talking.  
God just stared at me. Only I detect the hint of smile now and then. I get it. I really do. Now. So I talk at board meetings of a local non-profit I serve about solving homelessness. We aren't aiming for small adjustments; I've been given kingdom eyes by this God who stares down injustice (and blathering recalcitrant evangelists), and we aim for justice on a cosmic scale — nothing less. I talk to legislators and politicians about mercy and the common good and defending those who are made into objects of fear over their difference, be it sexual orientation or a country of origin. Because my kingdom good news isn't for likeminded people, it's from and for the God who created the heavens and the earth and all that is in it. I talk to eight or nine people who read my blog… because I'm vain. But also because I think the words and the way I am wrestling with them may just help someone else wrestle well too, because nothing can grow if the seed stays in the bag. You have to scatter it if you want it to become something. So I talk. And you know what? None of this talking adds members to my church. None of it adds souls to the list of saved persons. None of this is what I might have called evangelism once upon a time (dark and dreary). But it all is.
It's evangelism by social justice, it's evangelism by offering an ear to listen, it's evangelism by articulating shared hopes, it's evangelism by repairing breached personhood.
Maybe John expected the first kind of evangelist. He begins to doubt, and in Luke 7 he sends two of his disciples to Jesus to ask if he is the one to come or if another is coming. What Jesus does then is not build "a case for Christ." He doesn't reason John's disciples into belief. He doesn't defend his messiahship. He simply points to what stands in his wake: "Those people have had their eyes open, their wounds tended, and hope restored." (Okay he actually says, "Go and tell John what you have seen and heard: the blind receive their sight, the lame walk, the lepers are cleansed, the deaf hear, the dead are raised, the poor have good news brought to them.")  
Jesus doesn't convert them or try. Jesus simply points to what happens in the way he lives his life and says, "you tell me what I am."
This is the type of evangelist we are called to be — people in whose wake walk peace, justice, and love.
I am grateful to the many voices this month that have found ways to articulate that for us. I have had more than one conversation about what it means to have a ministry of repair, thought about for whom and when I offer to pray, and how we share what problems we are trying to solve and not just talk about the stuff with which we fill our calendar. I am asking new questions and looking at new role models for what it means to be caught up in God's story — willing and able to come and see, go and tell, and hope that all this discerning, talking, and living is creating a wake that looks something like Jesus'.  
What wake is your community making?  
What lies in the rear-view mirror of you?
The evangelical task is nothing more, and nothing less, than making that wake be goodness and mercy.
All the days of our life. Thanks be to God.
---

Andrew Kukla is a pastor at First Presbyterian Church in Boise, Idaho. He is a graduate from The College of William and Mary and twice from Columbia Theological Seminary because he is slow on the uptake. He is constantly taught grace, curiosity, and wonder by his wife and four children… and patience, oh so much patience. In what free time is left he serves as the President of the Board at CATCH, Inc which seeks to end homeless in Idaho for through Housing-First solutions, advocates for people as a faith-leader at the Idaho State Capitol, and is begrudging becoming a runner in the foothills of Idaho in order to be heart healthy. He blogs at incoherently at https://akukla.wordpress.com/ and is rarely on twitter but pretends as @awkukla.
https://media.mywtenfold1.com/wp-content/uploads/sites/10/2016/04/29175306/featured-andrew-evangelism.jpg
200
398
Linda Kurtz
/wp-content/uploads/sites/10/2016/01/NEXT-Logo-FINAL-Horizontal_lato-1030x229.png
Linda Kurtz
2016-04-28 07:20:47
2016-06-13 19:09:21
Leaving the No Wake Zone