Each month, we post a series of blogs around a common topic. This month, Andrew Kukla is curating reflections on being evangelical in the church. Have we connected our congregations to resurrection life? Have we taught them how to talk about it?  How to live it? How to connect others to that life-giving, life-abundant power? We invite you to join the conversation on Facebook and Twitter!
by Amy Miracle
Sharing that which is important to me with the people who are important to me is a big part of my life. That's why I am always talking about my favorite podcasts. That's why I gave so many of my friends the Hamilton Original Broadway Cast CD for Christmas.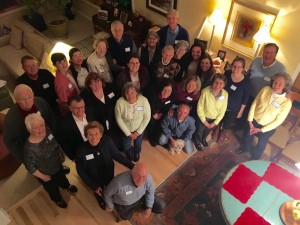 For me that is what evangelism is all about. Sharing the most important thing in my life with anyone who will listen. Except that's not quite true. Like the congregation I serve, I am reserved, worried about looking foolish and uninterested in being the center of attention. And yet I wake up every day with a burning passion to invite people into conversations about God and invite them to become a part of the life of the church of Jesus Christ. 
At Broad Street, the church where I am very, very fortunate to serve, I handle this tension in the following way. I talk about evangelism a lot. I encourage others to talk about it. We have periodic "Seasons of Invitation" when we encourage our folks to invite their people to church. Most importantly, we challenge people to articulate what it has meant for them to be a part of the life of the church and then share that understanding with others. 
Here is one Broad Street-er's thoughts on the subject. He's a husband, father of two young kids, who spoke to the congregation during one of our seasons of invitation.  This is how he concluded his words. 
"Broad Street Presbyterian is a gift. It is a gift to its community, to those it serves, and maybe most of all, to its congregation. It thoughtfully puts faith into action, faces up to the challenges of spirituality and Christianity without fear, and is a great place to spend Sunday morning. This church is a gift that deserves to be given to others who don't yet know it is here.
It is an uncomfortable thing, inviting someone to church. I'm still working up the nerve myself. As I do, when I have doubts, I think about my own story, about what my life would have been had I not received that gift of an invitation. About all that has happened to me and in me and how much the poorer I'd be if I'd never set foot in this building. And that there are others in our community, amongst my friends and family, who deserve this gift, who may not yet know it, but belong in – and will thrive in – this church.
So please join us in these coming weeks and invite someone – or better still someones – you care about. They will be grateful for it. They will thank you for it."
What he said.
---

Amy Miracle earned a Masters of Divinity from Union Theological Seminary in New York City. She served as associate pastor at Central Presbyterian Church in Denver, Colorado, and senior pastor and head of staff at Westminster Presbyterian Church in Des Moines, Iowa before coming to Broad Street Presbyterian Church in Columbus, Ohio, in 2008 as  pastor and head of staff.
https://media.mywtenfold1.com/wp-content/uploads/sites/10/2016/04/29175400/featured-broad-street-oh.jpg
200
398
Linda Kurtz
/wp-content/uploads/sites/10/2016/01/NEXT-Logo-FINAL-Horizontal_lato-1030x229.png
Linda Kurtz
2016-04-07 07:21:32
2016-06-13 19:09:59
Sharing What's Important