At St. Mark Presbyterian Church in Newport Beach, CA, pastor Mark Davis and his congregation are following a theme during Advent called "From These Roots." Each week, they focus on a different #herstory about Tamar, Rahab, Ruth, and Bathsheba, the four women named in Matthew's genealogy. Here is Mark's explanation of the series.
Matthew begins his gospel with a genealogy of forty-two generations, from Abraham to Jesus. Some of the names in that genealogy offer glimpse of who Jesus is, even before the birth narrative itself. There are some obvious candidates, starting with Abraham, with whom God made the covenant (Genesis 12:1-3). There's also Judah, called a "lion" and a "lioness" by his father Israel, from whose tribe one would emerge bearing a scepter and staff (Genesis 49:8-12). And while King David's stock has a lot of meaning in itself, the genealogy identifies David as the son of Jesse, bringing to mind Isaiah's great promise, "A shoot shall come out of the stump of Jesse, and a branch shall grow out of his roots" (Isaiah 11:1-3) In the end, the point of Matthew's genealogy is less about history and more about theology, bringing to life the storied promises of the past.
There are some names in the genealogy whose stories may be less well known, but worth remembering during the season of Advent. Within the genealogy of forty-two males, there are also four women, three of whom are named and one of whom is not. One idea for Advent would be to devote one Sunday to each of these women, to hear their backstories, and to listen for how their stories also shape the theological identity of the one who is born out of this lineage.

First, there's Tamar. The genealogy reads that Judah was "the father of Perez and Zerah by Tamar." At first glance, it reads like a wholesome nuclear family of Daddy, Mommy, and the twins. The backstory, in Genesis 28, presents quite a different portrait, since Tamar is not Judah's spouse but his daughter-in-law. In the end, Tamar's story is a tragic and valiant story of a woman who is caught in a patriarchal system, denied justice by Judah on whom she is dependent within that system, blamed for the deaths of her first two husbands even though the narrator clearly lays the blame on their own sinfulness and God's punishment, and who must exact her own bit of justice by risking her life and selling her body.

Next there is Rahab, the Mata Hari of the ancient near east. Rahab's backstory begins in the 2nd chapter of Joshua and is completed in the 6th chapter. She was a sex trade worker living in the city of Jericho when Israel sent two spies to scope out the city before attacking it. She lied, she betrayed her own people, and she hid the spies before helping them escape – because she recognized God's hand in it. Now viewed as a paragon of faith, Rahab survived the battle of Jericho and returns in Matthew's genealogy as the great-great grandmother of King David.

Then, there's Ruth. As the great-grandmother of King David, Ruth has an entire book devoted to her story. It begins with tragedy and turns when Ruth makes the compassionate decision not to abandon her mother-in-law to survive widowhood on her own. Compassionate, beautiful, and clever, Ruth becomes the second foreigner to become part of this family tree.

And then there's the unnamed woman, described in the line, "David was the father of Solomon by the wife of Uriah." Raped by King David, who then has her husband murdered and takes her into his palace to display his royal chivalry, Bathsheba's story is the ultimate #metoo story. Even in the genealogy, her name is omitted and her identity absorbed into the three men who shaped her life. Yet, Bathsheba survives and ultimately ensures that her son becomes the next king after David's death. Bathsheba's story is a story of survival and power.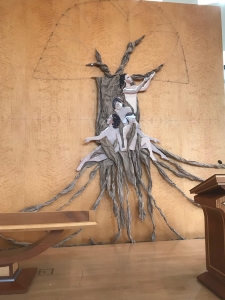 Imagine the difference it makes to remember that when Jesus is born he has Tamar, Rahab, Ruth, and Bathsheba's DNA running through his veins. Imagine the difference it makes to let the story of these women shape the theological identity of who this Messiah is, what the represents, and how he comes to save us.
In addition, Mark's church put up an art installation to accompany the series and season (pictured here). A photo of the installation is on the bulletin cover each week. Mark also wrote a song called "From These Roots" that they've used as the prayer of illumination each week.
https://media.mywtenfold1.com/wp-content/uploads/sites/10/2018/12/29173206/featured-from-roots.jpg
200
398
Linda Kurtz
/wp-content/uploads/sites/10/2016/01/NEXT-Logo-FINAL-Horizontal_lato-1030x229.png
Linda Kurtz
2018-12-04 21:02:17
2018-12-04 21:54:48
From These Roots: Finding the Herstory in the History