Each month, we post a series of blogs around a common topic. This month, Don Meeks and Jeff Krehbiel are curating "Can We Talk?", a modest attempt at an uncommonly gracious conversation among colleagues who differ on matters of conscience. Can we bridge the theological differences that divide us? Can we even talk about them? Can we affirm the best in each other's theological tradition while honestly confessing the weaknesses of our own? We invite you to join the conversation on Facebook and Twitter!
by Brian Ellison
What makes for reconciliation – authentic partnership, visible and felt unity, genuinely mutual care and affection – among people who on the most important questions already agree? Why do they need reconciliation at all?
Much of my work in the church has been focused on trying to build bridges — or at least address the divide — between theological conservatives and liberals. I've done that, with increasing openness, as a progressive, and for the last four years have led the Covenant Network of Presbyterians, a group that advocates for inclusion of lesbian, gay, bisexual, transgender and queer people in the church's life and leadership, and more broadly for a church-wide ethos of justice and love for all people. This has involved a lot of conversation with "the other side" — those who identify as evangelicals or conservatives. There's plenty of discord there to work on.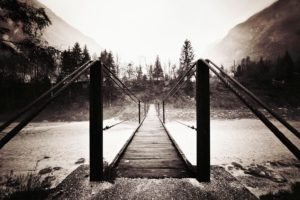 But the history of progressive work in the Presbyterian Church (U.S.A.) is also filled with accounts of people and groups whose primary interests, theological foundations and long-term goals are the same, but who for whatever reason could not seem to come together. This was true in centuries past among reformist and forward-looking voices, dividing the denomination repeatedly sometimes among the most nuanced of lines. It was true in the civil rights era as a proliferation of agencies, caucuses and causes elbowed their way into prominence, not always on the same page. And it was true in the long struggle for LGBTQ inclusion and equality (a struggle, we should note, that is still underway), when various advocacy organizations vied not merely with their opponents but with each other for how best to fight the fight.
(It is also true, it seems fair to say, among conservative voices, time and again boiling down to a "should we stay or should we go" debate, played out generation after generation and diluting that movement's impact — or damage, depending on one's perspective.)
The Covenant Network, for its two decades of existence, has been an exemplar of the consensus-building, take-it-slow, find-common-ground approach to progressive work that is found by some to be comforting and effective and others to be infuriating and painful.
The Essential Nature of Reconciliation Within a Movement
I've been thinking about the line that sometimes separates those within the same movement. Reconciliation and mutual understanding among those who share a vision for the church, I'm coming to think, is every bit as essential for the unity of the church. And if it is true that generally more progressive elements are now in a season of setting the general tone and direction for the church's life, are not those internecine relationships essential for the health of unity across that greater divide, the one between separating progressives from conservative Presbyterians who fear for their church's future, as well?
To that end, I want to explore how various voices, often in conflict with one another not about the "what" and "why" but about the "how" and "when," work together in common cause. How do we ensure we are not merely shifting the battle lines to the left, but rather finding a way to do less battling altogether?
I should be honest about my own predispositions: the Covenant Network role suits me. Before this call, I was pastor of a theologically diverse congregation. I have served as a presbytery stated clerk and a Committee on Ministry moderator. I work part-time as a political journalist at an NPR station, seeking to model fact-based and objective evenhandedness in my reporting. I'm a gay man who grew up in a conservative setting that helps me understand that mindset and speak the language; some of my best friends are evangelicals, one might say. That sort of reconciliation work comes naturally.
But I've worked with many engaged in struggles for justice and equality far longer than I, who have suffered far more than I, and who have little patience for an approach consistent with my comfort level. There is truth to be spoken, and they speak it boldly, frequently, loudly. Justice delayed is justice denied. When anyone suffers, we all continue to suffer. And now that our views are in the ascendancy, why take a slice, they might ask, when we rightly should enjoy the whole justice pie?
The difference in approach is real, and discord between the camps within the camp with real consequences. Taken to their extremes, one is prophetic and the other pragmatic. One gets things done but compromises; one remains true to self even if victory must wait another day. One might wait to bring others along, while one does the right thing and trusts that others will eventually catch up.
How It Can Happen
Is reconciliation necessary? Certainly at times it is. Sometimes the deepest wounds are the ones suffered at the hands of one's allies. And even when there is no "friendly fire" injury, there is still the sense that what one group regards as victory, the other sees as loss. Progress for one is a setback to the other.
So as we think about reconciliation among those who already purport to agree (not just about LGBTQ issues but in any common work for building up the church), I invite us to consider a few health elements to guide our time and energy.
Focus on relationships
When Jesus encountered opponents, he engaged them. When he encountered the other, he sat down with them for a meal. When he spoke about addressing conflict or concern, he counseled seeking someone out for conversation. Nothing good comes from us keeping our distance. And the best way to facilitate meaningful conversation in time of conflict is for that conversation to happen organically with someone we already know, have already shared our story with, have already found common ground and interests. If damage has already been done, this may need to begin with confession, repentance and forgiveness.
This is good practice in presbyteries, in congregations and certainly among leaders of groups advocating similar agendas. Relationship isn't just preparation for Christian work; it is the Christian work. When we show God's love in relationship, we are living out our mission. When we are able to speak to each other as friends, not merely as fellow laborers, true reconciliation becomes possible.
Translate common commitments to common action
Many problems in the past have occurred when the two groups — appreciative of each other's position but distrustful of each other's ideas — have organized separately, developed separate goals and eventually found themselves working at cross-purposes. A way forward includes sitting down together early enough (or frequently enough) that our common ground can be not only around big ideas, but also in specific ways of embodying them.
This involves compromise at times, but perhaps not as much as one might expect. When the coming together happens in the formative stages, the action plan can develop organically and mutually. Both parties have ownership, together with an appreciation for the journey toward the outcome. All are more invested in the project, and none are left to exercise judgment on the goal's inadequacy or error.
Always have an eye to broader reconciliation
Finally, those seeking reconciliation within a movement must assume a certain attitude toward inclusion. This is a matter of posture rather than specific policy. It is about how to bring the most people on board, including (in time) those across the wider aisle. When our thinking about the future of the church (or any other organization) is systematically geared toward welcoming others in, we find ourselves less inclined to draw lines and more prone to open doors. When we think less about defeating our "opponents" and more about inviting them as guests (or even co-hosts), then we will speak differently, act differently, decide differently. And when we live with an eye to the day when all will be one, then our more modest "internal" differences decrease in perceived importance.
Concluding Thoughts
I have been blessed to see healthy relationships form and blossom, both within diverging voices in my own organization, and between our leadership and that of other groups (like More Light Presbyterians). We have frequently (though not always!) done faithful work to model the hope and care and mutual appreciation we long for in the whole church. My hope and prayer is that all who seek to do God's work together might similarly tend to their relationships with one another — trusting that each small step of reconciliation will ultimately lead to the reconciliation of us all.
---

Brian Ellison is executive director of the Covenant Network, which has worked since 1997 for inclusion of all people and unity among those with differing views in the Presbyterian Church (USA). He previously served as pastor of Parkville (Mo.) Presbyterian Church and as a member and moderator of committees at the General Assembly and Heartland Presbytery. Brian lives in Kansas City, Mo., where he also is a host/contributor at NPR affiliate KCUR-FM, a freelance writer, and an adjunct instructor in preaching.
https://media.mywtenfold1.com/wp-content/uploads/sites/10/2016/11/29174901/featured-bridge-bw.jpg
200
398
Linda Kurtz
/wp-content/uploads/sites/10/2016/01/NEXT-Logo-FINAL-Horizontal_lato-1030x229.png
Linda Kurtz
2016-11-30 13:47:26
2016-11-30 14:43:29
Reconciliation Within