Each month, we post a series of blogs around a common topic. This month, Jeff Bryan is curating a series reflecting on the 2018 National Gathering in late February. You'll hear from clergy, lay people, community leaders, and others reflect on their experiences of the National Gathering and what's stuck with them since. How does the "Desert in Bloom" look on the resurrection side of Easter? What are your own thoughts of your National Gathering experience, or on what these reflections spark for you? We invite you to join the conversation on Facebook and Twitter! 
by Eliana Maxim
In a busy season of ministry, the opportunity to attend the NEXT Church National Gathering popped up on my calendar quite unexpectedly. I remembered the enthusiasm with which I had registered back in early winter, but now with to-do lists multiplying magically, I wasn't sure I would find the time or "head space" to engage.
I am so glad I did.
The theme of "The Desert in Bloom" appropriately described what many of the pastoral leaders with whom I work have been experiencing. The realities of ministry can certainly make one feel as if you are in extended wilderness time. And that you are doing it alone.
In order to bloom in said desert would require sustenance, at least for this pastor. A desert in bloom means hope above all else.
My first interaction in Baltimore was attending the Sunday evening People of Color get-together. This group met again at the conclusion of the gathering. And in both of those meetings, I found the space where we could speak frankly about the ways the church has moved towards greater inclusion and equity, and how much further is has to go.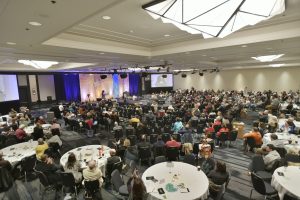 I was challenged by Rev. Jonathan Walton's keynote talk on pastors being suspicious of praise and the church's complacent comfort in a safe Jesus. "Maybe it's easier for us to worship a supernatural savior than to accept the challenge of a moral prophet." And I took comfort in Rev. John Schmidt's vulnerability as he shared his wilderness testimony as a Biblically conservative pastor guiding his congregation to stay in the PCUSA and remain engaged missionally where God is calling them, which includes ministry to people living with HIV/AIDS.
I was nurtured by impromptu coffees, lunches or happy hours with old friends and people yet to become friends that provided informal opportunities to check in, celebrate, grieve, and dream together, regardless of where we came from or what our ministry contexts might be.
At a time when many are wandering the desert, wringing their hands in despair over the church we are no longer, the NEXT Church National Gathering provided space and energy to rejoice at the new things God is doing. We acknowledge the demise of what we were, but rejoice at what is yet to be. Is it scary? Anxiety producing? Of course! But we navigate this new terrain together and most importantly with the assurance of God's presence among us and God's sovereignty.
As a member of the Way Forward Commission, a body created by the 222nd General Assembly to review and make recommendations on the structure of the denomination for this next season of ministry, I have intentionally sought out the blooms of the church we can be. I caught glimpses of it at the National Gathering.
And as a member of the Seattle Presbytery, I am beyond excited to know NEXT Church will be coming to our neck of the woods in 2019. I look forward to the inspiration and continued sustenance I am confident will be offered. And I look forward to seeing you there! Praise be to God!
---

Eliana Maxim is the Associate Executive Presbyter for the Presbytery of Seattle. Born in Barranquilla, Colombia, Eliana also serve as the vice-moderator of the PCUSA's National Hispanic/Latinx Caucus. You can usually find Eliana hanging with her husband Alex, daughters Sacha and Gabi, and spoiled-rotten Boxer Lola the Dog.
https://media.mywtenfold1.com/wp-content/uploads/sites/10/2018/04/29173656/featured-ballroom.jpg
200
398
Linda Kurtz
/wp-content/uploads/sites/10/2016/01/NEXT-Logo-FINAL-Horizontal_lato-1030x229.png
Linda Kurtz
2018-05-02 05:51:31
2018-04-13 10:57:05
Sustenance to Bloom