This month, strategy team member MaryAnn McKibben Dana is curating a series of posts on our most recent National Gathering. Now that we've been back in the trenches of ministry for a while, what ideas have really "stuck"? What keeps nagging at us, whether in a positive or challenging way? How has our view of or approach to ministry been impacted by what we experienced? What continues to be a struggle? We invite you to join the conversation on Facebook and Twitter!
Today, NEXT Church executive team co-chairs Shavon Starling-Louis and Lori Raible close the month's reflections with a conversation.
Societally and denominationally there are many places in which the thought of racial reconciliation is celebrated. But it is often relegated to the incremental "not too much, not too fast" fashion. It often can feel that communities of leadership (read: committees) are created in the paint-by-numbers vein (i.e. " we need to find __ black people… __ Latin American… __Native American… __ Asian Americans so we won't be all white").
Unfortunately, what is desired to be a place of diversity often quickly becomes a place of tokenism in which a people's diverse phenotypical presence is valued but the gifts of their culture, individual life, and experiences are not.
My hope is that NEXT Church can be something different. NEXT Church has core values grounded in relationship and authenticity. So, yes we have a hope of 50% + of people of color in our leadership teams, but it only makes sense to me because I know it comes out of a hope for drastic systemic change in who is at the leadership tables.
And while this goal may seem to minimize the intersectionality of diversity, I think we wanted some goal to hold us racially accountable for the leadership relationships we cultivate.
At its core, NEXT Church believes that in real relationship, significant transformational changes in how we live life together are possible.
I have watched us be stretched, struggle, and be blessed by our way: being community which is grounded in real experiences of life together. In both joy and hurt, we are made more faithful and more just.
It's not that we get it right but that we lean in when it's hardest that excites me about NEXT Church. I have noticed that when I expose my heart to the other, I experience the grace and challenge of my identity in Christian community and I sense others do too.
I think that in our work together we see that being the kind of community that is open to hear the impact of racism on our life together and then prayerfully discern how to respond in our actions towards healing is a treasure and a sign of the in-breaking of the Holy Spirit. And I sense this is true because we are committed to being vulnerable with each other. We have a level of trust because of our desire for real relationship.
And what seems to be a Holy Spirit gift of unbelievable proportion is that this is a common thread of those engaging NEXT Church at every level. And while I know we are all in different places in how we articulate the role of racism in being a sinful barrier to faithful relationship with the other, when I connect with new friends through NEXT Church, I get this overwhelming sense that this person has the intent to build up – and not tear down – the body Christ and the global community at large.
I discern that in our racialized and polarizing times our type of commitment to relationship at NEXT Church is radical work. It is radical because by being in real relationship, we are naturally cultivating organized, faithful, theologically grounded work for the healing of the person-to-person and systemic impacts of racism.
So Lori, what do you think?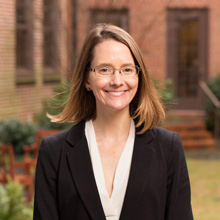 LORI: Your thoughts, Shavon, make me question what it really means to belong at NEXT Church.
NEXT Church believes God is always calling the Church into the future. Cultivating leaders and congregations by equipping and connecting them to one another will strengthen the relational fabric of the Presbyterian Church (USA) and promote God's transformation of our communities for the common good.
Belonging is easy to talk about, but hard to do. So hard in fact, it's biblical. Which of course as people "in the people business," we all know but hate to admit.  The 2017 National Gathering hosted about 600 leaders. For 220 of them, it was their first time at a NEXT Church Gathering. Every year we host an orientation conversation about NEXT Church. This year I remember mentioning that NEXT Church hopes to express the Kingdom of God to the world in an honest way that reflects the creativity and diversity of that Kingdom. Easy to say. Hard to do. As Shavon mentions, it requires deep trust, a willingness to give one another the benefit of the doubt, and an openness to listening. The National Gathering sets the tone for this work, with an expectation that we must then act in the world in a way that is congruent with what we proclaim together about the Gospel of Jesus Christ.
During orientation we also mentioned that our National Gathering is designed as a bountiful feast, not a prix fixe 5-course meal. Were there parts of the Gathering that did not resonate with me personally? YEP. Am I grateful for the good people that gave of their time and gifts in leadership? YEP. Was I challenged and inspired? Absolutely.
Some folks have a hard time believing it, but NEXT Church has a seat at the table for every leader in our denomination. We are not a club. We do not take sides. We try desperately not to be exclusionary. The tables throughout our gathering space in Kansas City reflected these claims. If you will sit at the table and engage, then you are encouraged to speak up and share your gifts for the greater good of our denomination. The workshops were meant to reflect this claim.
And yet serious questions about belonging were raised during the National Gathering: Can I trust NEXT Church will welcome my unique perspective for what it is? Can I trust that NEXT Church will not be yet another organization unwilling to recognize the marginalization of women, LGBTQ leaders, and leaders who do not identify as white? How is NEXT Church reconciling institutional habits of exclusion and racism and avoiding the appropriation of cultural expressions of faith? How can I trust NEXT Church honestly values my conservative understanding of theology? Do they really care about what I have to say as a part time or non-traditional pastor? A traditional large steeple pastor? A seminarian? A leader in the last years of ministry? An educator? A ruling elder?
It makes sense that some are skeptical of the claim that there is a seat for everyone at NEXT Church, especially when personal experiences may inform a necessary level of self protection. But there is a seat. To be clear, we do not always agree, we do not always get it right, and we do not claim to be experts at the work of radical belonging. But together, we are trying. The National Gathering in Kansas City was a celebration of unity, not sameness. We commit to having the hard conversations, taking risks, and holding ourselves accountable. We also practice the art of giving one another the benefit of the doubt with grace and trust.
Most days I am simply trying to remain faithful to the people I serve. Between sermons, teaching, hospital visits, budgets, meetings, and parenting, I get tired. Bone tired. In the midst of a tenuous American culture, sometimes I doubt my ability to proclaim the Gospel with integrity and boldness. It gets isolating. So yeah, I need community. I need colleagues and friends to keep me honest and focused, but NEXT Church is about more than friendships.  If we are interested in collecting our voices and harnessing the power of Christ's Church for God's Kingdom, then our gathering space cannot be an echo chamber. What would it look like for the PCUSA to express the Kingdom of Heaven to the world in an authentic way that embraces and celebrates our diversity?
Seriously. Think about that for a minute.
We cannot afford to waste time bickering or managing our losses when there is a surplus of committed, diverse, and creative leaders, each worthy of investment. Also, we must not wait for support structures and institutions to catch up. Christ is alive in the world, NOW. While in humility, we claim the grace of our Lord Jesus Christ when we missed the mark. With all hope, you were inspired, challenged, engaged, and nourished by those you found in your midst. Having learned and grown together, we will step boldly into the future again next year with commitment, passion, and a renewed sense of faith.
---
Shavon Starling-Louis is pastor of Providence Presbyterian Church in Providence, RI. Lori Raible is co-pastor of Selwyn Avenue Presbyterian Church in Charlotte, NC. Both are co-chairs of the NEXT Church executive team.
https://media.mywtenfold1.com/wp-content/uploads/sites/10/2017/06/29174408/featured-shavon-lori.jpg
200
398
Linda Kurtz
/wp-content/uploads/sites/10/2016/01/NEXT-Logo-FINAL-Horizontal_lato-1030x229.png
Linda Kurtz
2017-06-02 07:23:33
2017-06-28 19:28:43
Sustained Radical Racial Reconciliation