Each month, we post a series of blogs around a common topic. This month, Jess Cook and Jan Edmiston are curating a series that will explore the hidden gifts of failure. How does failure help us grow? How does it help us be more authentic with one another? How does it help us to be creative and brave in our ministries and our lives? We invite you to join the conversation on Facebook and Twitter.
by Rev. Lane Brubaker
Every Saturday evening I lead worship at Hagar's Community Church, a new worshipping community planted inside the Washington Correction Center for Women (WCCW)- which is the largest women's prison in the state of Washington and the only women's prison with Maximum and Medium custody. The mission of Hagar's Community Church is to be a Sanctuary for God's Beloved Exiles at the WCCW and to proclaim the Gospel truth that God indeed loves, without measure, every individual incarcerated at the WCCW.  I love my congregation and feel privileged every Saturday to have the honor of serving this congregation.  
Most Sunday mornings I am itinerating around the state of Washington preaching and teaching at churches throughout our Presbytery and beyond about what God is up to in the walls of a prison. I'm out and about doing this work to share all of the inspirational stories from Hagar's Community Church. I'm also out and about securing missional and financial partners who will support this new worshipping community. The reality is, because of its context Hagar's Community Church will never be able to sustain itself the way a typical congregation does. Not only do my congregants make $.42 an hour, but it is also illegal for them to fund a prison program. Therefore, finding long term missional partners is key to our sustainability. It has been a joyful experience to witness all the people and congregations coming together to support Hagar's Community Church.  
Because I'm so excited to find more missional partners for Hagar's Community Church (and because I often think I can make it through anything) I had a critical lapse in judgement a couple weeks ago. A piece of background information about me- I grew up in Cleveland, TN (where it never snows) and I spent the last 8 years of my life in New Orleans (which is both flat and never has any snow). So moving to Washington State has brought me to a new place with vast mountains and weather patterns to which I am not accustomed.  
A Church in our Presbytery asked me to preach and talk about Hagar's Community Church on a Sunday in January. This church is on Mount Rainer, but I didn't think about how elevation changes things. I scheduled it, and . . . I thought nothing of it. The week I was scheduled to preach there were rumors of snow . . .  Again, I assumed it would be fine. The night before I looked at my weather app and saw snow . . . and of course, assumed I could get through it. I decided to give myself extra time, but saw no reason to cancel.  
I woke up early that Sunday morning, I plugged in the address is my GPS.  I headed on my way listening to my favorite podcast: Armchair Expert. Everything was fine for the majority of the trip- no problem . . . 
Then I was about 30 miles away . . . and I noticed it was snowing . . . and the snow was sticking to the roads.  
I started driving more carefully.  
I'm about 20 miles away . . . I make the turn my GPS suggests and start climbing up . . .
 I drive a mile or so . . .
The snow is getting deeper, deeper, deeper.  
I begin wondering "How I'm going to make it through this?"
For some reason I keep going . . . thinking "I made it this far, I can't turn back now!  
Beginning to worry, I think "maybe I should have asked what the best route was to this church"
And then . . . 
My car was no longer moving forward.  I. was. stuck.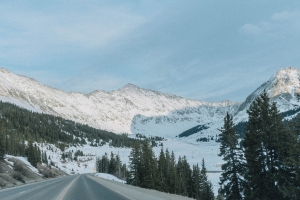 I was stuck on a country snowy mountain road . . . I felt as alone as I have ever been. Suddenly visions from the movie Into the Wild came flashing into my mind: dying, stranded by myself . . . I turned to my phone and of course, I had no signal to make a phone call . . .
I realized in that moment, I was completely unprepared. I was not wearing clothes for a hike in the snow, I didn't have shovel to dig myself out, and I had no way of contacting anyone for help.  
Panic. Set. In.   
What felt like a lifetime passed by . . . 
In reality it was more like 5 min – when I saw a large pickup truck towing snow mobiles climbing the road. I got out of the car and signaled that I needed help, as they got closer I saw multiple Trump 2020 stickers . . .
I began to panic again.  
But to my relief, two extremely polite men jumped out of the car and immediately knew what to do. They didn't ask questions (like what possessed you to drive on this road?) they just helped me get my car unstuck, turned around, and gave me direction to get me safely back home.  
I thanked God for them every minute of the drive home.  
This was a morning of many failures. I never made it to the church where I was scheduled to preach. Luckily, they had a backup plan due to the poor weather conditions. I failed to know my own limits. I had fooled myself into thinking if I set my mind to something I could accomplish the task at hand. But in reality I have had no life experience to help me navigate these roads in the snow. And though I work in a prison and make it my task every week to offer grace, and love to all people no matter what is in their background, I made assumptions about the angels who rescued me because of a political sticker.  
Thank God I am not still sitting on the side of Mount Rainer in the snow, thank God for the angels sent to teach me about the log in my own eye, and thank God that I'm able to learn the lessons from a failed Sunday morning. 
---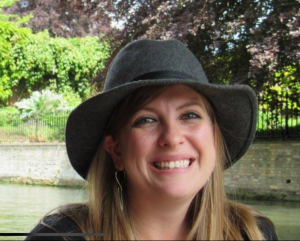 Rev Lane Brubaker is the pastor of Hagar's Community Church a 1001 New Worshipping Community planted inside the WCCW. Before moving to Washington Lane lived in New Orleans where she served as the YAV site coordinator and co founded The Okra with her husband Rev Crawford Brubaker.
https://media.myworshiptimes31.com/wp-content/uploads/sites/55/2020/01/29172304/alexandra-avelar-Xoj0SQRKFpo-unsplash-scaled.jpg
1365
2048
Layton Williams
/wp-content/uploads/sites/55/2016/01/NEXT-Logo-FINAL-Horizontal_lato-1030x229.png
Layton Williams
2020-01-22 10:11:25
2020-01-22 10:11:25
Stuck in the Snow and Rescued by Unexpected Angel