Each month, we post a series of blogs around a common topic. This month, Jessica Tate is curating a series written by participants in the second Community Organizing and Congregational Leadership cohort offered by NEXT Church, Johnson C. Smith Theological Seminary, and Metro Industrial Areas Foundation. You'll hear from various church and community leaders as they explore the key organizing concept of power. How can these reflections on power shape your own work and ministry? What is your reaction to their reflections? We invite you to join the conversation on Facebook and Twitter!
by Dwight Christenbury
We church people — we post-Christendom church people, at least — tend to be squeamish about power: we don't want to claim it, use it, or even, for that matter, be in close proximity to it.
Even those of us who like to think we're not nervous around power still probably wouldn't know what to do with it if we had it, and there's a decent chance it's never occurred to us to think theologically about power. That is, while we may not think of power as something "dirty," neither do we consider it to be more than a tool of last resort. We prefer to live in the world as it should be, rather than in the world as it is.[1] As a result, we feel that the rightness of our ideas and arguments ought to be enough to carry the day — and if not, if carrying the day requires the use of brute force, then there must be something wrong with our ideas and arguments.
The theory and practice of community organizing, however, tell us that it's high time we church people began to develop a realistic theology of power and a (non-squeamish) understanding of its place in situations that call for positive change.
Elias Chacour's Blood Brothers is an instructive study of one person's lifelong struggle to come to terms with power and its use. Chacour is a Palestinian Christian, a priest and archbishop in the Melkite Church, who grew up as his Galilean homeland was occupied and then transformed into the state of Israel. As a young man, he struggled to reconcile his anger and urge to resist the injustices suffered by his fellow Arabs with his father's seemingly endless well of patience and accommodation. Chacour reflects,
Here was that old question that had troubled me so long: As a Christian do you speak out against the actions of your enemies — or do you allow them to crush the life out of you? So many seemed to think that submitting to humiliation was the only Christian alternative. Should you not, sometimes, be stinging and preserving like salt?[2]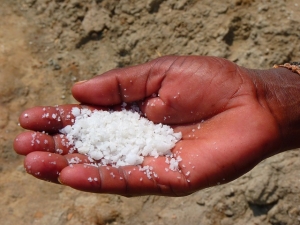 Chacour's use of the metaphor of salt is helpful (as well as biblical): we often think of salt as a preservative, but it also stings. Might Jesus himself have had both aspects of salt in mind when he used the metaphor in the Sermon on the Mount? Chacour goes on to think of power in other terms growing out of Jesus's teachings:
"Blessed are the meek, for they will inherit the earth." Immediately I thought of Moses, who was called "the meekest man on earth." Yet he opposed Pharaoh and all Egypt, insisting upon freedom for God's people. Meekness, then, was not weakness but relying fully upon God's power as Moses had.[3]
What Chacour leaves unsaid is that one does not rely on God's power by magic or wishful thinking but by cultivating the mindset, skills, and discernment required to wield it.
Finally, Chacour helps us to reflect theologically on power by telling the simple story of a march and rally that he led at the urging of the Melkite bishop Joseph Raya, who advised him:
It's good that we've rallied these [Palestinian] people. It's a first step of hope for them. But the Jewish people need the hope of peace, too. It's time to march in Jerusalem and give our Jewish brothers the chance to walk at our side and show the world together that we are all against violence.[4]
A reminder that the use of power often involves significant risk, Raya's words also point to the crucial role of forming and cultivating clear-eyed relationships among as many parties, on all sides of an issue, as possible.
Many of us will likely never confront forces such as those Chacour has dealt with over a lifetime of struggle in the Middle East, but he shows us that, whatever our context, our efforts to bring about justice and peace will fail, or at least be diminished, if we're unwilling to claim and use the power we have. Power isn't dirty. Rather, it's a neutral but important tool for effectively organizing positive change.
As we look at our communities and congregations and the ways in which they cry out for growth and change, let's not be squeamish about power. Instead, let's be willing to identify and analyze the places where power resides and to use and grow power through relationships with others who have a stake in the outcome. Not every situation comes down to the choice between "submitting to humiliation" and "stinging … like salt," but neither should we forget that the latter is often (or perhaps always) the way to be the Jesus-followers that we claim to be.
[1]An oft-cited distinction in community organizing circles, as described in chapter 2 (p. 33–46) of Going Public: An Organizer's Guide to Citizen Action, by Michael Gecan (New York: Random House, 2002).
[2]Elias Chacour and David Hazard, Blood Brothers (Grand Rapids: Baker, 1984, 2013), p. 133.
[3]Ibid., p. 149.
[4]Ibid., p. 190.
---

Dwight Christenbury graduated from Union Presbyterian Seminary in 2005 with dual M.Div./MACE degrees. He now serves as Associate Pastor of the Trinity Presbyterian Church of Hendersonville, North Carolina, where he's been for a really long time. He lives in nearby Black Mountain with his wife, Carol Steele, and their children, Olin and Dean, and he may or may not be working on a book.
https://media.mywtenfold1.com/wp-content/uploads/sites/10/2019/03/29172921/featured-hand-salt.jpg
200
398
Linda Kurtz
/wp-content/uploads/sites/10/2016/01/NEXT-Logo-FINAL-Horizontal_lato-1030x229.png
Linda Kurtz
2019-03-24 20:07:29
2019-03-24 20:07:29
Stinging Like Salt