Each month, we post a series of blogs around a common topic. This month, Sarah Dianne Jones is curating a series written by our workshop leaders at the 2017 National Gathering. What excites them about the Gathering? What are they looking forward to sharing and discussing during their workshop? We invite you to join the conversation on Facebook and Twitter!
by Jenny Warner and Steven Koski
Most days, our mission statement feels like an impossible task: creating spaces of grace to cultivate hope, healing and purpose. We do that in Oregon, a part of the country that is decidedly post-Christian, non-Christian or uber-Christian, if you know what we mean. Is it possible to own the Christian story in a way that is authentic, not born out of reaction, that allows our arms, minds and souls to be open in love to the world while still embracing Jesus?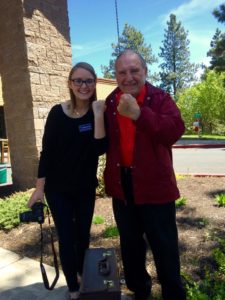 We call this way of faith Spacious Christianity.
We stumbled into Spacious Christianity because we longed for a place beyond the labels of progressive and conservative. We longed for a place that welcomes people on every place in their journey, for a place that doesn't set parameters around who is in or out or what you can ask and what you can't, for a place where we can unapologetically follow Jesus and most importantly, where we can be in a community that is serious about spiritual transformation. A place where there is room to grow, change and develop. A place where you can throw in your whole heart or sit around the edges while your wounds heal.
We're in there. We're planning services and sermons every week. We're negotiating the needs and desires of a large diversity of parishioners and we're doing the daily business of keeping a church up and running while trying to hold the big picture. Our church isn't perfect but it's real. And it's connecting and growing. We aren't pastoring perfectly, but we're giving it our best. We are sharing our journey hoping it will connect with yours.
We believe we're not alone. We think there are thousands who want to move into a more spacious place in their faith. We know there are church leaders – paid and unpaid – who long for their faith community to be a home for religious refugees. We are sharing our story and hoping you'll find your journey reflected and taken.
In our workshop, "Spacious Christianity," we will explore creating a culture of innovation and grace that makes space for bold experimentation. We will look at the journey a mission statement can take into theological and spiritual understanding. We hope our story will spur discussion about what others' are discovering in their unique contexts.
"Spacious Christianity: Church in the None and Done Zone of the Pacific Northwest" will be offered on Monday of the 2017 National Gathering during workshop block 1.
---

Jenny Warner is the Pastor for Justice, Spirituality and Community at First Presbyterian Church in Bend, Oregon. She provides organizational structure for a church adapting to new growth in the midst of cultural change and cultivated strategic justice partnerships.

Steven Koski is Lead Pastor at First Presbyterian in Bend, Oregon. In 10 years, the church has embarked on initiatives including opening a café, a partnership in Guatemala, forging ecumenical partnerships for youth and developing a Wellness Center.
https://media.myworshiptimes31.com/wp-content/uploads/sites/55/2016/12/29174837/featured-fpc-bend.jpg
200
398
Linda Kurtz
/wp-content/uploads/sites/55/2016/01/NEXT-Logo-FINAL-Horizontal_lato-1030x229.png
Linda Kurtz
2016-12-15 15:16:36
2016-12-15 15:16:36
Spacious Christianity