by David Norse Thomas
Church conferences can be, lets face it, weird. Long exhausting days can overwhelm me with an even worse sense of imposters syndrome than my first few weeks of seminary. Sometimes I leave with a nagging feeling that maybe this was the year I should have organized a reading retreat with my friends with my continuing education funds instead. But this year, at the NEXT Church National Gathering, I had a uniquely different experience, and I'm not the only one. This month the NEXT Church blog will share the stories and insights of pastors who attended in person and virtually, and experienced new life and a deeper sense of hope for the people of God we call the Church.
This year, the gathering was in Seattle, and as a child of the Pacific Northwest, it wasn't just the weather and the mountains that made me feel at home. For three days, I found myself engaging in the conversations with colleagues and friends, hearing from speakers doing the work that I see Jesus' resurrection made visible in. This was a year full of honesty, tackling the ways in which we can be woven together too tightly without room for the people God is calling into our communities, speaking prophetic words about how we need to shift from constructs of racial reconciliation to repairing relationships and seeking reparations alongside our Black siblings, poetry that spoke to the power of being honest about how difficult the work of the Church can be, and where new life is showing up.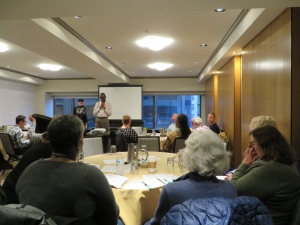 For me, one of the most powerful experiences was a workshop on utilizing design thinking in our congregations. Design thinking centers the experience of people and pushes us to creatively utilize the resources we have, instead of mourning what we lack. It is a powerful tool for opening leaders to new possibilities that God might be calling us to risk trying. In the workshop, we utilized the "Mission: Possible" game, and I took away two surprising paradoxical lessons from this experience. First, being encouraged to look at the resources we were given in the game (in the form of resource cards) set my imagination, and those of my table mates, to be creative with the skills and experiences we have. It seems so simple to start with the gifts God has given us in our congregations, but I realized that we so often start with what we lack, instead of giving thanks for God's provision.
The other surprise came when our facilitators set firm time limits on our planning. Knowing that we had to make a decision freed us up to be more experimental, and to focus. This rang true personally for me. In my context at Maryland Presbyterian Church in Towson, MD, we have a firm deadline for when we have to become financially stable as a congregation, or begin to consider options like calling a part-time pastor, seeking to merge with another congregation, or consider selling our building. This deadline has unleashed unimaginable creativity, curiosity, and a willingness to risk failing that we would not have had otherwise. We have to act, and while we need to discern, decisions have to be made.
I returned from the NEXT Church National Gathering excited, ready to start from a place of gratitude and creativity, and I look forward to attending next year with more stories to tell. I ordered Mission: Possible for our next session meeting, and I am excited to see what our creative, motivated ruling elders dream up.
---

Rev. David Norse Thomas (he/him/his) is the pastor of Maryland Presbyterian Church in Towson, MD. Known as "the little Church in the woods," and "the Church full of badass, progressive Grandmas, and everyone's favorite Aunt and Uncle," MPC is a dream congregation for Rev. Norse Thomas to explore what radical hospitality and community organizing can unleash in the hands of loving followers of Jesus.
Editor's note: We invite you to dig more deeply into two of the stage presentations David references by watching the video recordings and engaging with the provided reflection questions:
https://media.mywtenfold1.com/wp-content/uploads/sites/10/2019/05/29172832/featured-2019-ng-workshop.jpg
200
398
Linda Kurtz
/wp-content/uploads/sites/10/2016/01/NEXT-Logo-FINAL-Horizontal_lato-1030x229.png
Linda Kurtz
2019-05-07 17:32:43
2019-05-07 18:25:32
Sources of New Life