Each month, we post a series of blogs around a common topic. This month, Jessica Tate is curating a series that will reflect experiences of living in diverse community. Over the course of the month, we'll notice practices that enable diverse communities to thrive and we'll reflect on the promise of Christ in whom there is no Jew nor Greek, no male nor female, no slave nor free and what that promise means for our lives today. We invite you to share your own thoughts on Facebook and Twitter! 
by Jessica Patchett
Nicole's eyes got big.
"It's not you, it's us," Lisa said.
There had been an audible gasp in the room when I had said that we should 'segregate' our two financial asks for the upcoming luncheon.
It was the week after the Charlottesville riots, and we all had trauma hangovers.
"Sorry about that," I said.
"Don't worry about us," Glencie said. "Just be aware when you're out and about that people might take that the wrong way".
"Good advice" I said. "So, let's remove the 'ask' for lunch donations from the room and do that online in the Eventbrite RSVP process, so that people don't have to know who can pay for lunch and who can't. Then our general ask for financial support can be the only one we make live in the room."
"How sensitive of you to think of that," Lisa said. "I like it. I'll make it happen."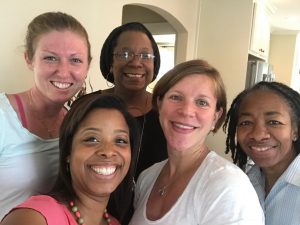 Nicole, Glencie, and Lisa are black. I'm white. We're four of six core team members of a network we launched called Clergy Women of Charlotte.
It was Nicole's brainchild. She is an ordained minister in the Baptist tradition. She's passionate about encouraging women in ministry to live into their fullest potential. When Nicole pitched me the idea of a local clergywomen's network, my initial internal reaction wasn't favorable. Many of the clergywomen groups I've been part of haven't lasted long (or I haven't lasted long in them).
But quickly, I realized that this one had the potential to be different than anything I'd tried. It would be local and diverse – racially, theologically, politically, generationally, spiritually, and vocationally – in a moment when our community desperately needed leaders to break down the walls between social segments.
At our first Core Team huddle, we had to have a hard conversation about how we would name and define ourselves. There were decisions to be made: would we be explicitly Christian (yes); would one have to be ordained in a tradition in order to find a home in it (we'd hope not); would we stand for something bigger than ourselves (we'd want to be open to the Spirit's leading).
Out of that discernment process, we articulated our intentions: Our mission is to gather women in the greater Charlotte area to support one another in cultivating health and vitality for sustaining one's calling in Christian ministry.
At our first public event, about 40 women gathered for breakfast, encouragement, and prayer. We were largely black and white. We were pastors, professors, chaplains, first ladies, bi-vocational laborers, storefront preachers, evangelists, and authors. We were Baptist, Presbyterian, Pentecostal, Lutheran, Episcopalian, and non-denominational. Our speakers that morning included a Baptist overseer with more than 40 years in local church ministry and the director of the American outpost of an international para-church spirituality and justice movement.
And we were all neighbors.
It was a gathering unlike any I had attended in my decade of ministry in Charlotte.
Some people in the room were deeply rooted in traditions that don't elect or appoint women to the highest leadership positions in their churches. Some hoped this network would help them on their journeys to live fully into the roles available to them in their traditions. Others hoped this gathering would stand behind them in their pursuits to shatter stained glass ceilings. Still others came as members of the LGBTQ+ community, wondering if this network would be broad enough to support them in their vocational endeavors.
When the Core Team met to debrief our first public event, we quickly realized that it would be a real miracle if all these different kinds of women kept coming together around breakfast and lunch tables year after year.
And, in the next moment, we opened our eyes to see that this would be the point of it all: to witness what beauty the Spirit of God would call forth out of our humble efforts to sit side by side, pray for each other, and affirm the dignity of each person's unique life in Christian service.
Over the past year, we've continued to grow and connect with a broader circle of people. We have a web site; we're filing for non-profit status; we've gained the support of seminaries, small businesses, churches, and individual donors. These are enormous blessings that will help us continue and expand our work.
But the most beautiful fruits of this effort are the deep, spiritual gifts of unencumbered friendship. Members of the network host each other for breakfast, work out together, celebrate each other's personal and vocational milestones, and recommend each other for opportunities to work and serve in ministry.
The Wednesday after the events in Charlottesville, I met Nicole for yoga. Almost at once, we both said, "I didn't realize how much I needed to see you!" After class, we walked to the store to rehydrate and had a good, honest talk about the week and how we were dealing with it.
And that's what we hope will happen for many other women as they begin to live together in the diverse community of the Clergy Women of Charlotte: that we and they will continue to push past polite, become intimately acquainted with the deep longings of each others' souls, and support one another in the ways that God calls us to serve in the world-redeeming ministry of Jesus.
---

Jessica Patchett serves as Associate Minister for Christian Education at Covenant Presbyterian Church in Charlotte and as a member of the Core Team of the Clergy Women of Charlotte. She loves a good book, a challenging workout, the great outdoors, and cooking for her friends. You can learn more about the Clergy Women of Charlotte at www.clergywomenofcharlotte.com.
https://media.myworshiptimes31.com/wp-content/uploads/sites/55/2017/10/29174136/featured-clt-clergywomen.jpg
200
398
Linda Kurtz
/wp-content/uploads/sites/55/2016/01/NEXT-Logo-FINAL-Horizontal_lato-1030x229.png
Linda Kurtz
2017-10-05 10:09:43
2017-10-05 10:09:43
Sitting Side-by-Side