Each month, we post a series of blogs around a common topic. This month, Layton Williams is curating a series we're calling "Ministry Out of the Box," which features stories of ministers serving God in unexpected, diverse ways. What can ordained ministry look like outside of the parish? How might we understand God calling us outside of the traditional ministry 'box?' We invite you to join the conversation on Facebook and Twitter!
by Abby Mohaupt
I knew I was going to seminary by the time I was 14.
Actually, by then I knew I was going to McCormick Theological Seminary to get an MDiv and then be a pastor in a church where I would preach about how Jesus is pretty cool and God loves everyone.
I thought I would say prayers over bread and juice and I would baptize babies.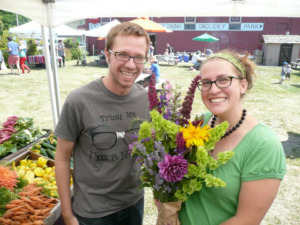 I did enroll at McCormick when I was 22 years old, but between my middle school self and my post-college self, I fell in love with creation. I realized I was better at listening to God when I was hiking in the prairie than anywhere else. I studied religion and sociology as an undergraduate and my white, able-bodied, educated, middle class self learned to unpack categories of difference and systematic oppression on the streets and in a shelter of Chicago.
When I met with my presbytery, I knew I was really called to do environmental ministry and antiracism work. I could tell you about my ordination process—how I often forgot to talk about how much I love Jesus until I started talking about how he's like Captain Planet or how I felt a lot of joy in taking the ordination exams or even how my first call let me explore ministry in really prophetic ways.
But my ministry has never been traditional.
My first call was in a wonderful congregation that let me spend 10 hours a week at a non-profit that works with farmworkers. When those 10 hours stretched into 15 and 20 hours a week, I knew that my heart was not fairly in the work of the congregation. God was calling me to be immersed in the work of a rural northern California community seeking to build bridges between farmworkers and the people who eat food every day. I fell in love with the children I worked with, who taught me to sing boldly and to carry stickers and chocolate with me at all times. I grew from meeting with congregations who sought to build relationships with the rural community, and I learned to be fierce in asking congregations to pray and to give their time and to share their financial resources.  My heart grew three sizes from working long days with colleagues who made me laugh and who wondered if my two graduate degrees in environmental theology really qualified me to sort through the donations of crayons and toiletries we so regularly received.
I gave thanks over juice boxes and granola bars and held children's hands as we explored the scientific properties of water.
About a year into that second call, I realized that I was being called away. My love for studying and reading and teaching was an indication that I might be called to a PhD program. I looked for programs in ecology and theology and applied to four schools. In one week I visited three of the schools and knew by then I would be moving across the country to the east coast to learn to be a professor/clergy/activist.
It mattered to me just how I'd tell my beloved community I was leaving, and I eventually chose my program at Drew University based on conversations with some of the farmworkers and locals.  
This is a third call—a call in which I spend my days auditing extra classes and learning to be a better organizer and antiracist ally, in which I write papers about political and ecofeminist theologies and climate trauma and in which my heart swells with the four-month-old friendships of my peers. This is where I talk about how much I love Jesus for his solidarity with the poor, and how I see God's heart breaking by the state of creation in climate change. I don't preach anymore, unless you count the freelance writing and multi-media art I do, grappling with the sacred texts of the Bible.
There's an arboretum here, and I run through it, listening to God and seeking joy, grateful for work my 14-year-old self would never recognize but for which she deeply longed.
---

abby mohaupt is a PhD student at Drew University in the Religion and Society Program. She's the moderator of Fossil Free PCUSA, co-editor of Presbyterians for Earth Care's EARTH newsletter, and a member of Presbyterian Peace Fellowship's activist council. When abby's not reading or running, she's often drawing with crayons and seeking joy. she splits her time between CA, IL, and NJ.
https://media.mywtenfold1.com/wp-content/uploads/sites/10/2017/02/29174654/featured-abby-flowers.jpg
200
398
Linda Kurtz
/wp-content/uploads/sites/10/2016/01/NEXT-Logo-FINAL-Horizontal_lato-1030x229.png
Linda Kurtz
2017-02-16 09:22:14
2017-02-16 09:24:24
Serving Our Creative God in Creative Ministry and Ecofeminist Theology