Each month, we post a series of blogs around a common topic. This month, Linda Kurtz is curating a series we're affectionately referring to as our NEXT Church book club, which aims to share insights on a variety of texts – and how they have impacted our bloggers' ministries. Understanding that reading in and beyond one's field is important to offering good leadership, we offer this series to get your juices flowing on what books you might read next. What are you reading that's impacting how you think about and/or do ministry? We invite you to join the conversation on Facebook and Twitter!
by Jenny Warner
When I get stuck, I call Ken Evers-Hood.
And when you read his new book, you'll know why he's on my speed dial of advisers.
Ken and I met as pastors in the same presbytery in Oregon. As a new pastor, serving three hours from the hub of most other churches, I had few true colleagues. Ken invited me to sit in the back row with him, included me in the irreverent commentary of the younger pastors (by which I mean those under 55), all the while sharing with me a great love of the presbytery and its process.
I learned to trust Ken's perspective, and so when he invited me to join him in a yearlong leadership cohort with the poet David Whyte in 2015, I said yes. The experience changed both of us. We found a community and a construct that took us further in ministry, our lives and our future. Our collective engagement with David's work taught us to bring our whole selves to bear in our vocation. We learned to trust where vulnerability leads us, which is perhaps the most radical move a leader in contemporary America can make, religious or not.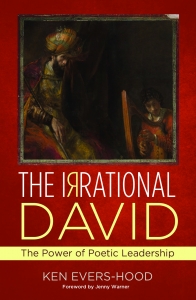 Ken found another companion in this wholehearted journey in David of the Bible – a shepherd, king, musician, poet, friend, lover, and full-throated human. In this book, you will see David with a lens that opens fresh possibilities of being faithful, not perfect.
In his first book, The Irrational Jesus, Ken offered his doctoral research on decision-making and leadership in the church. In this book, The Irrational David, Ken dives deep and has "a real conversation," as David Whyte would say. He brings Scripture, philosophy, theology, poetry, literature, and psychology into a conversation that puts us all at ease because of Ken's profound vulnerability.
For those who are struggling to articulate a faith that is not either/or in the aftermath of the liberal/fundamentalist battles, Ken masterfully articulates a faith that honors the complexity of postmodern understandings in a way that is grounded and undefended. He doesn't let either side get away with defended polarities and invites us into faithfulness and wholeness instead.
My copy of this book will be full of underlining and coffee stains as I return over and over to see what Ken has to say about the text I'm preaching on. His words often say what I intuit, but am not yet able to articulate. As a gift to preachers, he brings along references from literature, history, and life that will make Scripture come alive week after week. This book is a trusted dance partner in the rhythm of life with God.
Editor's note: The Irrational David is not available yet, but you can sign up to receive an email from Amazon when it is available there. This post will be updated when the book is available (any day now!).
---

Jenny Warner is pastor at Valley Presbyterian Church on the western edge of the Silicon Valley. She loves the challenge of pastoring on the West Coast. She and Chris have two teenage daughters and a Bernese Mountain Dog named Holly.
https://media.mywtenfold1.com/wp-content/uploads/sites/10/2019/02/29173020/featured-irrational-david.jpg
200
398
Linda Kurtz
/wp-content/uploads/sites/10/2016/01/NEXT-Logo-FINAL-Horizontal_lato-1030x229.png
Linda Kurtz
2019-02-11 06:58:12
2019-02-05 20:40:56
Scripture, Poetry, and the "Irrational David"