Each month, we post a series of blogs around a common topic. This fall we've asked a number of leaders to respond to the question, "What is saving your ministry right now?" Adam Copeland is one of our workshop presenters for the 2016 National Gathering. Learn more about the workshop at the end of this post. We invite you to join the conversation here, on Facebook, or Twitter!
By Adam Copeland
I think it was in seminary where I first encountered the phrase, "Say 'no' to say 'yes.'" Saying "no" is saving my ministry right now.
I teach at a seminary myself these days, and I'm also finishing up classes towards a Ph.D. Without sharing the hairy details, let's just say the end of the semester can get a bit full. There's an increase in meetings. There's writing term papers. Oh, and there's grading. Mountains and mountains of grading.  
But I've learned to say, "no." And so I'm not supply preaching in December. And I'm not taking outside writing commitments in December. And I'm not pretending my calendar is open to schedule any meetings over time I have already committed to grading and writing.
Overuse of the phrase "time management" has made the concept practically meaningless for most of us. But in recent weeks, I've wondered about reclaiming time management with a Christian hue. After all, one of my favorite definitions of stewardship is the management of all of life, with Christ at the center.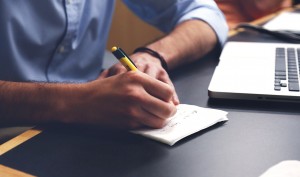 And so, God's gift of time is something that I must manage—or, as I prefer, steward. By saying "no" to opportunities—sometimes, great opportunities—I'm able to better align God's gift of time with my ability and energy.
I'm in my fourth year of teaching now, so though I'm still quite young, I have at least made it through several end-of-semester crunches. As I've gained experience, I've noticed a significant shift in how I approach the semester's conclusion. Previously, I could never rest easily until all the exams and papers were graded, and all the scores sent dutifully to the registrar. The stacks of papers loomed over me like an unplowed driveway full from a blizzard's worth of fresh snow.
Today, when I welcome the "say 'no' to say 'yes'" approach, I am freed from this always-present feeling that I should be grading. Instead, I give myself permission to workout, spend time with friends, and even enjoy a hobby or two between rounds of grading. It's my little attempt to steward God's gifts wisely.
Who knows, maybe I'll even find time to play David LaMotte's song, "Deadline," and sing along to the words of the chorus: "there's no time like the present, and there's no present like time."
---

Adam's workshop: No More Tithing: Inspiring New Language and Practices for Giving
Christians give away an average of 2% of their income to congregations, yet most churches teach "tithing," a so-called "biblical standard" of 10%. What should we make of the disconnect between what we say about financial giving and actual practice? What feelings of guilt and inadequacy does our rhetoric of "tithing" create? In formal presentation and group conversation, this workshop explores new language and practices for giving. Offered Monday during workshop block 1. Learn more and register now.
Adam Copeland teaches at Luther Seminary in St. Paul, Minnesota, where he serves as director of the Center for Stewardship Leaders.
https://media.myworshiptimes31.com/wp-content/uploads/sites/55/2015/12/29175741/1CSCANQ03B.jpg
2722
4604
Linda Kurtz
/wp-content/uploads/sites/55/2016/01/NEXT-Logo-FINAL-Horizontal_lato-1030x229.png
Linda Kurtz
2015-12-03 07:45:08
2016-02-18 18:21:53
Saying "No"