By Jessica Tate
It's a busy season in church and in life, without much time to pause and reflect. This season the NEXT Church blog will offer bite-sized reflections in which church leaders answer the question, "What is saving your ministry right now?" It might be a spiritual practice or a book or a mentor or a mantra. It might be a skill or a scheduling tool.
The question is a variation on one Barbara Brown Taylor mentions in her book, An Altar in the World. She writes that many years ago a wise old priest invited her to speak at his church. When she asked, "What do you want me to talk about?" he replied, "Come tell us what is saving your life right now."
Taylor appreciated the question because it meant she didn't have to say correct things that were universally true or use theological language that conformed to the historical teaching of the church. She simply had to figure out what her life depended on.
The practice of ministry constantly invites us into the saving presence of Jesus Christ and calls us to share the good news of that saving grace. Sometimes it will be worship that keeps us grounded in that good news. Sometimes it will be a colleague group. Sometimes a bible study. Sometimes it will be a scheduling trick that helps keep your head above the water and your focus on the main things. The answer will likely change with time.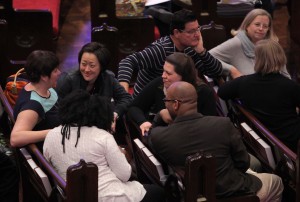 For me, right now, what is saving my ministry is the discipline of relational organizing in shaping my schedule. In the Industrial Areas Foundation, they teach that there is a difference between a bureaucratic culture that focuses on operations and a relational culture that focuses on opportunities.
Bureaucratic Culture (Operations)
Relational Culture (Opportunities)
Focus is on:

physical (and other) structure

procedures and programs

groups, meetings, offices, staff

paper and e-paper (minutes, reports, email)

budgets, newsletters

Focus is on:

talented leadership

mission/direction

testing actions/evaluation (trial and error)

creating and initiating

Pre-Occupation:

Permanent

Fixed

Formal/hierarchy

"plug people in"

internal focus

Pre-occupation:

Action

Ad hoc/short term

Fluid

Informal/team

Build around talent/skill/interest

External focus
All organizations need both sides of this spectrum, but for many of us, our schedules have become focused on the operations side (with the possible exception of pastoral care for pastor-types). The goal is to keep both sides in balance, which often means spending more time with people, listening to their stories. What gives them energy for the work that they do? Why are they so committed to the church? What do they imagine is possible for their community? Where do they find they are getting stuck? Are there points of commonality around which we can act together?
Spending time with people, listening, connecting, and eventually acting together on something we both believe in inevitably connects me back to the power of God's work among us. We share the incarnate experiences of Jesus at work in our lives, transforming us and the world.
Prioritizing people is saving my ministry. I invite you to reflect this season: What is saving your ministry? We will be sharing responses on our blog this fall and we will be complementing these responses with reprises of some of the greatest hits from our blog — things that were shared widely when they first posted, in hopes that the reflective nuggets and the previously helpful content will provide a breath of fresh air in this busy time. They might give us a glimpse of the good news of our creative, saving Lord who is surely coming to make all things new.
Update: Interested in some of the reflections we received in response to "what's saving your ministry right now?" Check these out:
---
Jessica Tate is the Director of NEXT Church. She lives in Washington, DC.
https://media.myworshiptimes31.com/wp-content/uploads/sites/55/2015/11/29175822/119-next-20140402-114656.jpg
1292
1920
Jessica Tate
/wp-content/uploads/sites/55/2016/01/NEXT-Logo-FINAL-Horizontal_lato-1030x229.png
Jessica Tate
2015-11-03 07:51:26
2016-02-18 18:37:31
What is saving your ministry?