Each month, we post a series of blogs around a common topic. This fall we've asked a number of leaders to respond to the question, "What is saving your ministry right now?" We invite you to join the conversation here, on Facebook, or Twitter!
By Shannon Waite
When I think about what is saving my ministry, the theme that has kept popping back up in my head over and over is self-care and the war it can be to claim time for it. True confession: my greatest battle for self-care is with myself. I love my to do lists, but they never end and sometimes I lose myself in trying to complete them. The fact remains, though, that when I take care of myself, I'm a better person and a better campus minister.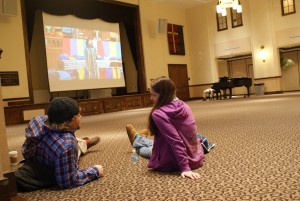 I'm still learning how to perfect the art of self-care, but two things I have discovered that work for me is to go on retreats with friends and colleagues and to do something that feeds my soul and passion. It is hard to find time to get away, but it is so worth it. I whined to myself for weeks leading up to my last retreat about the work left to do, but it ended up paying out ten-fold. I came back renewed and having given myself space to rest I had a lot better ideas for our ministry than I had before I went. I also reflected on the life of my ministry with some great colleagues and found support that I had been missing. What feeds my soul is being creative. I make sure to make time to do things that feed that passion. From reclaiming church language and traditions with young people to simply making a craft, it has made a difference.
I could go on forever about the lessons I've learned in self-care, but to quickly sum it up: surround yourself with good people, allow yourself grace when you make a mistake, and stay true to yourself. The most important part of my lessons in self-care though during hard weeks, is to remember that I am called to this ministry. Remembering that I am not in it alone, I'm surrounded by a great cloud of witnesses and that God is here in it with me is one of the most life-giving thoughts that I strive to hold on to.   
---

Shannon Waite is the Campus Minister at the Campus Christian Community, an ecumenical campus ministry serving the University of Mary Washington in Fredericksburg, VA.
https://media.myworshiptimes31.com/wp-content/uploads/sites/55/2015/11/29175758/DSC03811.jpg
2592
3872
Linda Kurtz
/wp-content/uploads/sites/55/2016/01/NEXT-Logo-FINAL-Horizontal_lato-1030x229.png
Linda Kurtz
2015-11-19 08:30:18
2016-09-02 08:47:32
Saved by Self-Care